When you can't have pizza on a regular basis, you have to get creative when you get those pizza cravings! I've got some dairy free and soy free mozzarella cheese and I figured there would be no way that I could cover an entire pizza with it, and keep it under $5!
I recalled a Sausage bread that I made years ago…it's basically homemade pizza crust dough with sausage and jalapenos rolled up with some cheese. (I'm hoping to make it again this summer with jalapenos from the garden…I'm already dreaming about it!)
I thought it would be the perfect way to do pizza with little cheese…and it totally worked!
I used the extra tomato sauce for dipping and the boys couldn't get enough!!!
I love that we can have pizza again…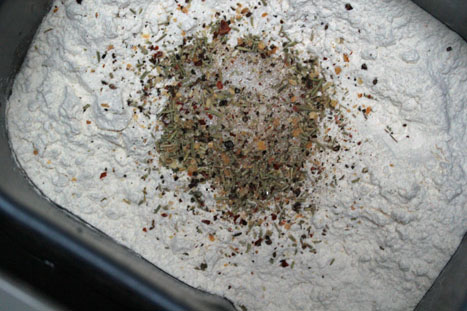 Load up the bread machine. Water, olive oil, milk, salt, wheat flour, white flour, yeast, sugar and Italian seasonings.
Set to dough cycle.
(Not the bake cycle…I've done that before…it's not pretty!)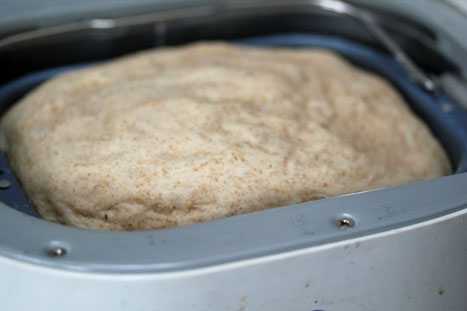 Beautiful puffy dough.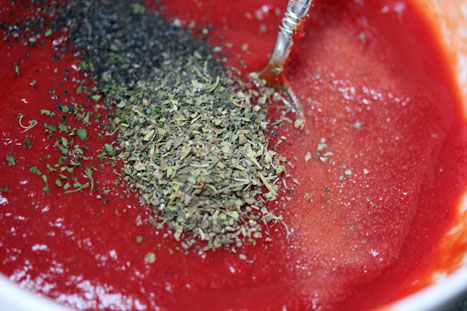 While the dough is in the bread machine, make the sauce.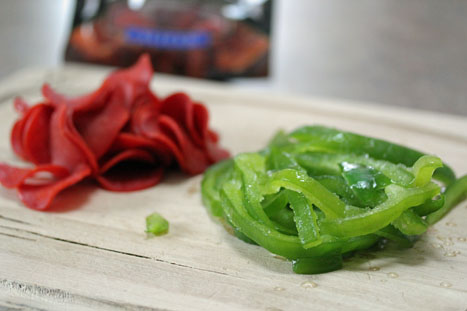 Prep the pepperoni and the green peppers. And any other "toppings" you'd like to include.
Fillings, really.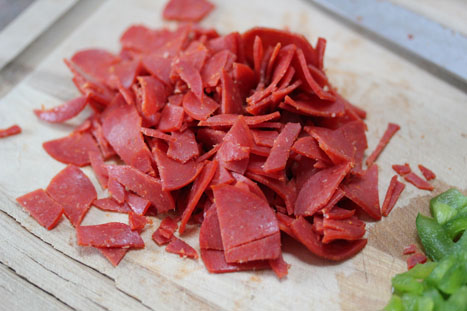 Run a knife through the pepperoni.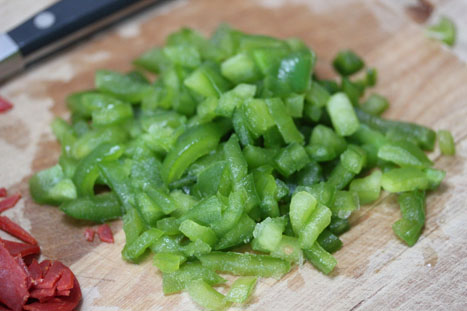 Then the green peppers.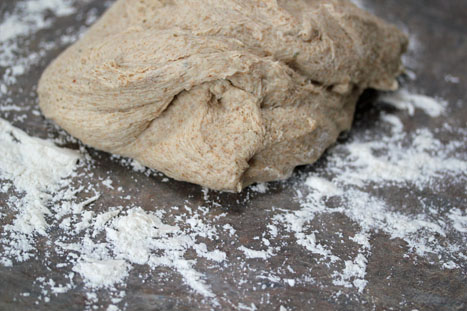 When the dough is finished, drop it onto a lightly floured surface.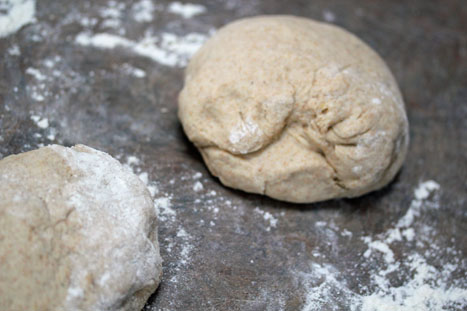 Divide into 2 dough balls and knead lightly.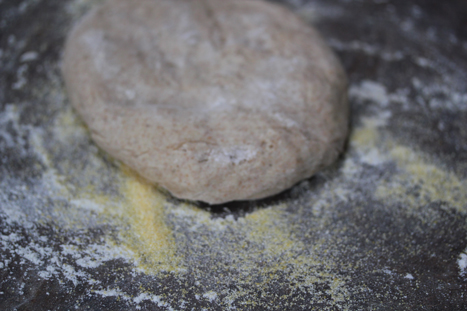 Toss out a little yellow cornmeal.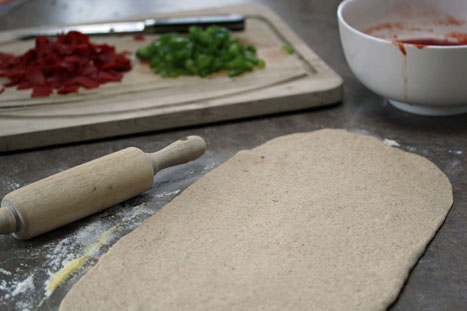 Roll her out!
But not too thin…you'll see why in a sec.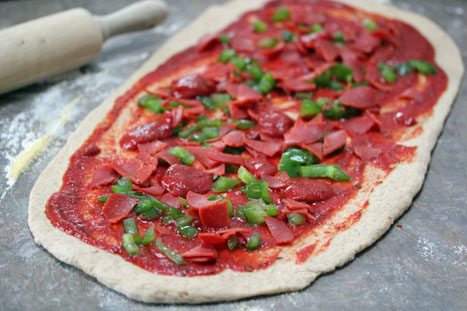 Load with the sauce, pepperoni and green peppers.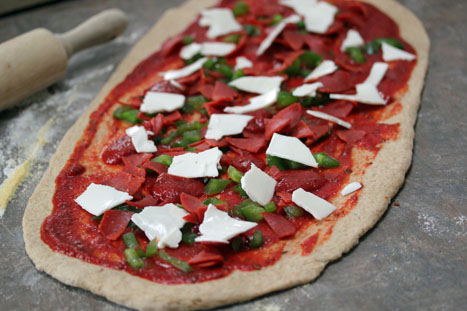 Add the cheese.
This is the part where yours will have shredded cheese on it! Unless you are using a dairy-free cheese too!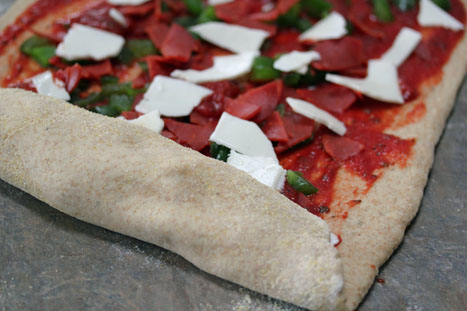 Roll her up.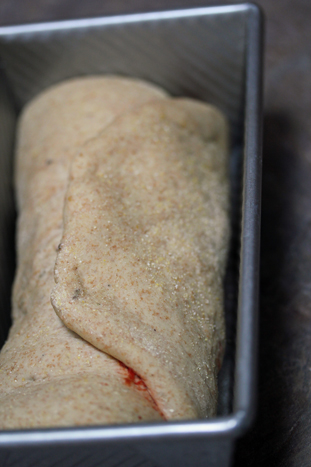 Carefully add to a lightly greased loaf pan.
Repeat for the second dough ball!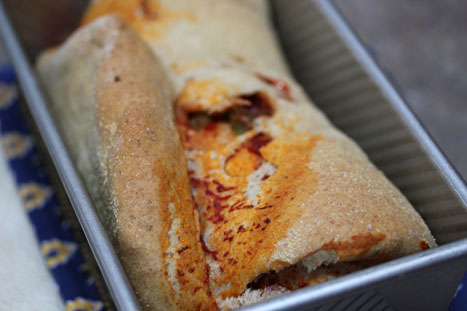 Bake at 350. For 30 minutes.
See why I said to not to roll it too thin. This loaf broke open on the top because I rolled it too thin.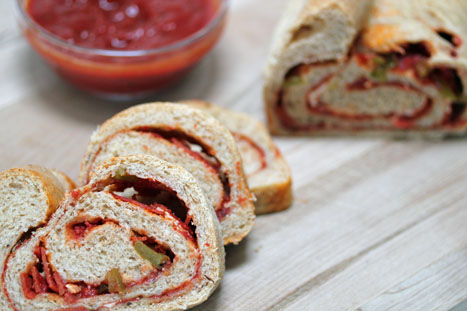 Slice.
Dip.
Dip the next bite.
And the next.
(K, you get the picture!)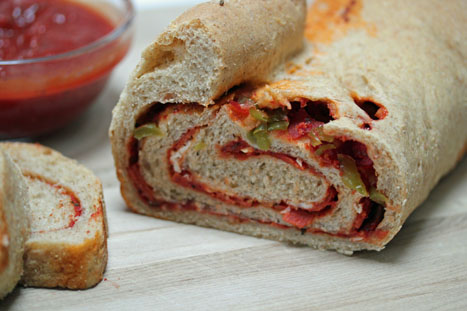 We ate one of the loaves, and I sliced and froze the other! An easy grab from the freezer…for breakfast, lunch or dinner!
(Wow, that just took me straight back to my cold pizza for breakfast in college days!)
Enjoy!
Delicious pizza flavors rolled up in some fresh baked bread!
Ingredients
Dough Ingredients
1

cup

warm water

2

Tbsp

olive oil

1

Tbsp

milk

1

tsp

salt

2

cups

white flour

1

cup

wheat flour

1

packet active dry yeast

1

tsp

sugar

1

tsp

Italian seasonings
Toppings & Sauce Ingredients
6

oz

tomato paste

1

tsp

Italian seasoning

Salt and pepper

a couple dashes to taste

1

cup

turkey pepperoni

1

green pepper

seeded and diced

Couple pinchfuls of cornmeal

4

slices

Mozzarella cheese

or 1-2 cups shredded mozzarella cheese

Any other favorite toppings

Carrot sticks or other veggies
Instructions
Place the dough ingredients in the bread machine, in the order listed.

While the dough is in the bread machine, prepare the sauce by whisking together the tomato paste with one cans worth of water, and the Italian seasonings and salt and pepper.

Chop the turkey pepperoni and the green peppers.

Preheat the oven to 350. Grease 2 9×5 loaf pans.

Gently knead the dough and divide into 2 dough balls. Toss out a little cornmeal and then roll out each dough ball into a long rectangle that's about the width of the loaf pan. Add the sauce, turkey pepperoni, chopped green peppers, and shredded mozzarella cheese.

Roll it up and place into the greased loaf pans. Bake at 350 for 30 minutes.

Let cool slightly before cutting.

Serve sliced Pizza Bread with dipping sauce and a side of carrot sticks or other veggies.