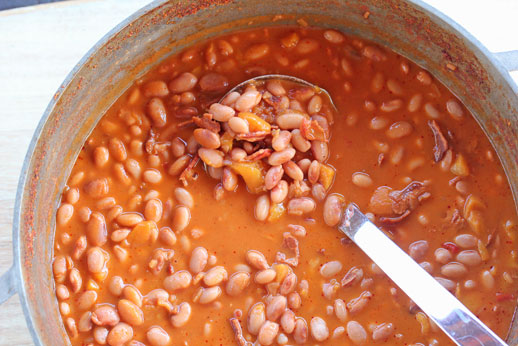 Before you wonder off to your next stop online…hear me out on this one. I know it sounds strange.
Taking our boys out for dinner is an adventure. We don't go out often, but when we do it's usually with family, so we at least have a 1 on 1 ratio at the table. We divide and conquer, which makes the whole dining experience a little easier…but they are still wiggly.
"Get down from there." Trying to climb over the sides of a booth.
"Don't stare at their (the table next to us) food. And stop complaining about the wait. We know you are hungry!"
"Please stop 'falling' out of your chair."
"Sit up, this is not our house and you can't lay on the seat." When sitting in a large booth.
Those of you with littles…you've said these things before. I can't be alone in this.
Our boys know how to sit still. But they are boys and their sitting still usually lasts no more than 5 minutes. They would just prefer to be in motion! One of the ways that we combat the wiggles at restaurants is by visiting restaurants with play areas. So far we have discovered several near us…
Bigz Burger Joint has a giant play field where the boys can run and run and run, and work up a hearty appetite
Willie's Icehouse has a giant sandbox
Joe's Crab Shack has a play structure and sand box
Two Bros. BBQ Market also has a giant play structure and tons of outdoor seating
We find ourselves frequenting these places, and especially Two Bros. because it's super close to where we live. It's reasonably priced and we can feed our crew for less than most other restaurants! The first time I had their beans was at night and I was totally puzzled by them, as we were eating outside, it was dim and I couldn't tell by looking at them, what was added. I could tell there was something mixed in, but couldn't place the flavor the first few bites. It was something sweet, but not too sweet. It was perfectly balanced with the spice from the sauce and the smokiness from the bacon. By the time I'd finished my portion of beans, I'd figured out that there were diced peaches mixed in with the beans and the bacon. Seriously, great (and clever) addition to the beans. The peaches are a tasty addition and a great balancer of the spice and smoke flavors!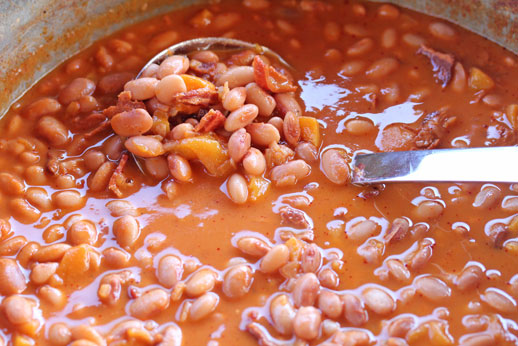 Here's my remake of their Pinto Beans with Peaches and Bacon y'all!
(These would be great for a family BBQ, or to make at the start of the weekend and eat throughout the weekend with food from the grill!)
These would be great for a family BBQ, or to make at the start of the weekend and eat throughout the weekend with food from the grill!
Ingredients
1

lb.

pinto beans, rinsed and soaked

15

oz.

can tomato sauce

1

cup

BBQ sauce

6

strips bacon

cooked and crushed

24

oz.

jar peaches

drained and diced (reserve the juices)

1/2

cup

brown sugar

1 1/2

tsp

pepper

salt to taste
Instructions
Add the soaked beans with at least 1 inch of water to a large saucepan or stock pot. Bring to a boil.

Stir in the tomato sauce, BBQ sauce, crushed bacon, diced peaches plus 1 cup of the peaches juice. Stir in the brown sugar, pepper. Return to boil, then reduce heat to medium, cover tightly with lid and cook for about 1.5 hours, or until beans are tender. Add salt to taste.

Serve Pinto Beans with Peaches and Bacon as side dish with favorite meat from the grill. They are perfect for a backyard BBQ!