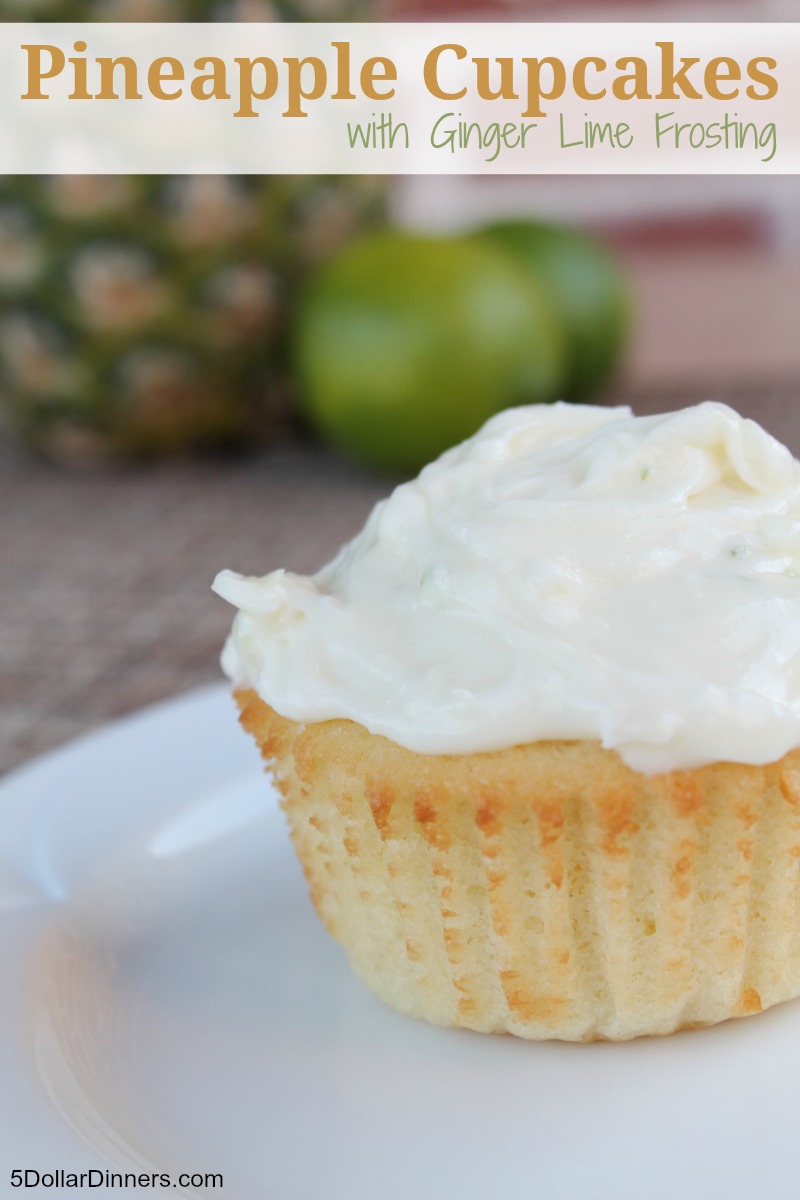 You're going to see a number of pineapple recipes in the coming weeks, as I scored a few couple of cans of pineapple in 100% juice on clearance at Target. I do my best to avoid Target and the 'inevitable $100 tag' that seems to happen whenever I walk in there. But I will go in for special deals (like the Huggies diaper deal this past week (sale price &$2 off coupons & $10 gift card when you bought 2) on things that we need/use regularly. And I know where all of the clearance end caps are in the entire store…and I quickly cruise past them in the event that I see some overstock on clearance. As is the case with a couple of cans of pineapple.
I've got a pineapple curry coming your way, inspired by takeout curry dish I had when I was with my sister in Pittsburgh last month. And a shredded pineapple chicken too. Both are mouthwatering delicious!
I'll share them as soon the skillet dinner series comes to an end!
In the meantime, can I tempt you with these pineapple cupcakes…topped with a frosting that will make your taste buds tingle. Seriously, fresh lime + fresh ginger will make them tingle.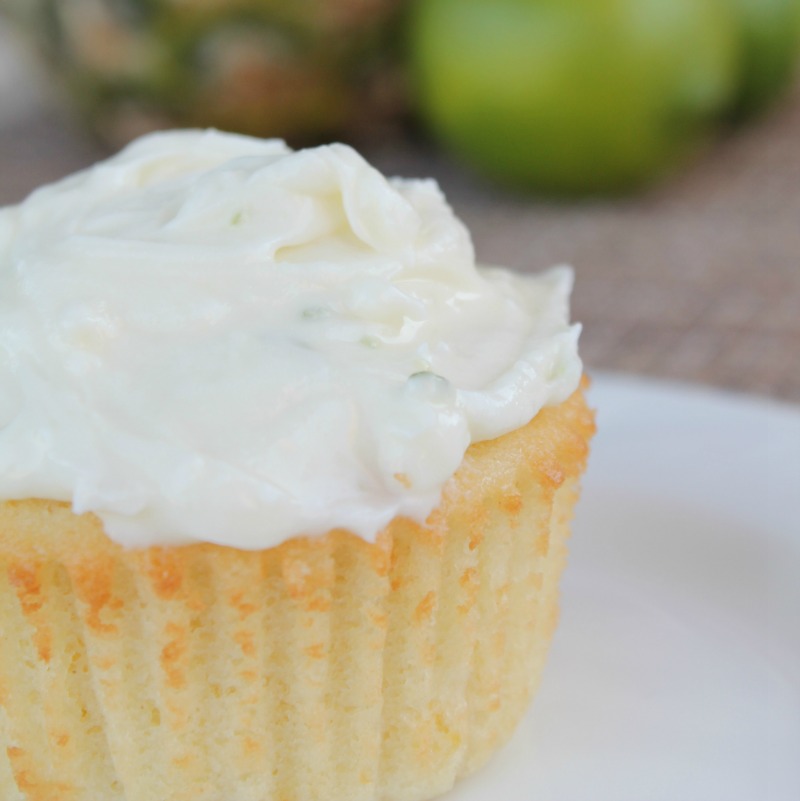 Indulge away!
Delightful flavor in these melt-in-your-mouth cupcakes!
Ingredients
Cupcake Ingredients
2 1/2

cups

all purpose flour

3

tsp

baking powder

1/4

tsp

salt

1

cup

sugar

1/2

cup

sweetened coconut flakes

8

oz

can crushed pineapple

drained

1/4

cup

coconut oil

1

tsp

vanilla

3

eggs

3/4

cup

milk
Frosting Ingredients
8

oz.

cream cheese

softened

4

cups

powdered sugar

Fresh zest and juice from two limes

1

tablespoon

ginger root

peeled and finely grated (This is the root you get in the produce section, NOT dried, ground ginger powder. I used a zester to grate the ginger, but the fine grate side of a box grater should work fine.)
Instructions
Cupcake Directions
Preheat oven to 350. Prepare muffin pan with parchment paper cups. They don't stick. Really!

In small bowl, mix together flour, baking powder, salt, sugar, and coconut flakes.

In large bowl, combine pineapple, coconut oil, vanilla, and eggs. Mix until blended well. (If you don't have coconut oil, canola oil will work too.)

Add in dry ingredients to the wet. Mix until a thick batter forms.

Slowly add in ½ cup milk. The batter should be thick but still pour-able. Add milk 1 tablespoon at a time if you need to thin it a bit.

Fill baking cups 2/3 full with batter. Bake in the preheated oven for 18 minutes or until toothpick inserted in center comes out clean.

Cool completely before frosting.
Frosting Directions
In large bowl, beat all ingredients until smooth.

Spread frosting onto cooled cupcakes and serve immediately.