Now, most would think of pimento cheese as a warm weather recipe. Visions of flip flops and sandwiches. In our household, we eat it year 'round. During the holidays, it's an easy stand by.
In this, the week of two-for-ones and other shopping deals, I am sharing this staple for our Hodgepodge of seven. Because it's hectic. You know what I'm talking about. Those weeks coming up on your calendar. The ones chock full of "hurry, we need to be there in 30 minutes!"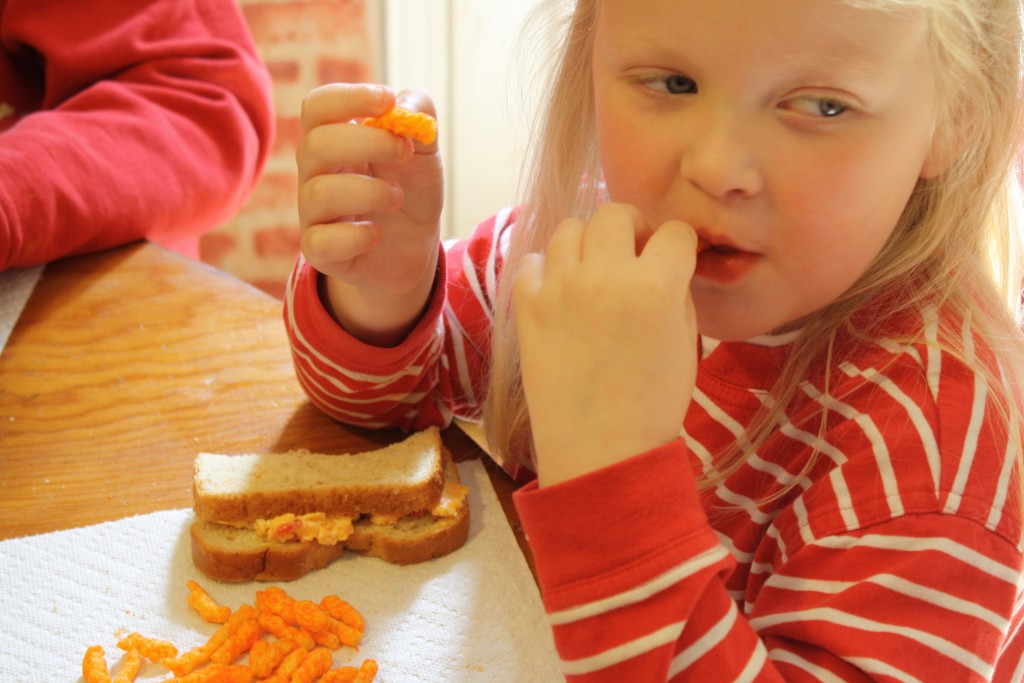 I mix up a double batch on a weekend to keep in the fridge for the next week. There are so many uses for pimento cheese:
1. Main course – one meal deal

Feature of a nibble tray
Supper with a side of soup
Lunchbox highlight
Grilled pimento cheese sandwich or open-faced under the broiler
A dollop in a tortilla, microwaved for 50 seconds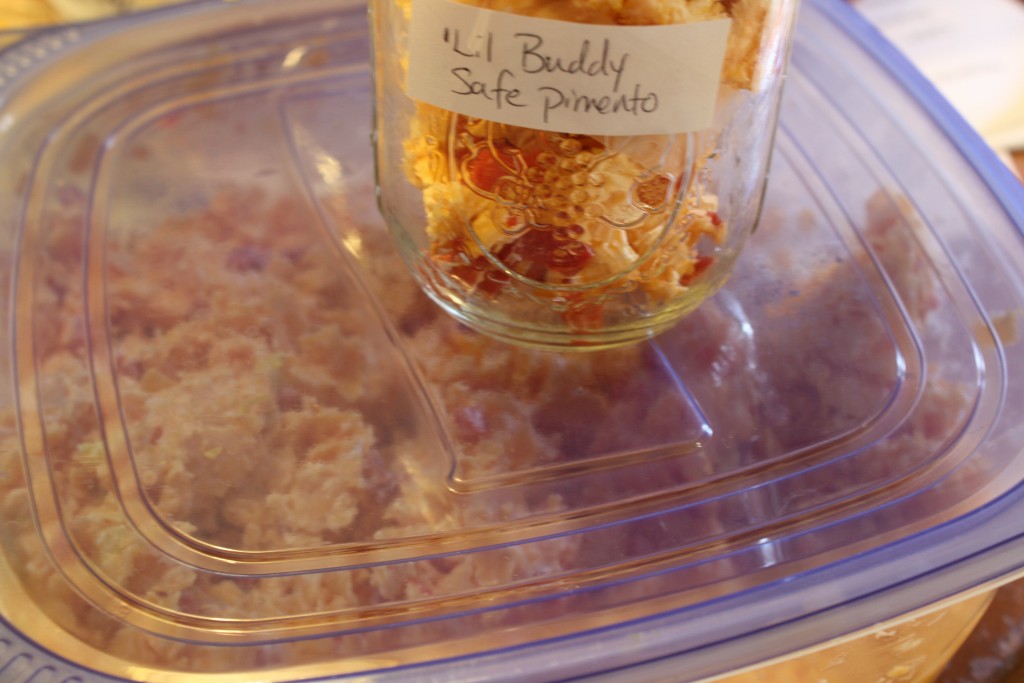 2. An easy appetizer to take to the holiday function. It's like the end all of cheese balls. Just add a side of crackers or quarters of homemade bread.
There are many variations you can try to fit your family. My grandmother, Mama Ann, makes hers with homemade mayonnaise. You can even substitute cream cheese for the mayo (egg-free and safe for ours allergic). I double her recipe for our family:
Mama Ann's Pimento Cheese
One (1) 16 oz block cheddar – sharp, mild or Longhorn (according to your taste. Mama Ann says that Longhorn melts in your mouth.)
One (1) small jar diced pimentos (diced work best but sometimes hard to find. If you can only find sliced then chop it more yourself.)
Approx. 2 tablespoons of mayo (she uses homemade mayo – that's what really makes it good plus frugal! She stores her mayo in the fridge in her antique crock, pictured right.)
One (1) small, diced banana pepper or three diced banana pepper rings
True pimento cheese is a labor of love. Shred cheddar by hand or with a mixer attachment. Do not try to substitute a store bought bag. You won't get by with that. Substituting pre-shredded cheese will result in dryness. Mix all ingredients, serve immediately or store in fridge.
Cost
16 oz block mild cheddar ($2.50)
small jar pimentos (.99)
mayo (.10)
banana pepper – pennies
Total = $3.60 (x 2 for our family = $7.20 for all the above uses)
Two for one! An easy meal or a holiday appetizer. Pimento cheese – the stand by for the holidays the go to for always. Take it from one raised on it 🙂
So tell me. What's your favorite, two-for-one standby?