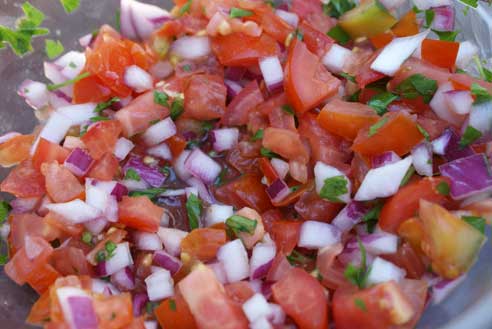 One herb I failed to grow this year was cilantro.  Bummer!  I substituted fresh parsley and ground cumin in place of the cilantro that makes Pico de Gallo so scrumptious!
Ingredients
6 small tomatoes (fresh from the garden)
1/2 red onion ($.35)
1 garlic cloves, minced ($.05)
1 hot pepper, optional if you wanna a "kickin' pico de gallo" (fresh from the garden)
Few bunches of fresh chopped parsley (from the garden)
1 tsp ground cumin ($.05)
1-2 Tbsp lime juice, to taste ($.05)
Salt and Pepper
Directions
1. Remove tops and seed the tomatoes. Dice into 1/4 inch sized pieces.
2. Chop red onion into similar size pieces.
3. Mince garlic cloves.
4. Remove tops and seed (if you want!) the hot pepper. Chop into itty bitty pieces.
5. Chop parsley.
6. Combine diced tomatoes, chopped onion, minced garlic and chopped hot peppers with chopped parsley, ground cumin, lemon juice and salt and pepper.
7. Serve with favorite South of the Border cuisine!
Cost $.50 for about 2 cups
We had quite a bit leftover, so I'll toss it into a cheese quesadilla for "the adults" lunch tomorrow!