Holiday treat alert!
If you're making treats for teachers, friends, neighbors, etc…might I recommend these!
I've take my favorite brownie recipe base…and added in some peppermint extract and topped with a crispy layer of white chocolate and crushed peppermints.
You could, of course, just make a box mix and top with the white chocolate and peppermints too!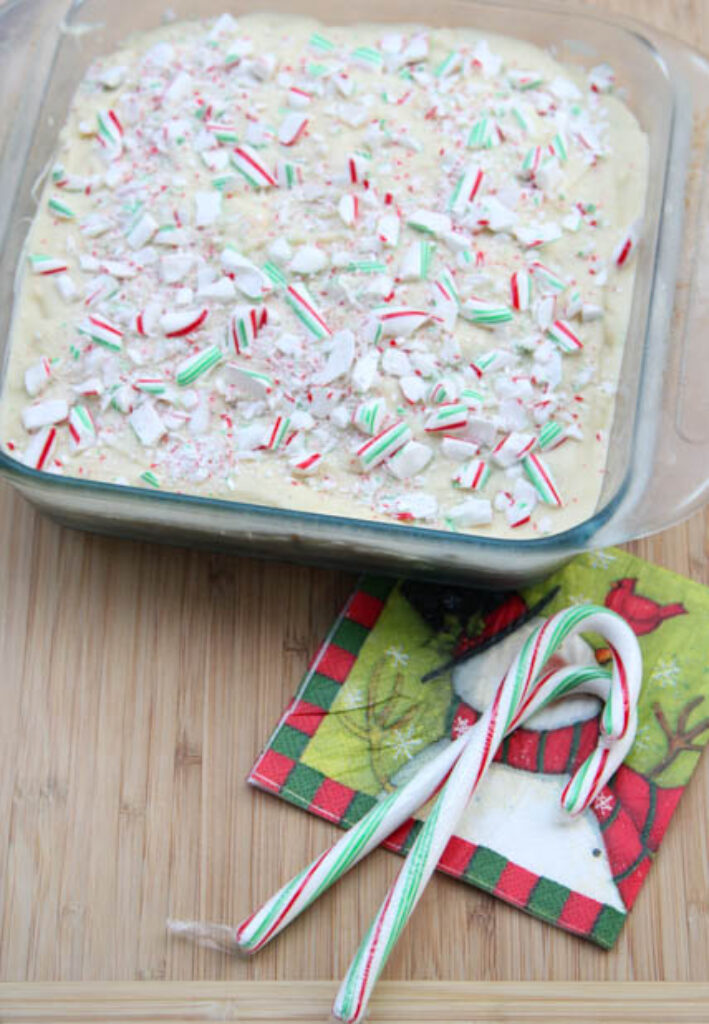 If you've never melted chocolate chips, it's super simple process that requires a double boiler. You can melt them in the microwave carefully, but I prefer to melt white chocolate in the double boiler because it melts slower (over medium low heat) and won't burn or clump as a result.
And if you're frustrated about anything in particular, it'll feel great getting a little aggression out when you pound the candy canes into a bunch of tiny pieces. I pounded mine until I had lots of peppermint 'snow,' as well as the bigger clumps and smaller chunks. Then you'll get the perfect amount of peppermint topping with each bite!
Enjoy!
The ultimate holiday treat!
Ingredients
2

oz

semisweet baking chocolate, chopped

1/2

cup

butter

2

cups

chocolate chips, divided

1

cup

sugar

1

tsp

vanilla

1/2

cup

all-purpose flour

2

Tbsp

cocoa powder

1/2

tsp

salt

2

eggs

4

drops peppermint extract

Peppermint Bark Topping

2

cups

white chocolate chips

1

peppermint extract

1

Tbsp

canola oil

4

candy canes, crushed
Instructions
Preheat the oven to 350 degrees. Grease an 8x8-inch glass baking dish with nonstick cooking spray.

In a large, microwave-safe mixing bowl, add the chopped baking chocolate, butter, and 1 cup of the chocolate chips. Microwave on high for 112 minutes. Whisk the melted butter into the melted chocolate.

Whisk the sugar, vanilla, flour, cocoa powder, and salt into the butter-chocolate mixture. Whisk the eggs and instant coffee granules into the batter. Whisk for about 1 minute, or until the batter is smooth. Fold in the remaining 1 cup chocolate chips and the 4 drops of peppermint extract.

Pour the batter into the greased baking dish. Bake in the preheated oven for 30 to 35 minutes until a toothpick inserted in the center comes out clean. Let coolfor about 10 minutes before adding the

While the brownies are baking, add the white chocolate chips, drop of peppermint extract and oil to a double boiler. Turn the heat on medium-low and stir the white chocolate as it melts.

Add the candy canes to a plastic baggie and pound them with a rolling pin, hammer or potato masher.

Once the brownies have cooled, spread the white chocolate layer of the top and then sprinkle on all the peppermint pieces and 'snow.' Chill in the fridge for at least an hour to allow the white chocolate bark to set.

Slice and serve Peppermint Bark Brownies.