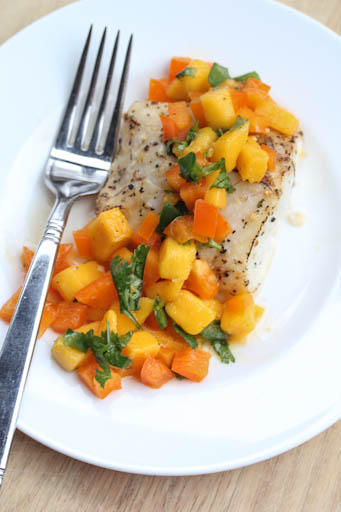 Fiesta is all about partying and this mango-orange pepper salsa on top of a peppered piece of cod is sure to be a party for all your taste buds!
Peppered Cod with Mango-Orange Pepper Salsa

Yield – 4 servings

Preparation Time – 10 minutes

Cooking Time – 25 minutes

Ingredients

4, 4 to 6 oz. pieces of cod
Juice from 2 limes
Salt and coarse black pepper
1 mango, seeded and diced
1 orange pepper, seeded and diced
1 jalapeño pepper, seeded and diced
Juice from 1 lime
About 2 Tbsp chopped cilantro
Dash of ground cumin
Pinch of salt and pepper
Side dish – steamed rice and veggies

Directions

Preheat the oven to 350. Lightly spray a baking sheet with nonstick cooking spray.
Place the cod onto the baking sheet and squeeze half a lime over top of each piece of cod. Crack the course pepper on top of each as well. Bake in the preheated oven for 25 minutes, or until cooked through.
While the cod is baking, mix up the mango-orange pepper salsa in a small mixing bowl. Combine the mango, orange pepper, jalapeno, lime juice, chopped cilantro, dash of ground cumin and pinch of salt and pepper.
Prepare other preferred side dishes.
Serve Peppered Cod with Mango-Orange Pepper Salsa on top with side of rice and veggies. Viva Fiesta!