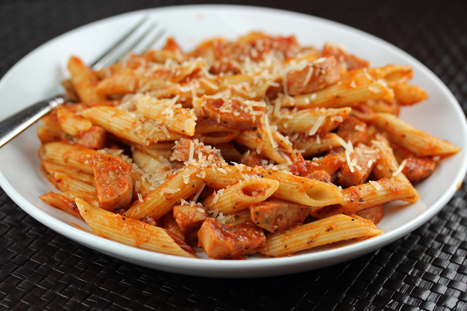 When I got home from Atlanta this week, I had to quickly jump back into reality. I came home to 6 piles of laundry that needed to be taken care of, a sink full of dishes, a weekend's worth of meals to be made (thankfully I'd already made 2 for next week!), and the prospect of having to regroup again for next week's trip to Chicago and Minneapolis! (I'd love to meet you if you live in Chicago or Mpls!)
I needed easy. I needed something I didn't have to think too much about. And I needed something from the stockpile.
Pasta from the pantry. Check.
Chicken Sausage from the Freezer. Check.
Tomato sauce from the pantry. Check.
Seasonings from the cupboard. Check.
Brussels Sprouts from the freezer. Check.
Simple enough.
(And I did add the last of the shredded parmesan cheese from the freezer onto to Steve's plate…which is in the picture above. The rest of us did not have cheese with our pasta…and it was perfectly fine without it!)
(But don't worry…that's not all Steve ate…he had 3 plates worth.)
Everyone loved this meal, except Tyler. He has recently discovered the art of throwing his food on the ground and giggling. And he takes everything…even his beloved beans…and drops it all to the floor. Just to be sure that gravity is still working, I suppose!
*sigh*
Delightful and easy pasta dinner!
Ingredients
1

Tbsp

olive oil

1

lb.

sausage links, diced

2

8 oz. cans tomato sauce

1

tsp

dried basil leaves

Salt and pepper, to taste

1

lb.

penne pasta

Optional: Couple pinchfuls of Parmesan cheese

1

bag

Brussels sprouts
Instructions
In a large skillet, add the olive oil. Add the diced sausage pieces and saute for 3-4 minutes, or until begin to brown. Stir often. (I was using a fully cooked chicken sausage. If you use an uncooked sausage, then be sure to cook it all the way through before adding in the sauce.)

Once browned, stir in the tomato sauce and add the basil leaves and salt and pepper.

While the sausage is browning, cook the pasta as directed on the package. Drain and return to the pot.

Pour the sausage and basil sauce over the pasta and toss. Toss with shredded or grated parmesan cheese if desired.

Cook the brussels sprouts as directed on the bag.

Serve Penne Pasta with Sweet Sausage and Basil Sauce, and a side of Brussels sprouts or other veggie.