This is why I stopped buying paper towels + my favorite paper towel alternative
When I started to get serious about my money saving journey, I took a look at every single area of the grocery store.
I had figured out the "$5 Dinners concept" and how to work with food. But I needed to take it into household, cleaning and toiletries. I wanted and needed (still do today!) to squeeze every bit out of every grocery dollar I spend.
As I mentally moved through the grocery store, I could see how we could cut back on toiletries and cleaning solutions (think: extend life of products, cut dryer sheets in half, use proper amount of shampoo/conditioner, switch to cleaning concentrates, etc.)
But what about other paper products – plates, cutlery, towels, napkins, etc?
I already was very conservative with paper plates and disposable cutlery. I reserve those for larger gatherings, or during a season of illness within our family.
PAPER TOWELS
Easy peasy! It already felt like I was throwing away pennies every time I would wash my hands and use a paper towel… or use them for a small spill that could easily be absorbed by a cloth alternative.
I could cut back on the hand drying part, but what if I stopped buying them all together?
I decided to give it a try.
And 14 years later, I still don't buy paper towels.
Let me explain further…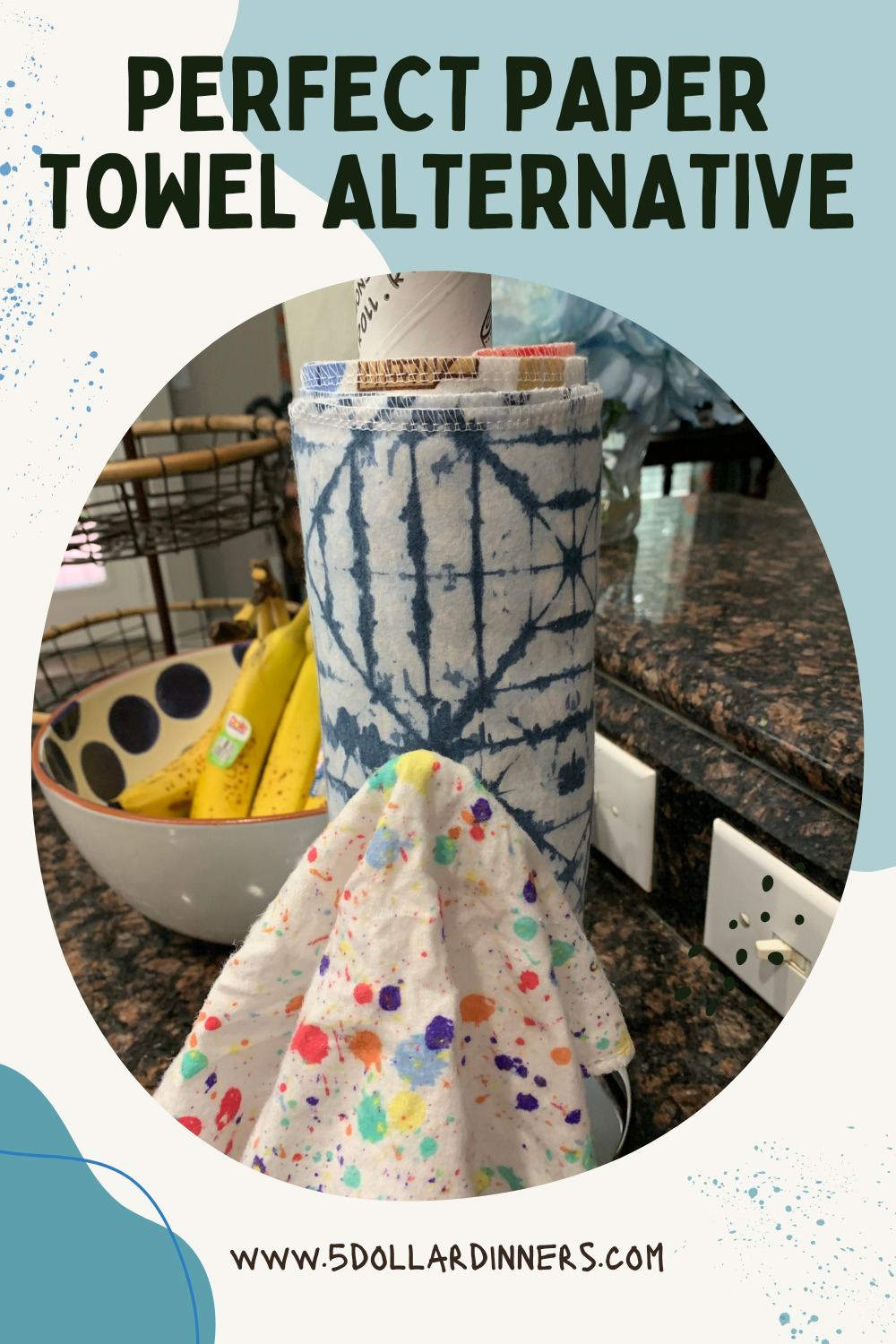 How Not Using Paper Towels Works
Well, it starts with not buying them at the store, and removing the paper towels from the counter top.
Of course, you will need a replacement of sorts (see below), as there are many, many messes, cleanups and wiping that happens throughout the day in the kitchen.
Here's how it looks in my kitchen:
We have towels for wiping hands after hand washing, towels for small cleanups, and towels for larger cleanups. In addition, we have a towel for cleaning counters with cleaning spray.
At any given time, there are 2-4 towels hanging out in the kitchen.
Once they are soiled enough (from a big spill, or from a few cleanups), then they get tossed into the laundry to be washed with towels. We wash all towels every 2-3 days, depending on the week.
With this setup, we are not wasting water, which is a common complaint against switching to reusables.
This flow and system works really well for our towels and our cleanups.
I do buy paper napkins in bulk. We use those sparingly and I can go months between buying the larger packs.
For our family, this just works and I wanted to paint the picture of what it looks like in the kitchen.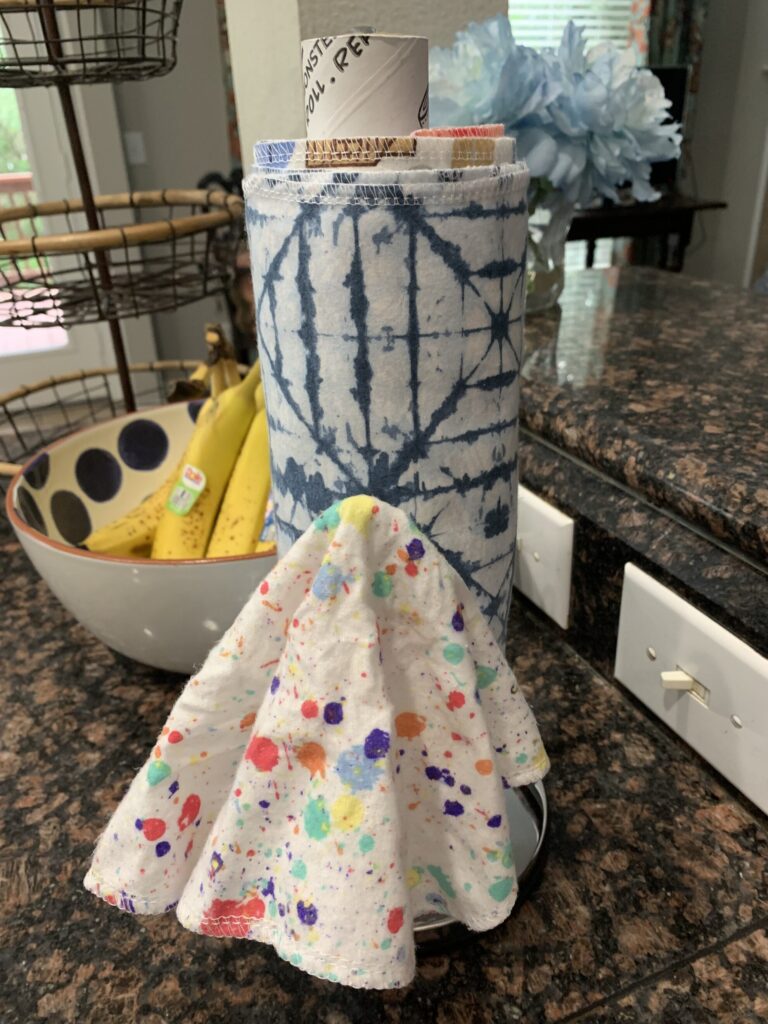 How Much it Saves
While there is an initial upfront cost and investment in reusable supplies of any kind, you will save so much more money in the long run.
Random prediction from not buying paper towels for the past 14 years:
Conservative estimate of savings: $17 (12 pack) x 12 (1 per month) x 14 years = $2,856
Generous estimate of savings: $17 (12 pack) x 18 (1.5 per month) x 14 years = $4,284
Either way, THAT IS A LOT OF MONEY over the years.
Plug whatever numbers you want into that…adjusted for inflation…more frequent or less frequent…doesn't matter…it adds up fast!
I share this because I want you to re-frame the way you think about reusable products, specifically cleaning cloths and kitchen rags.
The cost of a 12-pack of paper towels as of 9/1/2022: $17.65 (generic brand) to $28.99 (name brand)
With just the PURCHASE OF 1 or 2 12-PACK of paper towels, you are spending the same as a one-time cost of reusable towels (see below).
WHAT WHAT WHAT??
Think on that…
Friend, this is a no-brainer to me!
Aren't these patterns in the surprise UNpaper® towels pack fun?!?!
My Favorite Reusable Dishtowels and Dishcloths
Want to join me on this quest of saving money, and being a better friend to Mother Earth?!
Below you'll find my go-to reusable linens (and scrubbies) for the kitchen. These items are used on a daily basis, and I would encourage you to consider how to incorporate them into your life. The up-front investment of these UNPaper® Towels will save you loads in the long run! I am living proof of that!
Take a look and get started with one (or a few) of these today!