Tonight we had Oven Fried Drumsticks. I planned to follow Toni's plan (check out her great photos!) of dipping in butter, then breadcrumbs, then bake! Since we are STILL without power (don't get me started…it's Day 10! For the latest on our power situation click here), I am still cooking over at my mother in law's house! Bless her for putting up with us this long. She has been more than gracious! I forgot bread crumbs from my house, so I ended up just doing butter with some seasonings. I pulled out some homemade buns from the freezer that I made "before the windstorm" and steamed some organic vegetables that I recently bought on closeout and with a coupon! This meal would still come in way under if you had more drumsticks, or more expensive drumsticks!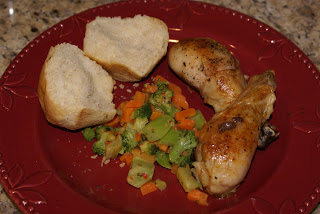 Ingredients
5 Drumsticks ($1.13!!) I got these organic drumsticks on "Manager's Special" and used a $2 off coupon that I had loaded onto my Kroger Plus card on Shortcuts.

4 T butter ($.25)

Seasonings - Paprika, Garlic Pepper, Salt ($.25)

6 Homemade Rolls ($.48)

1 package frozen organic vegetables ($.79...on closeout plus a coupon)
Instructions
Melt butter. Dip drumsticks into butter. Place in baking dish. Sprinkle with seasonings. Bake at 350 for 25-30 minutes, or until juices run clear.

Thaw or make homemade buns.

Steam vegetables.
Cost $2.90