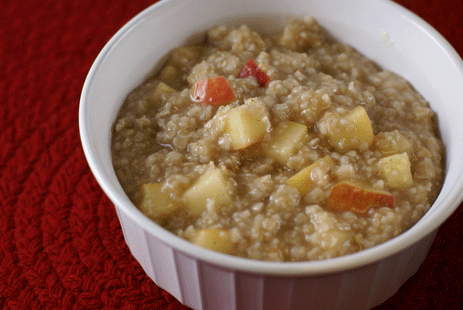 Oatmeal is a quick simple breakfast.  Warm on the tummy, keeps you feeling nice and full all morning long, plus it's helpful to the cholesterol levels too!
I know for me personally…if I'm going to eat (and enjoy) oatmeal, it has to be heavily "flavorized."  And by "flavorized," I mean it has to have enough sweetness and flavor from some other ingredient to make it palatable.
When it comes to oatmeal, I guess I've got a tough palate!
So if you're like me, or if you're just looking for a new option for your bowl of "warm your tummy" oatmeal, try out these options…
1. Mix in some diced apples with some sprinkles of cinnamon and nutmeg plus a little sweetener*.
2. Top the warm oatmeal with yogurt, dried cranberries and a few sprinkles of cinnamon.
3. For an indulgent bowl of oatmeal, swirl in peanut butter with chocolate chips (or cocoa powder plus sweetener*).
4. Toss some chopped nuts on top too. Walnuts go great with apples and dried fruit and pecans work well with the maple flavor!
5. And for a little boost of Omega 3s, sprinkle some ground flaxseed over top.  Won't change the taste one bit!
*sweetener = hoeny, maple syrup, brown sugar
As these chilly mornings wear on, you can spruce up your oatmeal with some of these easy mix-ins!
What's your favorite way to "flavorize" oatmeal?!?