We have a brand spankin' new menu plan available for you…and it's not quite like all the others we have available.
This is the plan for all you exhausted, overworked, stressed moms and dads who are just trying to get dinner on the table. While it might sound crazy to have a slow cooker meal for dinner every night, it's really not. It's actually quite genius if you ask me.
Each week has six meals along with a handy shopping list to make your trip to the store a breeze. When you buy this plan, you get all six weeks, in separate PDFs, delivered at once. We have classic favorites like the Shredded Orange Thai Beef Tacos, Sesame Ginger Chicken, Beef Roast with Apples & Pearled Onions, and Spicy Sausage & Peppers – along with a few new ones you probably haven't seen yet.
This plan is available in the $5 Dinners store, but is the first in the $5 Meal Plan Specialty Plan series. If you are a free trial member or subscribing member of The $5 Meal Plan, you can get a $3 discount on the menu plan that might just save your sanity and turn your week from a chaotic one to a smooth one.
If you're wondering… "Why do I need a slow cooker plan with all slow cooker recipes?" The answer comes from one of our $5 Meal Plan members who suggested the plan in the first place – "Sometimes you have a crazy week and it's nice to go with the slow cooker the whole week."
Yes, yes it is. I have 'those' weeks regularly and I'm so grateful that the slow cooker can take at least some of the 'edge' off my day and week!
We have Scouts, basketball and church activities 4 nights a week and 97.3% of those nights are slow cooker meals for our family! There is so much comfort in knowing what's for dinner and that I've already prepped everything right after everyone has had breakfast. It's remarkable how less stressed I feel on slow cooker days…and how often the dreaded 'what's for dinner tonight' question pops into my head on day's that I've not planned ahead.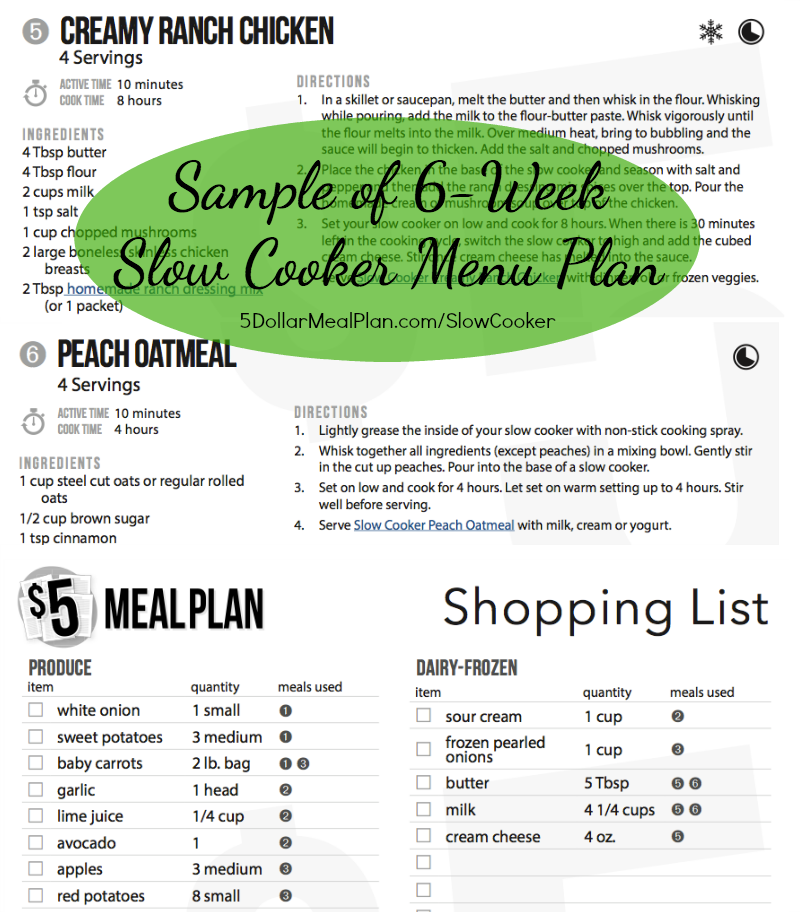 So What's In the 6-Week Slow Cooker Menu Plan…
6 Weeks of Recipes & Shopping List
Each weekly plan then consists of…
5 Dinner Recipes
1 "Other" Recipe, like dessert or side dish
Shopping List for those 6 Recipes for That Week
How Can I Get This New Menu Plan?
1. Order it right here!
2. You can become a free trial member of The $5 Meal Plan and get it for $8!
For less than the cost of a hot Costco pizza, you get 36 meals designed by me separated into six weeks! Wowie!