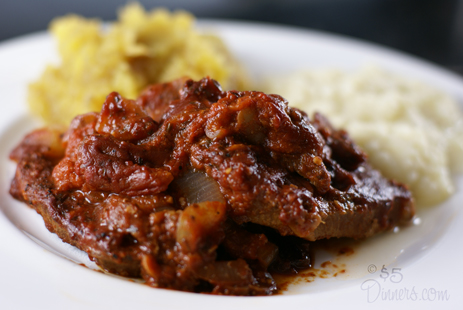 I found in the freezer…6 eye of round steaks…that I bought back in early September. The beautiful part is that I bought 6 eye of round steaks for just over $2! They came in 2 packages, each with 3 steaks and each just over $2. I used a $2 coupon for Private Selection beef from a Kroger mailer.
Can't beat 6 eye of round steaks for just over $2!!!
I stopped by one of my favorite recipe sites, Elise's Simply Recipes. I knew she would have a recipe for eye of round steaks, and she did! A Swiss Steak Recipe…that I modified based on what I had in the pantry, a can of mushrooms!
HELLO. Mushroom Swiss Steak. It's nice to meet you!
You might be my new favorite meal!!!
Ingredients
1 onion, sliced ($.30)

4 garlic cloves ($.15)

6 eye of round steaks ($2.31)

1 4 oz. can of sliced mushrooms, drained ($.49) From Walgreens, on sale and with coupon

1 6 oz. can of tomato paste ($.19) After coupon

1 tsp tarragon ($.20)

Salt and pepper, to taste

1 butternut squash ($1.13) Cooked and frozen when on sale for $.49/lb

Butter and brown sugar ($.20)

Mashed Potatoes ($.50) Leftover and frozen from the holidays
Instructions
Slice onions. Peel and crush garlic.