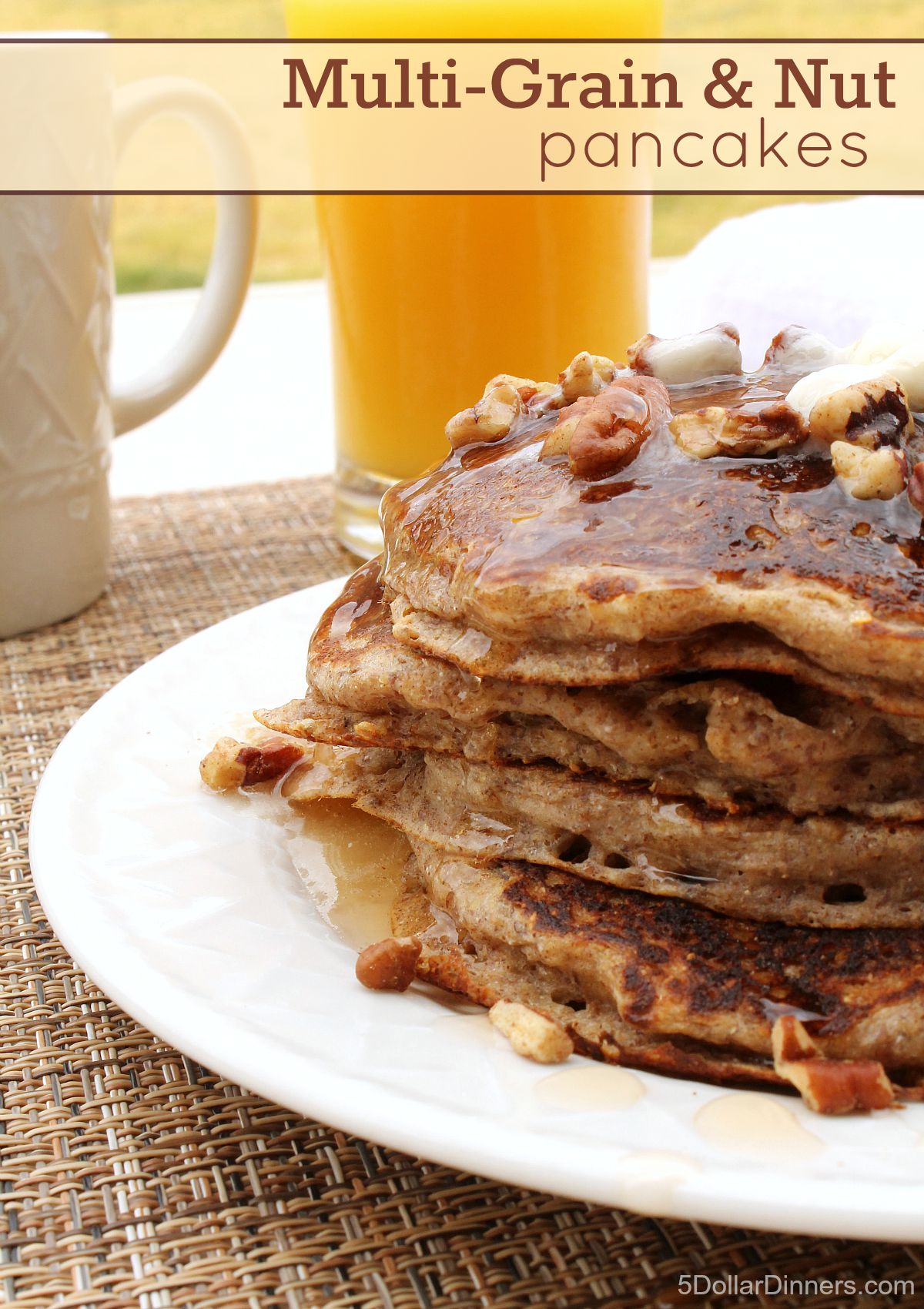 I have a little thing about homemade pancakes. I can't seem to make the same ones twice. (Well, maybe I do!) But I love doctoring up the batter with fresh fruit, chocolate chips, cinnamon chips, and nuts. I've got a special multi-grain version to share with you today…using whole wheat, cornmeal and oats. Plus some pecans and walnuts.
These pancakes are a perfect way to use up the little bit of pecans or walnuts that end up in the bag from another recipe. (At least that's what happens to me. I use nuts sparingly because they are more on the expensive side.)
Here is a fantastic recipe for a filing and delicious breakfast!
P.S. These are totally freezer friendly, so make an extra batch and freeze for those busy weekday mornings!
Melt in your mouth pancakes with a little crunch!
Ingredients
1/2

cup

all purpose flour

1/4

cup

whole wheat flour

1/4

cup

white corn meal

1/2

cup

quick cooking oats

1/2

cup

ground flax seeds

1/2

cup

walnuts, finely chopped

1/4

cup

brown sugar

1

tsp

ground cinnamon

dash of ground ginger

dash of ground cloves

2

tsp

baking powder

1

tsp

baking soda

2

cups

plain Greek whole fat yogurt

3/4

cup

milk

1

tsp

vanilla extract

1/2

cup

pecans, chopped

Butter and syrup, for serving
Instructions
Heat your griddle to 375 degrees.

In a large bowl, combine flour, whole wheat flour, corn meal, oats, flax seeds, walnuts, brown sugar, cinnamon, ginger, cloves, baking powder, and baking soda. Stir until there are no lumps and all ingredients are distributed.

Make a well in the middle of the dry ingredients. In the well, place the yogurt, milk, and vanilla extract. Starting in the center combine these wet ingredients thoroughly. Then stir in the the surrounding dry ingredients until smooth.

Add the pecans and stir.

Butter the griddle or spray with nonstick cooking spray. Spoon batter onto griddle 1/4 cup at a time. Cook on each side for about 4 minutes or until done.

Serve warm with butter and syrup or fruit.