You'll have "BROOKIES" for days with these muffin tin cookie-brownies, also known as BROOKIES!
Every now and again I pop into Trader Joe's to pick up some goodies for myself or the boys. (If you have not tried their Caramelized Onion Cheddar Cheese…RUN AND GET IT.)
They have "brookies" that are just delightful and I have to resist the urge to pick up a box, because I know that I would eat almost the entire thing on my way home. (Just keeping it real here!)
I recently grabbed a few boxes for an end of season sports gathering and WHEW. I knew the boys would gobble them up and I was in a hurry and forgot to pre-prep a treat…so I had to fork over a little more than I would have wanted…even for this special occasion.
It got me thinking…these can't be hard to make.
It's cookie dough and brownie batter. And to get the best consistency, the smaller the "container" the better…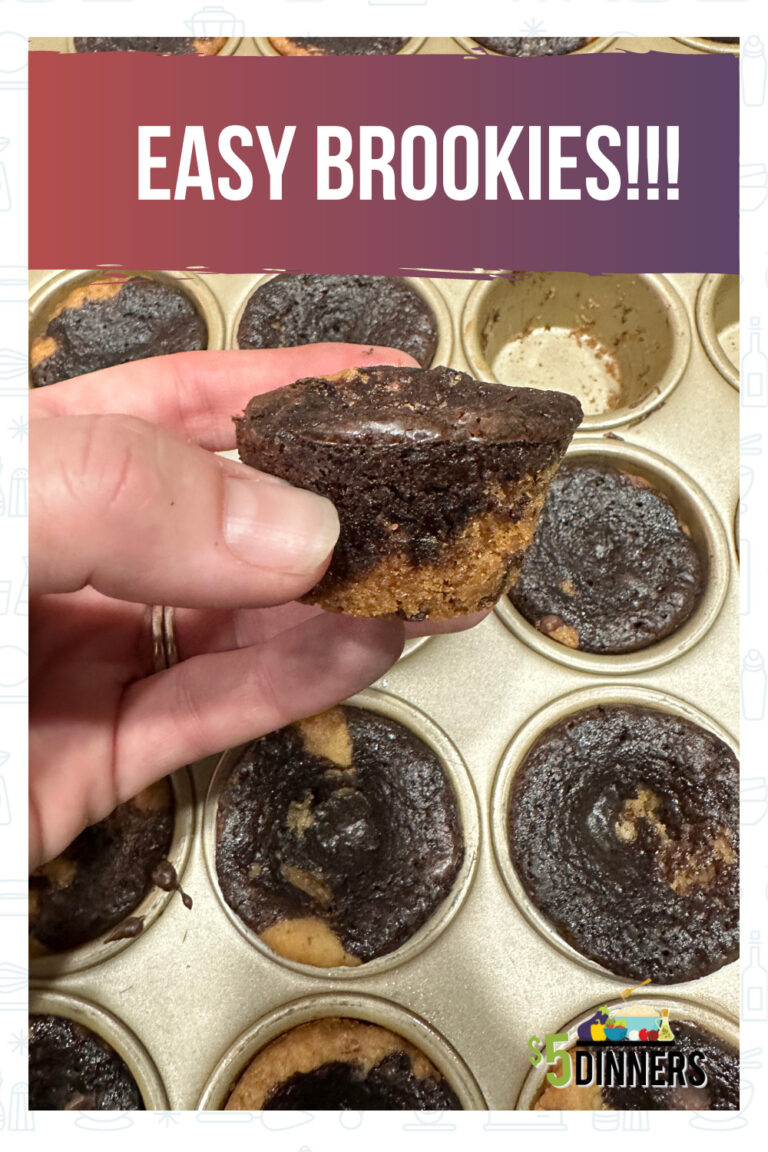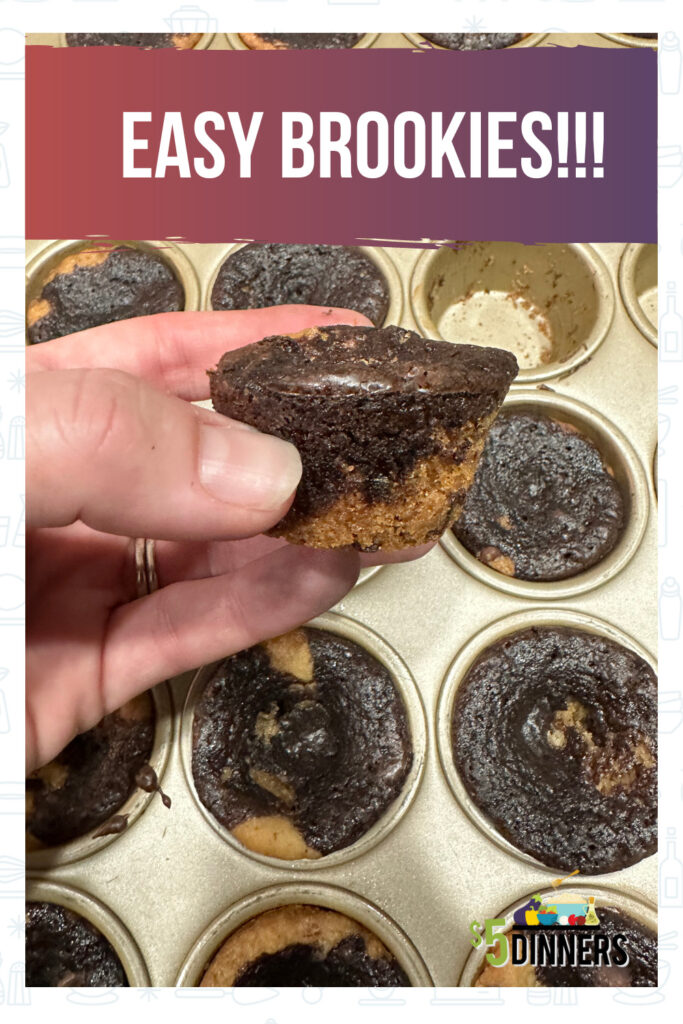 So…
I present to you…
MUFFIN TIN BROOKIES.
tbh…I prefer the bite size-able/grab-able smaller mini muffin tin version. But really, it's cookies and brownies together…it's delicious whichever pan you use!!! lol
Save, print or pin the recipe below. Also, watch this quick video on how to make them – easy peasy, huh?!
How to Make Muffin Tin Brookies
A magical combination of cookie dough and brownie batter - baked to perfection in muffin tin!
Ingredients
1

box

brownie

mix

water, oil and eggs

as directed on brownie box

2

16.5 oz

chocolate chip cookie dough rolls
Instructions
Preheat oven to 375 F. Lightly spray 2 muffin tins with non-stick cooking spray.

Mix the brownie batter with water, oil, and eggs as directed on the box.

Slice both the cookie dough roll into 12 slices. This will be pressed into the base of the muffin tin wells.

Press the 24 slices of cookie dough into the muffin tin wells. Press to "seal" the bottom of the well so that the brownie batter can't slide below the cookie dough.

Using an ice cream scoop, spoon and evenly divide over the 24 muffin tin wells.

Bake in the preheated oven for 20 to 22 minutes. Let cool at least for 10 minutes, before using a knife to loosen the brookie bites from the muffin tins. Enjoy!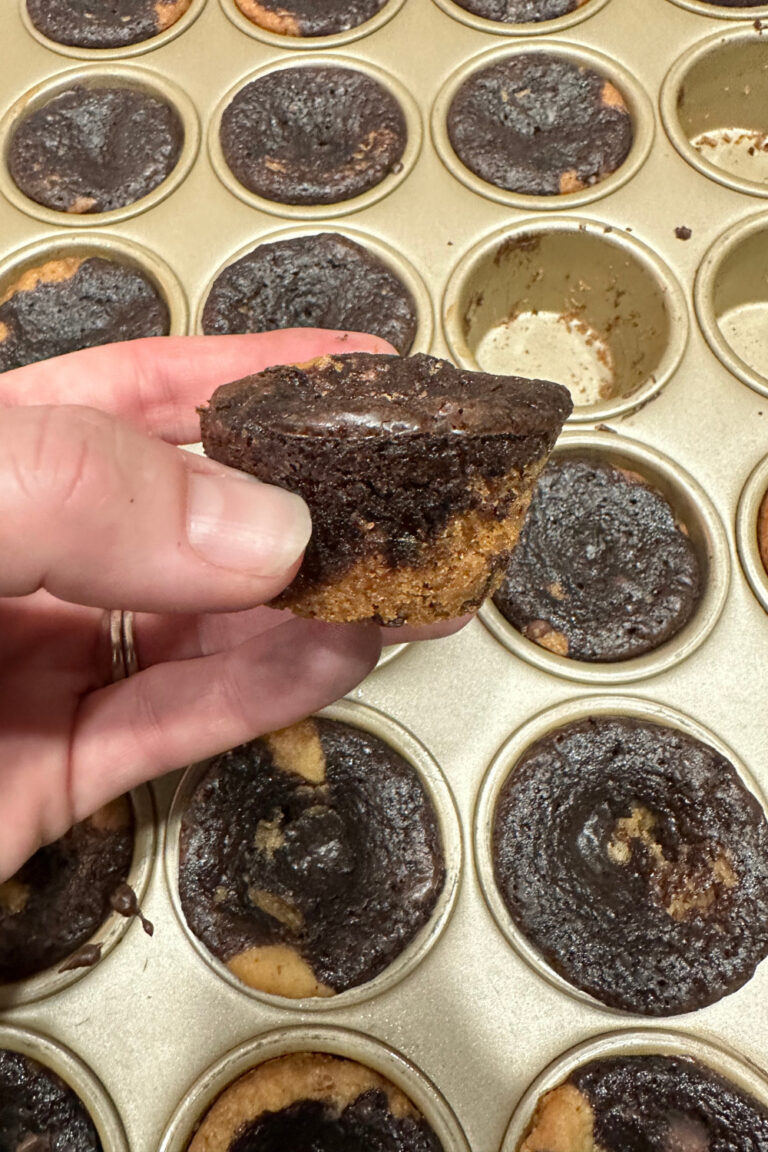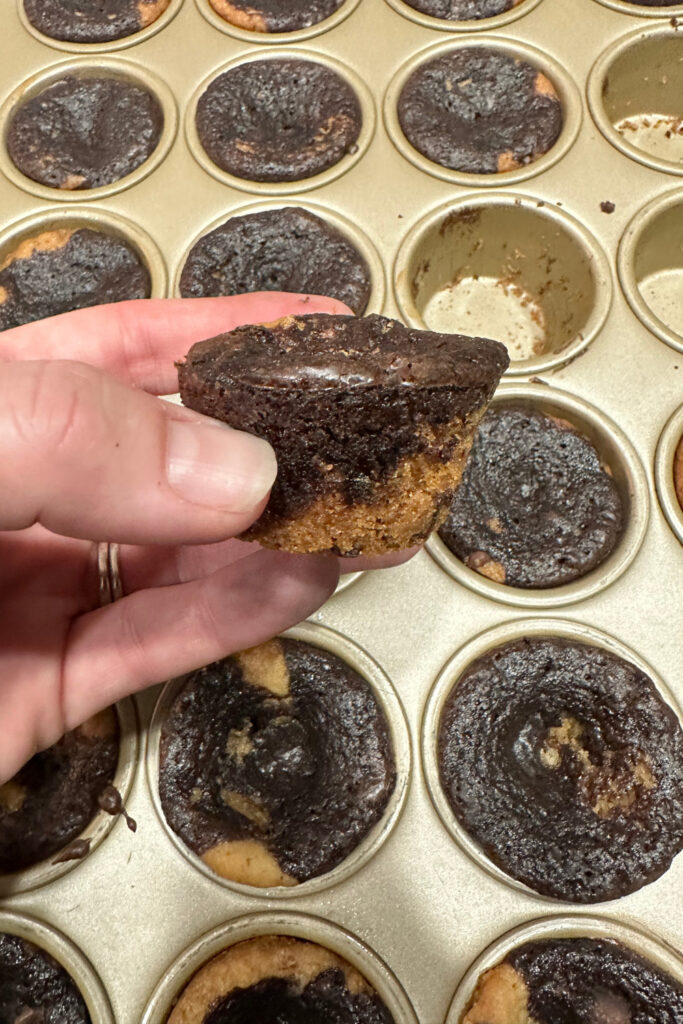 Disclaimer: As an Amazon Associate, I earn commissions on qualifying purchases. Reviews, opinions are my own.