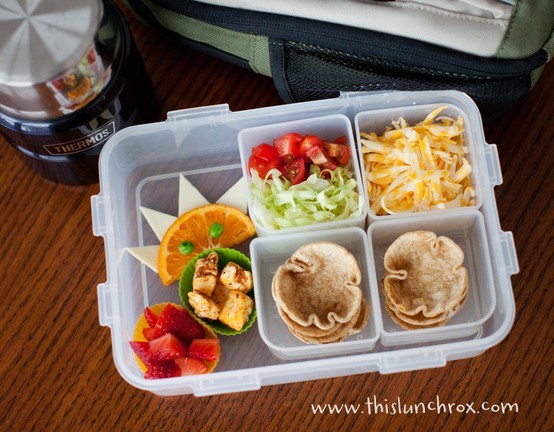 Y'all. I just can't get enough of Jamie's site, This Lunch Rox!
She has the best lunchbox ideas and she's a fabulous photographer too! I just wish I could somehow make this lunchbox magically jump through my computer and into the hands of my first grader as he sets out for the bus.
This Taco Cups lunchbox is such a fun and great way to be on your way to being the envy of the lunch room! She also has a great photo tutorial about how to make the  mini taco cups too.
You must, must, must go visit Jamie. You'll be hooked too, be warned!
(And by the way, Jamie has no idea that I exist. Or that I have a total crush on all her lunchbox ideas!)
Also…I plan to bring you a new lunchbox idea every Saturday…hoping that you'll be able to incorporate it into your next week of lunch packing! You can now easily find all the great ideas and tips from "Back to School Lunch Week" by clicking on the blue "Lunch Ideas" tab in the right sidebar.