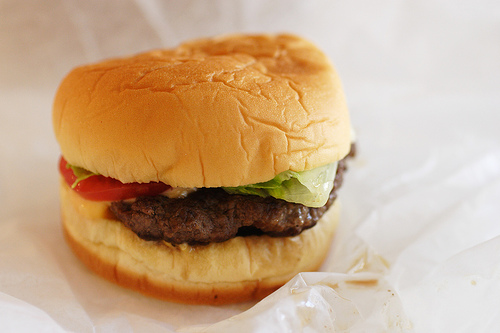 Dinner is over at Karen's house tonight!  She's making mini burgers for us all…sliders, if you will!
Ingredients
1/4 cup yellow mustard
1/4 cup ketchup
1 lb. ground beef
Hamburger buns or small rolls
Directions
Mix first three ingredients up until well blended.
Dollop desired amount of ground meat mixture onto hamburger bun.
Set the oven on broil. Add the mini burgers under the broiler and cook for 2 minutes or longer as necessary, depending on the oven, until meat is well cooked and brown.
Modification: I use the Orowheat Bread Thins (They are $2 at the Target near me!) It creates a better texture for the bread and is more dense. Also, they are helpful for those on WeightWatchers since one bread is only 1 point(!).
This recipe is fairly simple to make, and it is easily adjusted with different flavored sauces. I sometimes use a sweet and sour mix to make the burgers, in addition to the ketchup and mustard.
Sweet and sour sauce
1 cup of white sugar
1/2 of vinegar(I used apple cider)
3 tsp of water and soy sauce
I found that if you refrigerate the sauce overnight it becomes a bit thicker for better consistency as well after its been heated.
Mix until blended and add to the ground beef mixture.
I served it with some of the steamed asparagus from Raley's bought with the coupon from a few weeks ago -delicious!
Depending on how much you use for the meat, you can easily make about 20 burgers as well so it lasts longer. Garnish with lettuce, tomato, pickle, ketchup, mustard, mayo…whatever!
Be forewarned they do go fast, so get them while they are hot! 🙂
About Karen: I recently moved from IL to CA due to getting married. I am a graduate student in the distance to learn program and am studying to get my masters to be a librarian. My husband works for a video game company out in Santa Clara so we get lots of free video games!