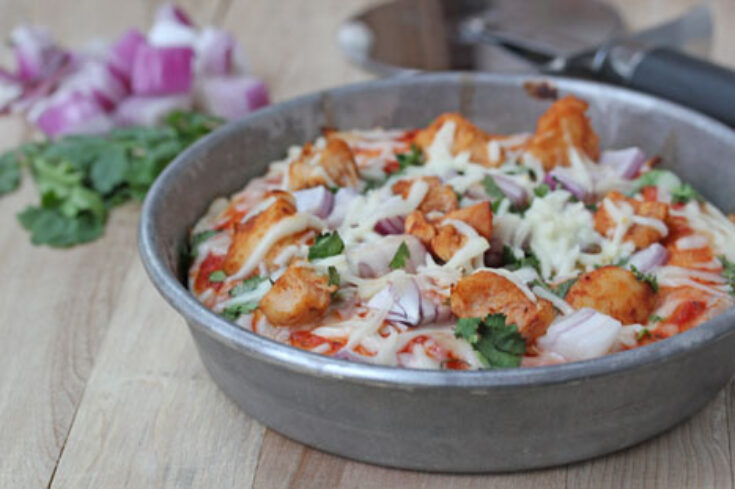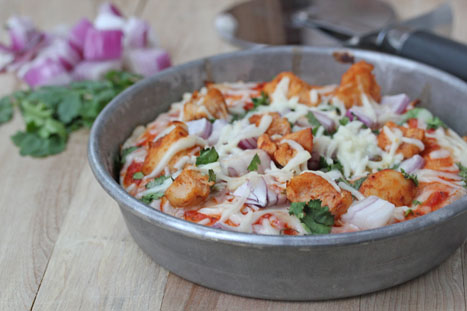 Quick story.
When Steve and I lived in the Dominican Republic, we had the choice to fly back to the US for vacations or family get togethers via Miami or New York. Those were are only 2 options. Santiago to JFK or Santiago to Miami.
(Except once we flew through Puerto Rico, and then onto Chicago. I was pregnant with Ryan and I was terrified the entire time we were on the first plane because it was SO loud, and SO bumpy, and SO choppy, that I was sure that he was being harmed in some way. Paranoid first time mother, much!)
And every time we went to make our airfare arrangements, I would secretly hope that the airfare through Miami would be cheaper.
Why?!
Because there is a California Pizza Kitchen at Terminal E in the Miami airport. And because we hadn't had the opportunity to eat much "American food" in the past 9-12 months. And because we were hungry. Hungry for "American pizza."
Hungry for this.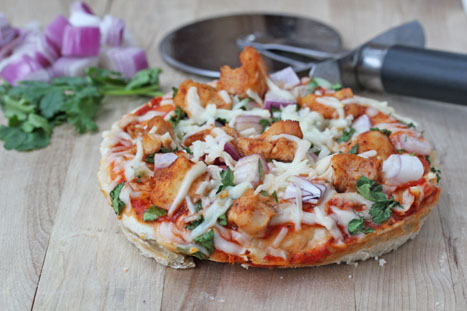 So…..needless to say, we'd beeline it to CPK as soon as we hit the ground in Miami.
Probably their most popular option. And there's a reason.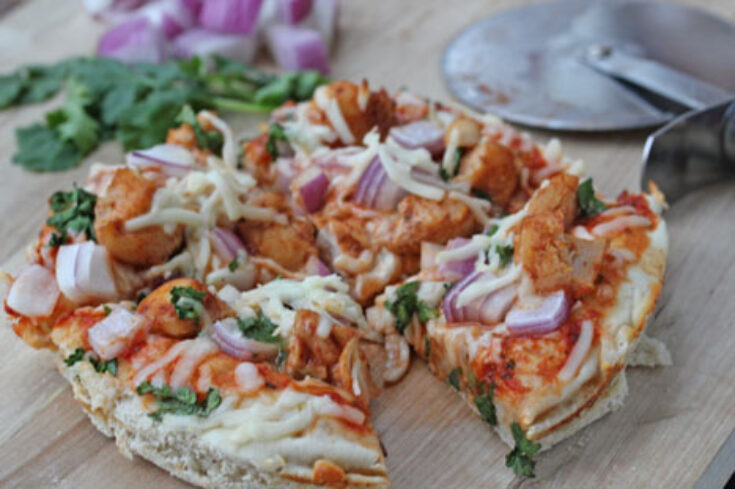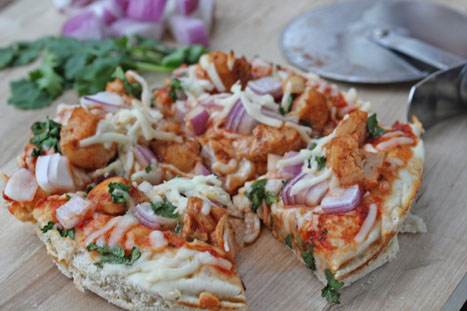 It's a combination of flavors that can't be matched. BBQ. Red Onion. Cilantro.
(Yes, please.)
Ingredients
Homemade Pizza Dough, made whole or as mini-pizzas

2

chicken breasts

1

cup

BBQ sauce

1/2

cup

pizza sauce

1

red onion, diced

4

sprigs of cilantro leaves

2

cups

mozzarella cheese (I used part regular, part dairy and soy free)

Side of fresh fruit
Instructions
Prepare the homemade crust. Or buy them from the store. (But homemade are so much better!)

Cut up the chicken breast into bite size pieces and then add them to a skillet with the BBQ sauce and about 1/2 cup of water. Bring to a simmer, then cover and cook over medium heat until the pieces have cooked through and are coated with BBQ sauce. Will take 5-10 minutes, depending on size of the pieces.

Spread the pizza sauce over the large pizza or smaller ones. You don't want it to be too much and let the tomato flavor over power the other flavors.

Add the cooked chicken pieces, the diced red onion and cilantro leaves. Sprinkle the cheese over top.

Bake at 350 for 12-15 minutes, or until crust has cooked and the cheese begins to golden.

Slice, serve and be merry!