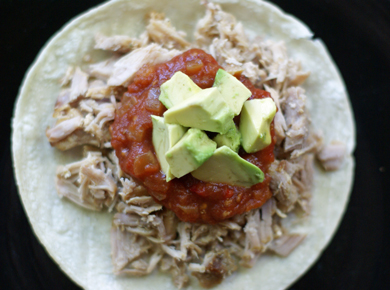 Simple. Fuss-free. Tasty.
(The only thing I wish I'd done before serving these was toast the tortillas in a hot skillet…just 30 seconds per side…give them a little flavor boost.)
I have been waiting to make these since the beginning of March! Rather, these have been waiting for me to make them since the beginning of March!!!
Ingredients
1.5

lb

pork shoulder or loin, cubed ($2.83)

2

Tbsp

oil ($.05)

1 teaspoon ground cumin ($.05)

Salt and pepper, to taste

2 garlic cloves ($.10)

1/4

cup

lime juice or juice from 1 lime ($.10)

1/4

cup

water

8 corn tortillas ($.50)

Salsa, diced avocado, sour cream dollops to garnish ($.50)

Corn Cobs ($.80)
Instructions
In a mixing bowl, toss the pork cubes in the oil and ground cumin. Season with a few dashes of salt and pepper.

Place in the base of the slow cooker. Add the garlic, lime juice, and water.

Set on low and cook for 8 hours.

Remove, let cool slightly, then shred with 2 forks.

(Toast the corn tortillas in a warm skillet.)

Boil corn cobs and serve as a side item.

Spoon the carnitas meat over the corn tortilla and top with salsa, diced avocado, and/or sour cream.

Devour.