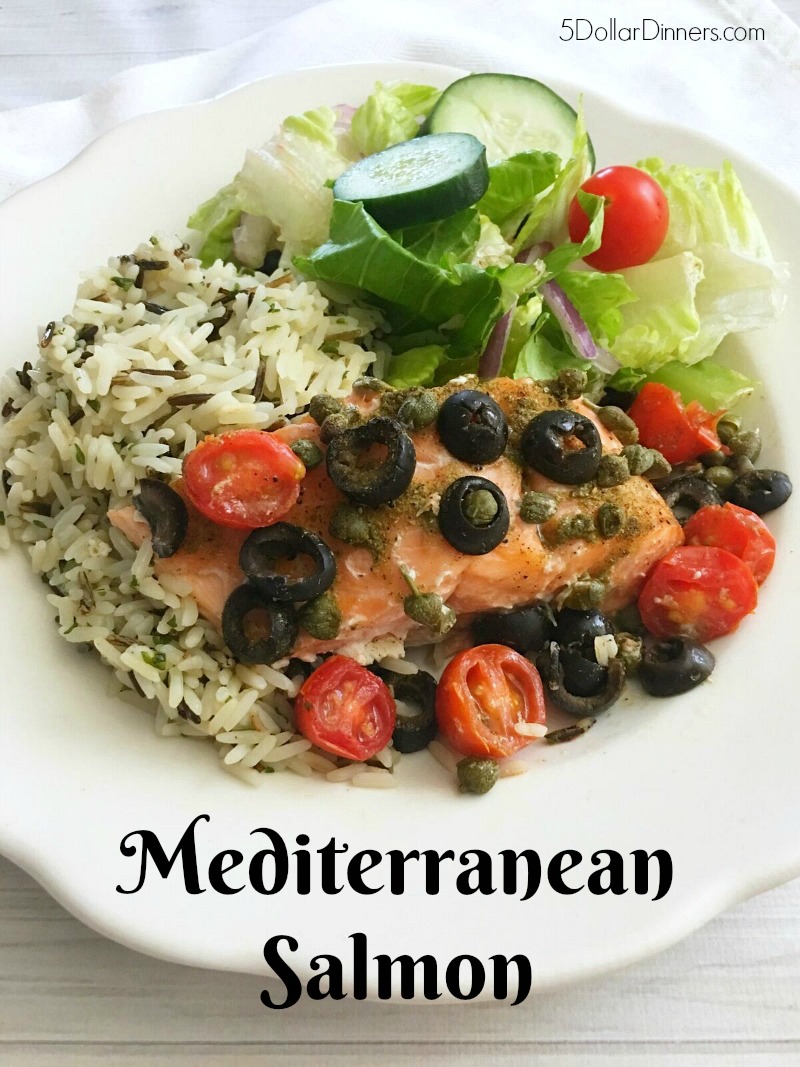 This salmon is just delightful.
DELIGHTFUL.
These fabulous Mediterranean flavors in each bite of salmon…..seriously, I wanted to eat 3 fillets.
Plus, it's light and healthy and clean.
Before you start hitting up my inbox with "there's no way salmon is a $5 dinner!"….yes, salmon is more expensive. Yes, it's like $7-$10/lb. when it's on sale…or $10-$13/lb. when it's not on sale.
But I like to pair it with inexpensive ingredients (like rice) and other ingredients that I had on hand (in this case, the capers and black olives). If you wanted to leave the capers out of this one, you could…to keep the overall meal costs down. But if you'd use them for other meals – like chicken piccata or something else – then grab a jar.
With the tomatoes, olives and oregano, you'd still get the amazing Medit flavors!
Enjoy!!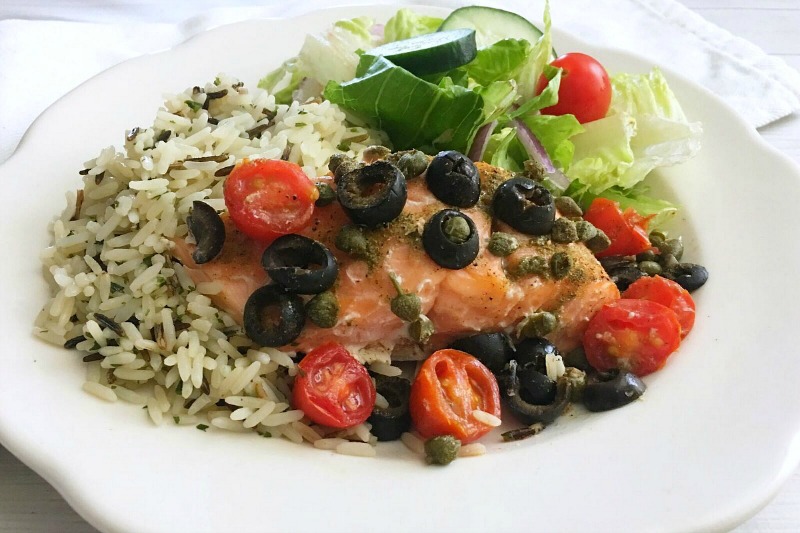 Fabulous salmon - your new favorite recipe!
Ingredients
1

lb.

salmon fillet

Salt and pepper, to taste

1

pint

cherry tomatoes, halved

6

oz

can sliced black olives, drained

2

Tbsp

capers

1

tsp

dried oregano

Salad, as side dish

1

cup

brown rice, as side dish
Instructions
Cook rice, as directed.

Preheat oven to 400 F.

Halve the cherry tomatoes. Open and drain the can of black olives.

Cut salmon fillet into 4 pieces. Place in small baking dish and season with salt and pepper. Add the halved cherry tomatoes, sliced black olives, capers and oregano over and around the salmon.

Bake in the preheated oven for 15 to 20 minutes, or until salmon is no longer pink in the middle.

Prepare the salad.

Serve Mediterranean Salmon with side of rice and salad.