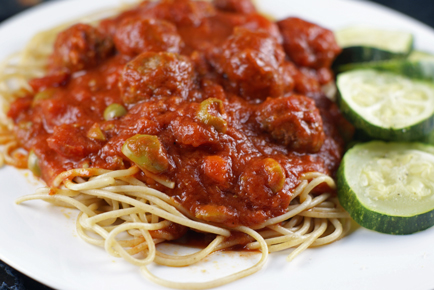 I've had this hankering for olives lately. While I haven't set out to eat an entire jar of green olives, I have no doubt that I could do it…as long as I had a huge glass of water and something sweet nearby.
As I was perusing the cupboards when making my meal plan over the weekend, my eye fell on the olive jar ($.49 from Walgreens). And as I started to tear into it and eat every last green olive, I wandered off… It was as if I was standing under an olive tree in a grove overlooking the deep blue waters of the Mediterranean. It was very Hollywood-esque.
And as I snapped back to the reality of a baby who recently discovered toilet water (and his mother, that would be me, who cannot for the life of her remember where she stowed the toilet locks from the last baby who discovered toilet water, and is too cheap to go out and by new ones, so she just keeps all the bathroom doors shut now) and a little boy begging for water and a snack, it hit me…I need to try these with the mini-meatballs that are in the freezer.
(Writes Mediterranean Meatballs on weekly meal planner.)
In the end, I thought the green olives were a lovely addition to the sauce.
And now for the means to this end.
Ingredients
1 15 oz can crushed tomatoes ($.16) Sale, store promo, coupon

1 6 oz can tomato paste ($.19) Used $.75/1 Muir Glen coupon

1/2 jar green olives, plus some juice ($.25) Walgreens sale and coupon

1-2

Tbsp

olive oil ($.10)

About 2/3 lb ground beef made into mini-meatballs (Try my Herbed Meatball recipe!) ($2)

4 garlic cloves, crushed ($.20)

Salt and pepper

Spaghetti noodles (about 3/4 lb for our family) ($.75)

1 zucchini ($.75)

Salt and pepper
Instructions
In a mixing bowl, add the crushed tomatoes and the tomato paste.