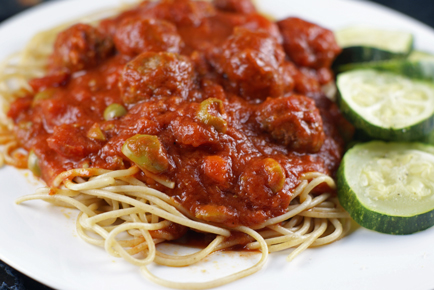 I've had this hankering for olives lately. While I haven't set out to eat an entire jar of green olives, I have no doubt that I could do it…as long as I had a huge glass of water and something sweet nearby.
As I was perusing the cupboards when making my meal plan over the weekend, my eye fell on the olive jar ($.49 from Walgreens). And as I started to tear into it and eat every last green olive, I wandered off…
It was as if I was standing under an olive tree in a grove overlooking the deep blue waters of the Mediterranean. It was very Hollywood-esque.
And as I snapped back to the reality of a baby who recently discovered toilet water (and his mother, that would be me, who cannot for the life of her remember where she stowed the toilet locks from the last baby who discovered toilet water, and is too cheap to go out and by new ones, so she just keeps all the bathroom doors shut now) and a little boy begging for water and a snack, it hit me…I need to try these with the mini-meatballs that are in the freezer.
(Writes Mediterranean Meatballs on weekly meal planner.)
In the end, I thought the green olives were a lovely addition to the sauce.
And now for the means to this end.
The most delicious mini-meatballs and homemade tomato sauce. Perfect over spaghetti with side of your favorite veggies.
Ingredients
15

oz.

can crushed tomatoes

6

oz.

can tomato paste

12

green olives

plus 2 Tbsp brine

1

Tbsp

olive oil

1

lb.

ground beef or sausage

4

garlic cloves

crushed

Salt and pepper

1

lb.

spaghetti noodles

veggies

side dish
Instructions
In a mixing bowl, add the crushed tomatoes and the tomato paste.

Pour 2 Tbsp of olive juice in with tomatoes. Add 1 tomato paste cans worth of water in with the tomatoes and gently whisk.

Slice the olives and fold them into the tomato sauce.

In another mixing bowl, mix the ground beef or sausage with the garlic. Form into 1/2-inch size meatballs.

In a large skillet, heat the olive oil. Toss in the mini-meatballs after the oil is hot.

Brown the meatballs on each side. Then pour in the olive-tomato sauce. Combine well and then season with a little salt and pepper.

Cover and let cook for 10-15 minutes.

Meanwhile, cook the spaghetti noddles as directed on package.

Serve Mediterranean Mini-Meatballs over spaghetti with veggies.