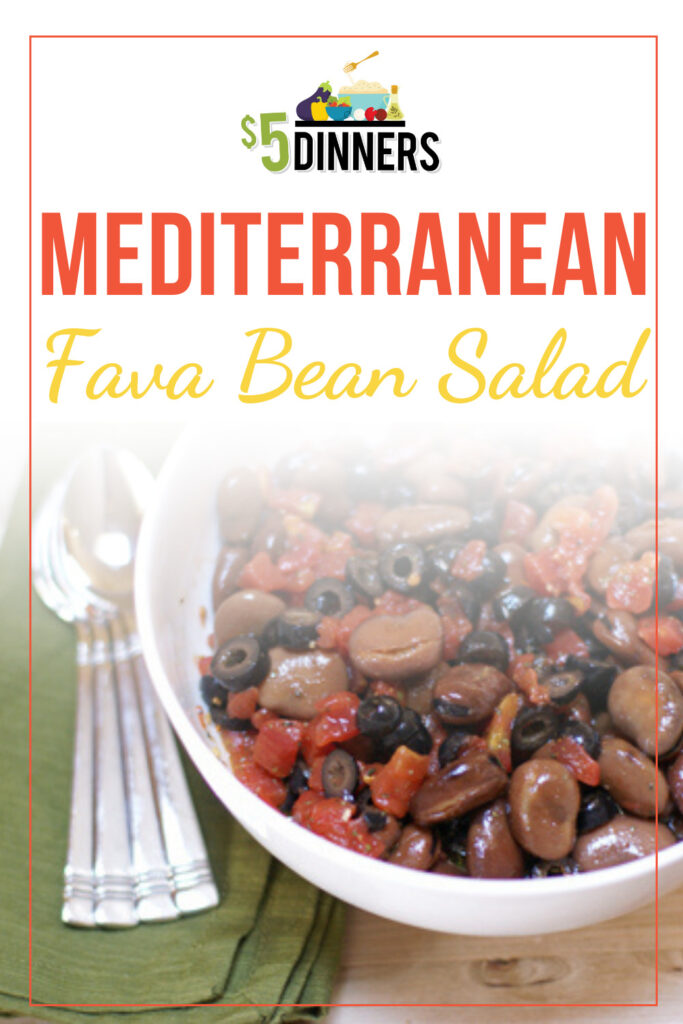 Have you ever had a fava bean?!?
I hadn't…until recently. I had no idea what to expect. I didn't realize they were "big" beans. And I had no idea what they tasted like.
I picked up a can of fava beans to use as a "prop" for a news segment that I did sharing the Just Add One with other home chefs. But you know me…nothing ever goes to waste in my kitchen…
One afternoon last week I opened the can and set out to make a bean salad of sorts for lunch. I looked a little deeper into the pantry and discovered some canned tomatoes and olives. I then made up a quick vinaigrette with olive oil and balsamic vinegar…giving it a little punch and boldness that was otherwise lacking from the beans (which I had tasted at this point…they needed some "bold.")
In the end, I enjoyed this bean salad (3 lunches worth). It has just the right mix of colors, flavors, textures, and the bold balsamic vinaigrette helped hide the bland bean flavor!
If you haven't tried fava beans, you need to try this salad!
Ingredients
19

oz

can fava beans, drained

15

oz

can black olives, drained

15

oz

can petite diced tomatoes, drained

2

Tbsp

olive oil

1

Tbsp

balsamic vinegar

1

tsp

dried basil

Salt and pepper, to taste
Instructions
Empty the beans, black olives and petite diced tomatoes into a mixing bowl.

In a small container with a lid, prepare the vinaigrette by adding the olive oil, balsamic vinegar, dried basil and a little salt and pepper. Shake vigorously.

Pour the dressing over the bean mixture and toss until evenly coated.

Serve, or chill and then serve.