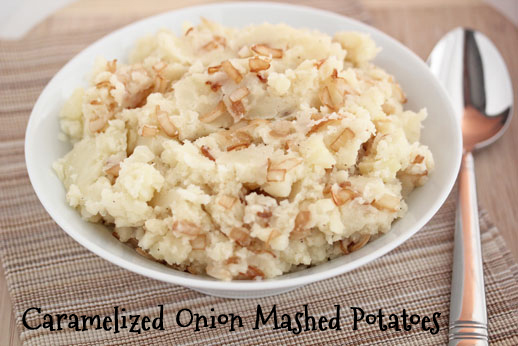 I think I need a support group.
Specifically, a Caramelized Onions support group. I could eat caramelized onions by the spoonful. I love the way they taste. I love the way they make my house smell when they are caramelizing. And I love the way they make mashed potatoes taste better.
I will be taking these to our Thanksgiving feast. Rest assured.
Ingredients
2

Tbsp

olive oil

2

Tbsp

white sugar

2

Tbsp

balsamic vinegar

2

large

white onions, sliced

6

large

potatoes

About 1/3 cup butter

About 1/2 cup milk (butter-milk portions vary, depending on potato size)

(Use sour cream, cream cheese...whatever you like to use when making your mashed potatoes)

Salt and pepper to taste
Instructions
Caramelize the onions - heat the olive oil, sugar and balsamic vinegar in a large skillet. Add the chopped onions. Let cook over medium-low heat for 30 minutes, stirring often.

Peel, cube and boil potatoes in a large pot of water. Once soft, drain and mash with the butter, milk (or whatever else) and salt and pepper.

Combine the mashed potatoes with the caramelized onions.

Serve warm as side dish.