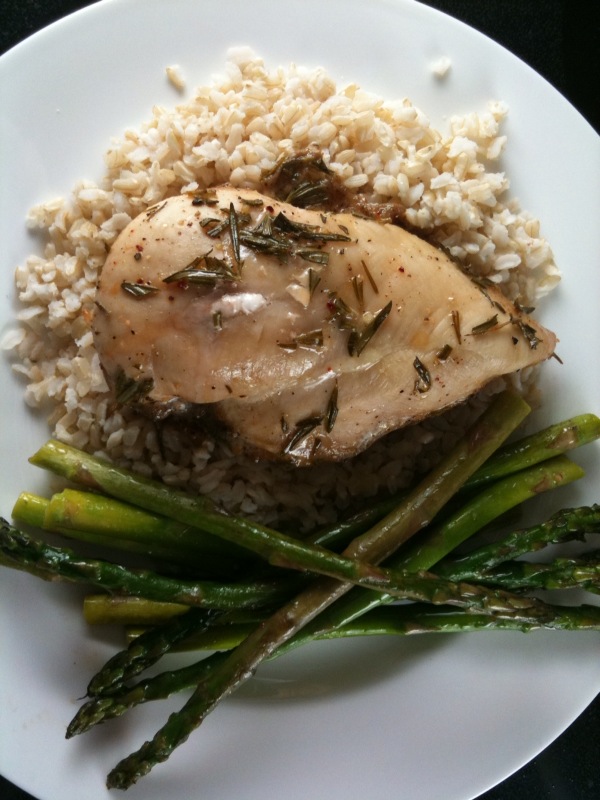 Sounds gourmet-ish, doesn't it?!?
My favorite part of this meal, besides…
the fact that it was pure delicious-ness, and
the fact that the house smelled UH-mazing while it was in the oven,
…was that I was able to take video with my iPhone, upload it straight to You Tube, and then put the videos right on the site. Took just minutes!
Expect more vlogs!
Ingredients
1/3

cup

maple syrup

1

Tbsp

olive oil ($.10)

2

Tbsp

chopped rosemary, fresh or dried ($.50)

3

large

chicken breasts, about 1.5 lb ($2.52) Bought last week at $1.68/lb

Salt and pepper

1

lb.

asparagus ($.99) On sale this week!

1

cup

brown rice ($.40)
Instructions
In a small bowl, add the maple syrup and the olive oil. Mix in the chopped rosemary.

In an 88 baking dish, add the chicken breasts and season with salt and pepper. Pour the maple rosemary sauce over the chicken and coat evenly.

Bake at 350 for 50-60 minutes, or until chicken has cooked through. Cooking times may vary slightly depending on the thickness of the chicken.

Just after putting the chicken in the oven, prepare the asparagus. Rinse and pat dry. Snap the ends off of the asparagus and place into the skillet. Drizzle with olive oil and season with salt and pepper.

Let marinate in the olive oil for about 30 minutes.

Then, saute for 4-5 minutes on high heat.

Prepare brown rice as directed on package. (If using plain brown rice, this can take 50 minutes! If using minute brown rice, it takes about 5 minutes!)

Serve Maple Rosemary Chicken with Asparagus and Brown Rice.
Check out the more great meals with asparagus…and a pictorial tutorial on how to saute asparagus. Note: Video instructions on sauteing asparagus below.
This post may or may not contain affiliate links. More information can be found on the site's disclosure policy.