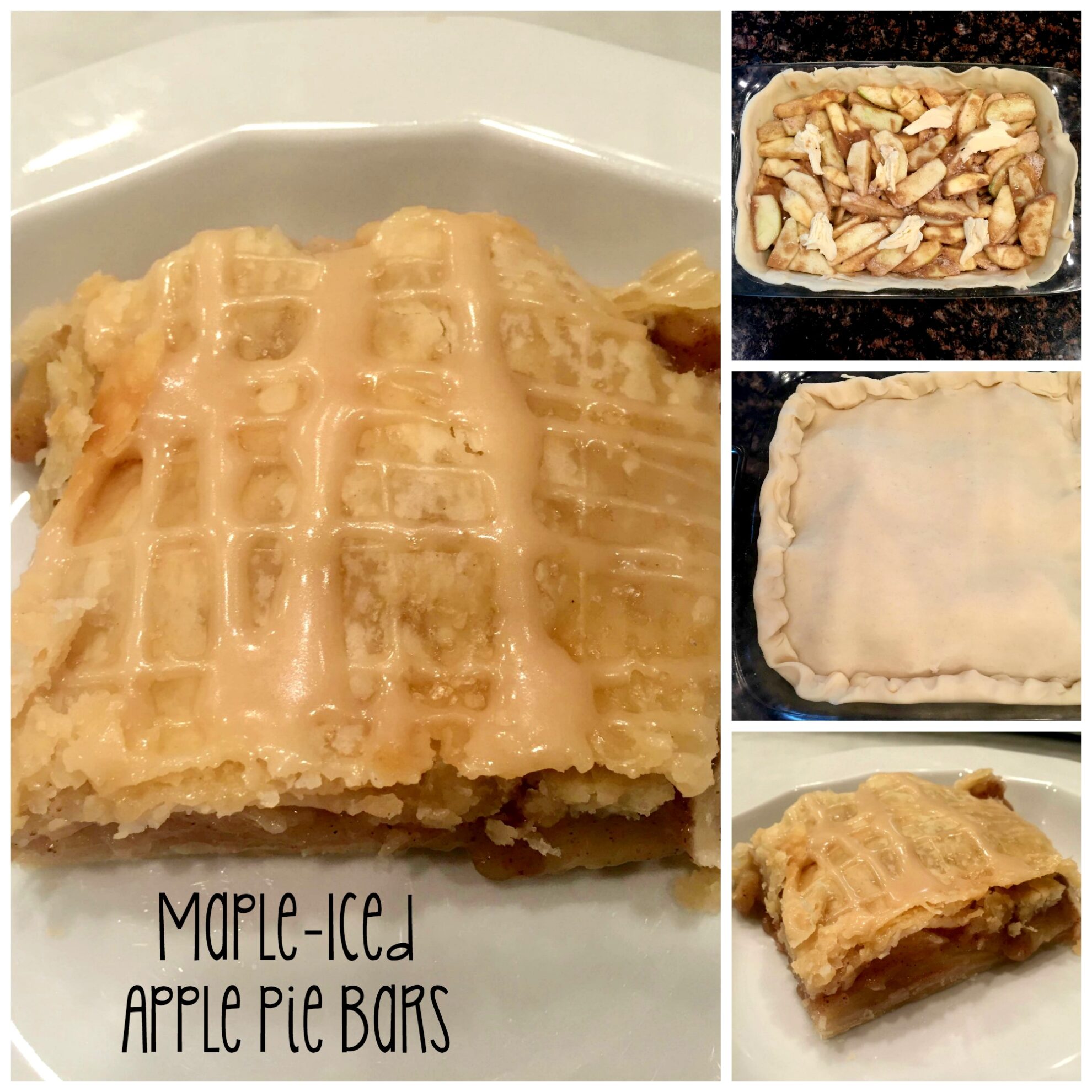 Please pardon the i-phone picts.
These babies were the hit of our family's Thanksgiving dinner! We were attending the meal with extended family and I decided that I needed more than a pie plate for the larger crowd.
So, I ended up making apple pie bars…and then added a maple-tinted icing to the top, just before serving! (Want to take these to the next level? Add ice cream or whipped topping!)
Here's how these go down…in the event that you decide you make these for your next holiday feast…and you just need more dessert (or, let's be honest with ourselves here, you want there to be more leftover…so you can have pie for breakfast. No judgment from me, been there…done that!)
First, these are made in a 9×13-inch baking dish.
Second, you're going to need 4 pie crusts – 2 to cover the bottom of the baking dish, 2 for the top.
Third, you could use canned apple pie blend. Or you can make your own. (I prefer to make my own…especially since we're adding a sweet glaze on top. Canned apple pie with glaze might be too much sweetness…if that's possible.)
Pinch the edges together, but don't totally seal them. Since we aren't adding slits, there needs to be a little room for steam escape.
The end result…dessert (and breakfast) perfection!!!
A delightful dessert for fall!
Ingredients
4

refrigerated pie crusts

(or make your own pie crusts)

6

Granny Smith apples

peeled, cored and thinly sliced

1

Tbsp

lemon juice

1/3

cup

flour

1/3

cup

sugar

1/4

cup

brown sugar

1

tsp

cinnamon

1/2

tsp

ground nutmeg

1/2

tsp

ground ginger

6

1 tsp pads of butter
Icing Ingredients
2

Tbsp

butter, melted

1

cup

powdered sugar

1/2

tsp

vanilla

1

Tbsp

maple syrup

1

Tbsp

milk
Instructions
Preheat oven to 350 F. Lightly grease a 9x13-inch baking dish with non-stick cooking spray. Place 2 pie crusts into the base of the baking dish, covering all of the inside of the dish. Peel off and press crust around to all is covered with crust.

In a large mixing bowl, toss the sliced apples with lemon juice. Toss in the flour, sugar, brown sugar, cinnamon, ground nutmeg, ground ginger. Mix well and then pour into the base of the baking dish. Add the 6 tabs of butter on top of the apples.

Place the other 2 pie crusts on top and trim and gently press together, so covers the apples. Then crimp together the edges, leaving a little room for steam to escape.

Bake in the preheated oven for 60 minutes. Remove from oven and let cool to room temperature.

In a small bowl, make the icing by combining the melted butter, powdered sugar, vanilla, maple syrup and milk. Add a little more milk (1/8 to 1/4 tsp) if you wish for a thinner icing. Spoon the icing into a plastic baggie. Snip off a tiny piece of the corner and then criss-cross glaze the bars.

Serve Maple-Iced Apple Pie Bars at room temperature, warmed or chilled.