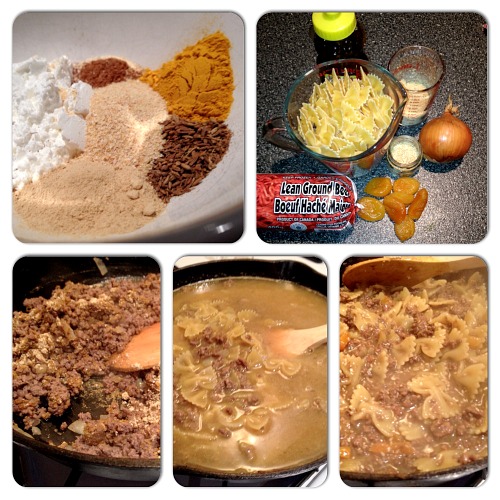 The other day, I had a delicious lamb tagine. It was a lovingly made, braised dish that took the chef hours to prepare. Though I generally dislike lamb, the chef used Australian lamb (which is a bit less game) and added enough wonderful Moroccan flavours, that I thoroughly enjoyed the dish. Regardless of how delicious I found it, I knew that it would never appeal to my picky son.
So . . .. I created this month's recipe which aims to mimic the flavours of a traditional tagine with a quick and easy preparation and with main ingredients I knew would appeal to my son and to most kids, ground meat and pasta. It was a huge hit!
Spice up your next hamburger helper meal with this recipe!
Ingredients
1

tablespoon

cornstarch

1

teaspoon

ginger

1/2

teaspoon

cinnamon

1

teaspoon

cumin

1

teaspoon

tumeric

1

teaspoon

garlic powder

1/2

tablespoon

vegetable oil

1/2

onion diced

1

pound

ground meat

beef, turkey, chicken, pork, whatever suits your fancy

4

cups

hot water

I boil it in a kettle, but you can use hot tap water

1/2

pound

short pasta

bow ties, macaroni or other

5-7

dried apricots

roughly chopped (or whatever dried fruit you prefer)

2

tablespoons

sesame seeds

lightly toasted on a pan (or chopped nuts)

1

tablespoon

honey
Carrot Ribbon Salad
2

medium carrots

1/2

tablespoon

rice vinegar

1/2

tablespoon

lime juice

1

tablespoon

olive oil

1/2

teaspoon

cumin

1/2

tablespoon

cilantro

finely diced

1/2

teaspoon

honey

salt and pepper to taste
Instructions
Combine the cornstarch and spices in a small bowl.

Add oil to a large skillet.

When hot, cook the diced onions until translucent.

Add the ground beef and cook until browned through. Drain excess fat.

Sprinkle the spices over the meat. Add the hot water and the pasta.

Stir to thoroughly combine. Cook for 15 minutes or so, until all the water is absorbed, stirring occasionally.

Stir in the chopped apricots, honey and sesame seeds and cook for an additional minute.

Serve with a salad. I made the carrot ribbon salad below.
Carrot Ribbon Salad
Scrub carrots and then use a peeler to create carrot ribbons.

I blanche my carrots as my son and husband are allergic to raw carrots, but you can just use them raw.

In a small bowl, combine the rest of the ingredients into a dressing.

Pour just enough dressing over the carrots to coat, but not so it drips.
Magda's Frugal Tip: Keep your mouth shut at the dentist — OK, so I don't mean that literally, however, you may want to keep the chatter to a minimum. I have a great relationship with my dental hygienist, we have a lot in common and we both love to chat. However, my hygienist and my dentist and many other professionals, charge by the time spent in their office, not the time that they actually spend working. So, while you are relating the latest funny incident in your life, your dental health professionals cannot actually be doing what they need to do in your mouth and you are paying them to listen to you chat. So, perhaps you should keep you mouth open, but keep the chat to a minimum at least at the dentist's office.