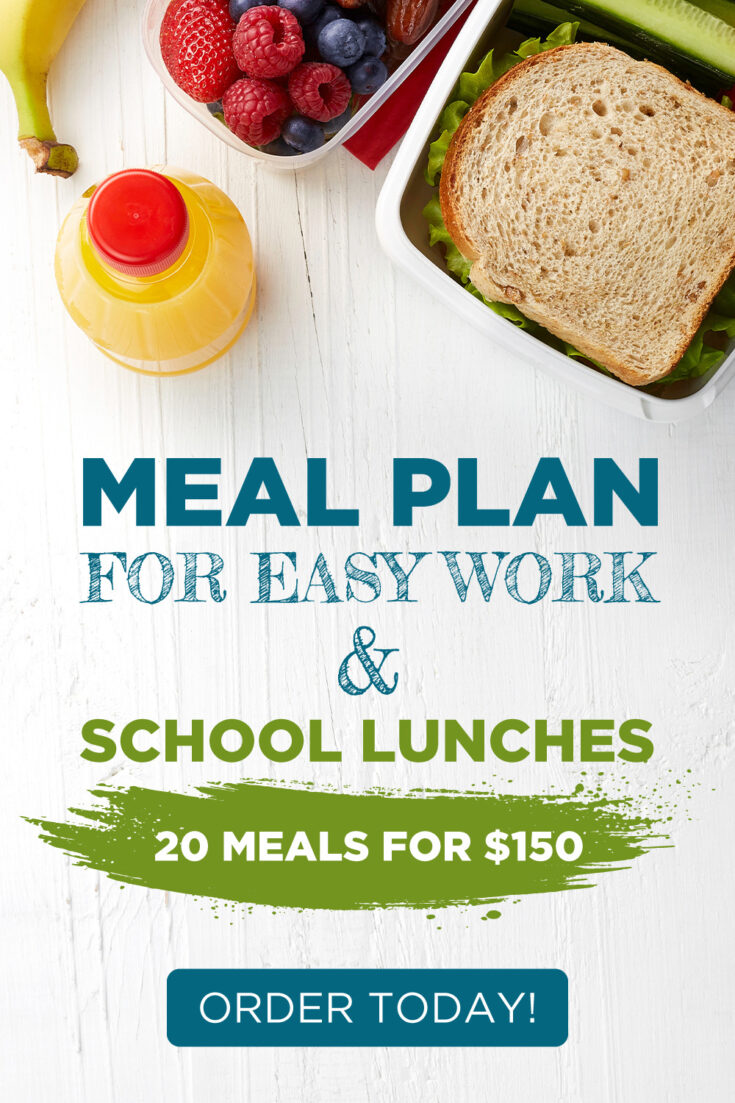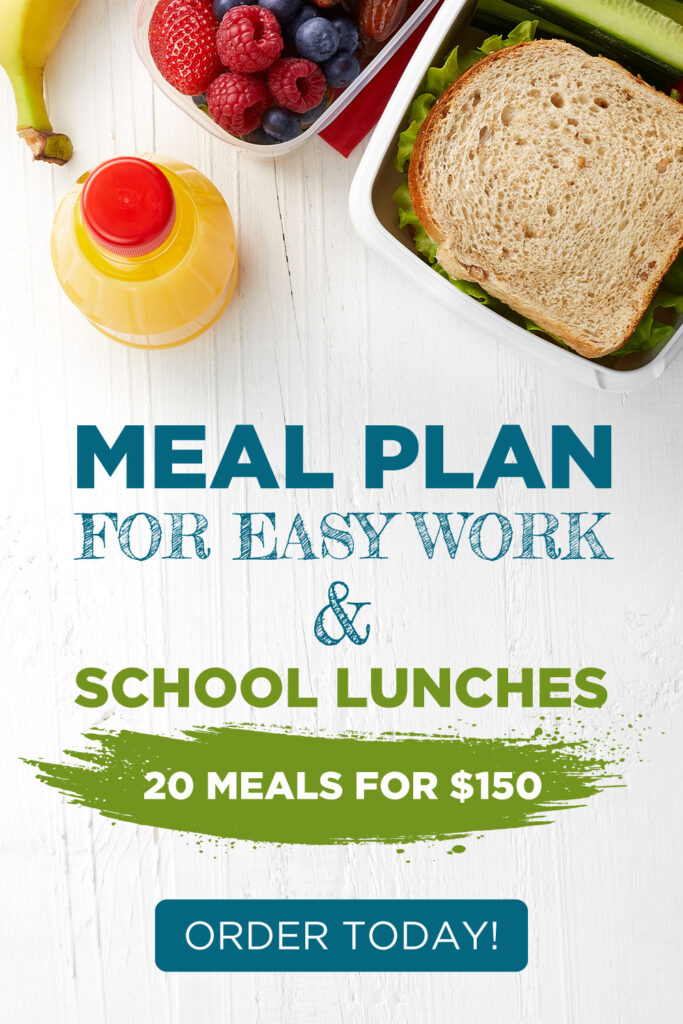 It's here…it's finally here. I asked you what you wanted in a new meal plan and over and over you said lunches. I have pulled together some amazing recipes and resources that will help you with the lunch packing process – for both school and work!
In this lunches meal plan, you'll find:
10 freezer friendly and make ahead lunch recipes with shopping list
5 Mason Jar recipes for salads that you can prep ahead at the beginning of the week and just pull one out and take for lunch that day
Tips & strategies for simplifying the lunch packing process
Lunch Meal Planners
School lunchbox ideas
Video on how to put together 2 of the Mason Jar Salad recipes
Video on how to equip your kids to pack their own lunches
Plus, I've got this "formula" below, so you can make just about any Mason Jar Salad you want. I'm completely hooked on those and now that I'll be working out of an office (and not my house!), I'll be making 4 jars at the start of every week to take to the office 4 days a week. It takes just a few minutes to put them all together and you can literally GRAB n GO as you're rushing out the door. Spend $10 on a salad at a restaurant, or about $2-$3 when you make 'batches' of salads for lunch!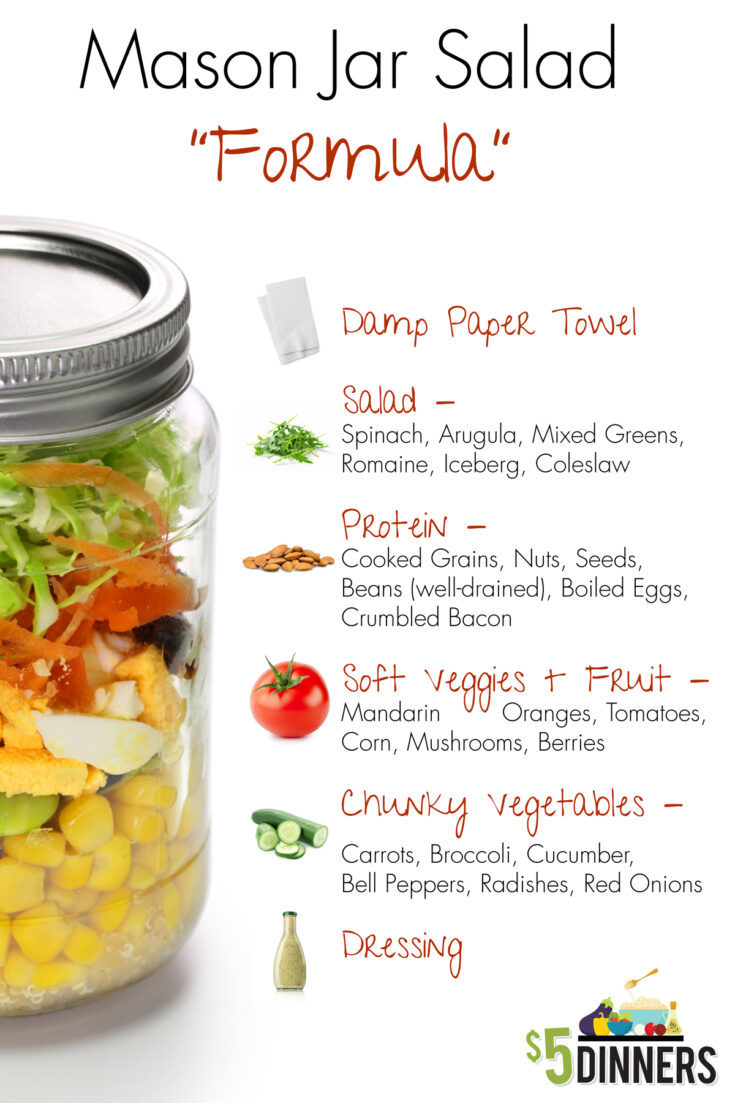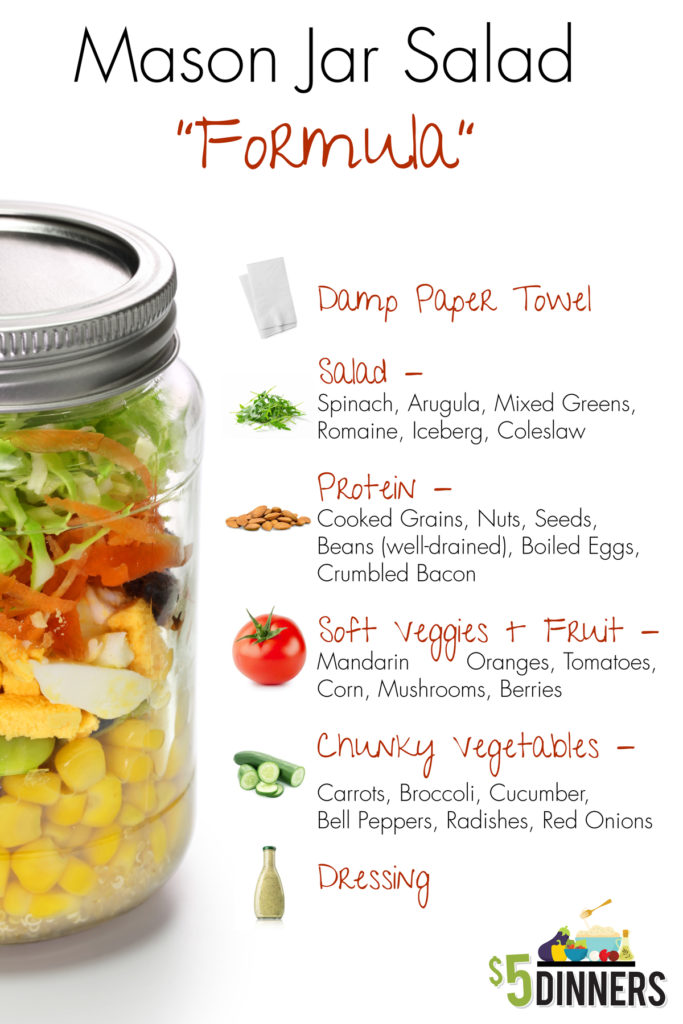 This is the layering that works best. I use quart size Mason jars for a salad that's just the right size for my lunch. Start with the dressing, then chunky vegetables, then soft veggies and fruit, then the protein, then the lettuce…and most importantly, a damp paper towel or paper napkin!
For fruits or veggies that might brown, just toss in a little lemon juice if they won't be sitting in the dressing and they won't turn brown.
And here's a little look at what it looks like as you fill the mason jars!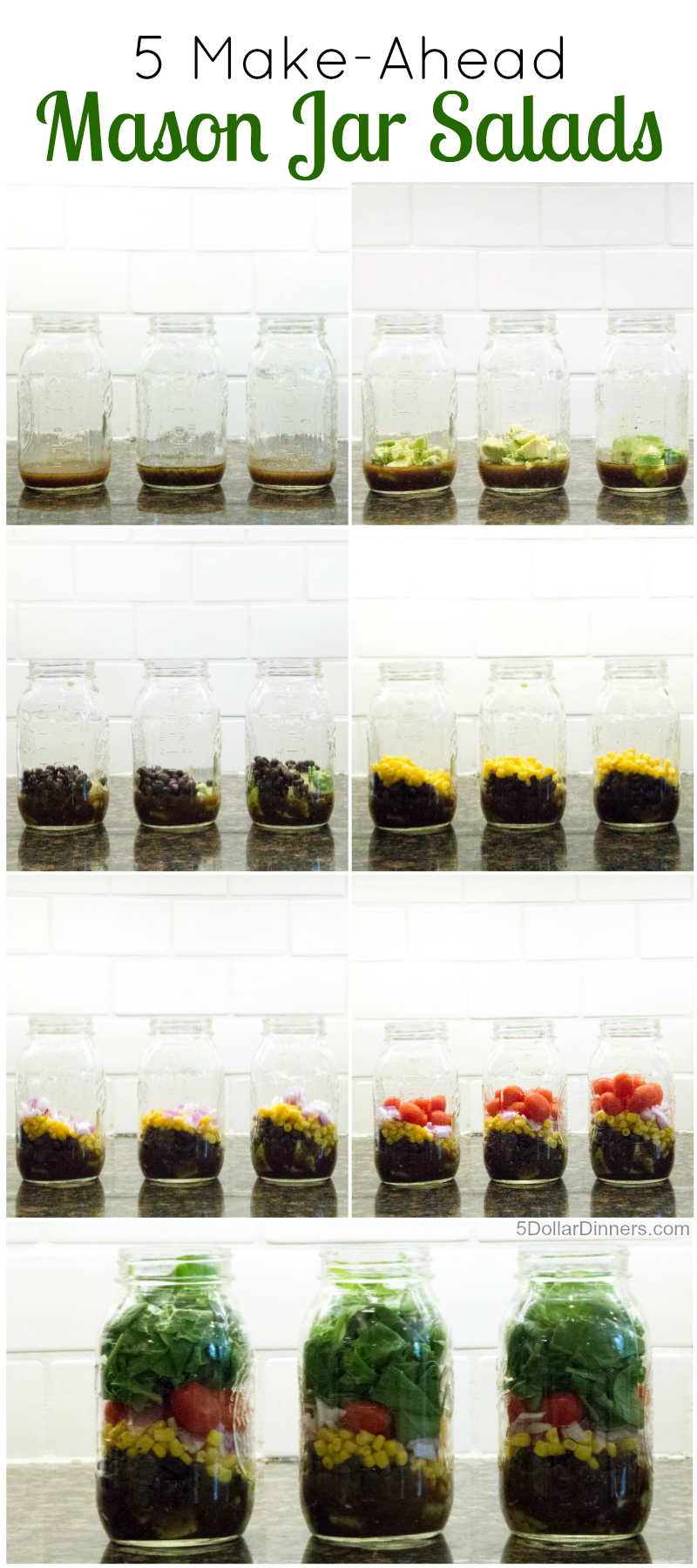 For me, mornings mean chaos…as hustle to get everyone out the door, with the right clothes on, with the right backpack in hand, with the right lunchbox in the right backpack. And hair combed and teeth brushed and faces wiped.
It's a flurry of fun and I can't tell you what an amazing help it is to have salads in the fridge, a few grab n go options for lunch boxes in the freezer, as well as fruit and veggies already cut up and ready to go in the fridge. 30-45 minutes in the kitchen on Sunday afternoons or evenings really saves my tail on the frantic school day mornings!
Check out all these great meal plan options that will keep you "one step ahead" in the kitchen!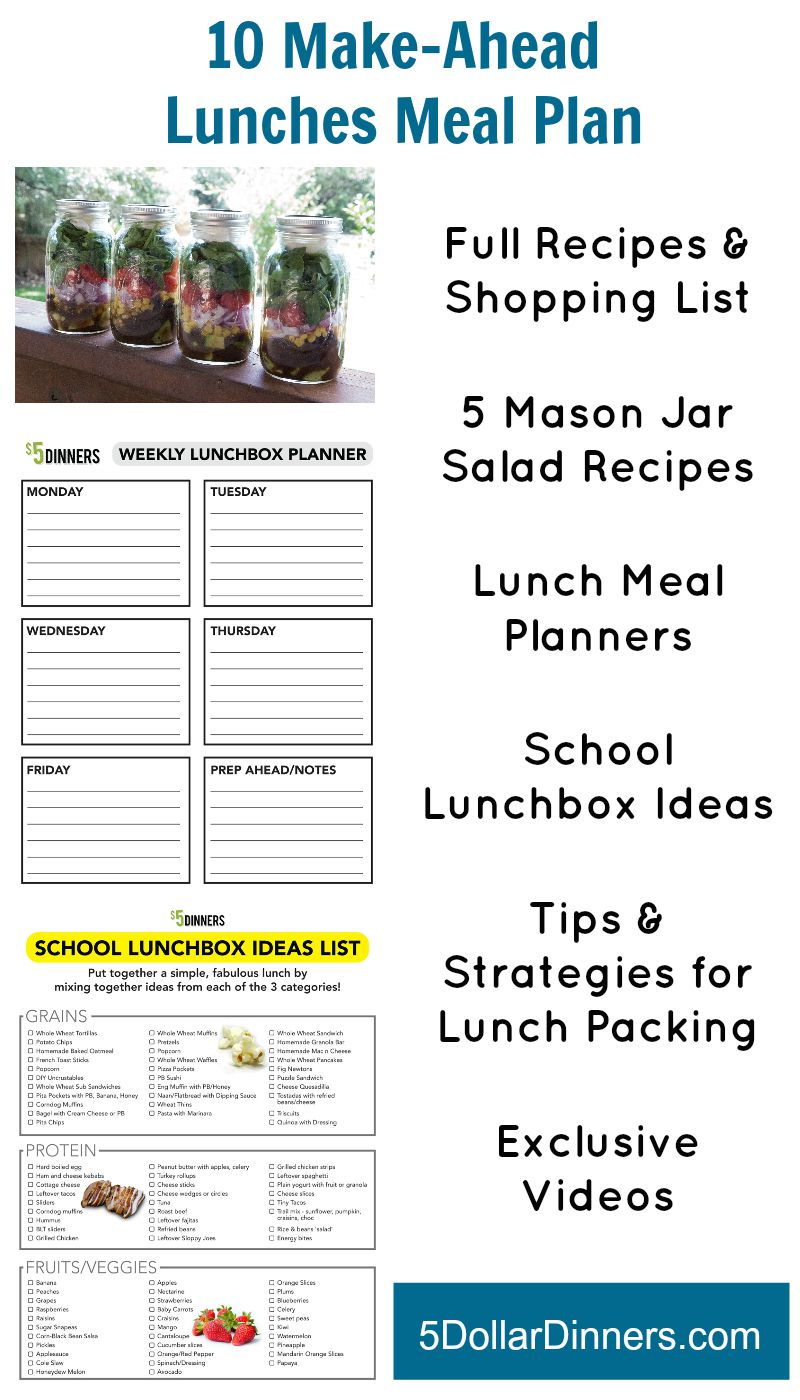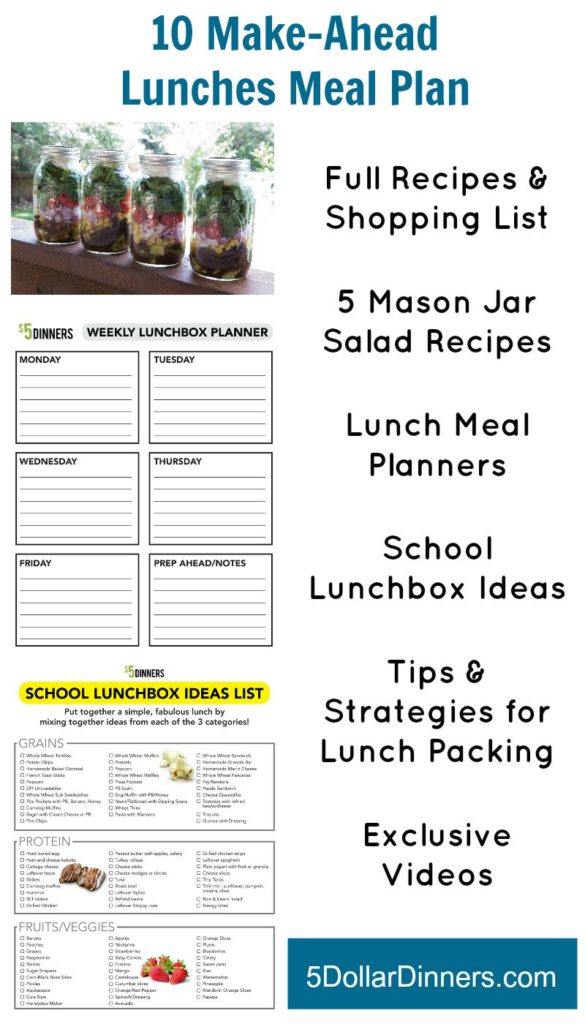 You can find the all of the other 20 Meals for $150 Meal Plans, and more in the E-Store. Once you've chosen all the ones you need to make life in the kitchen easier, you can checkout and get all the printable at once!
NOTE: Once your purchase is complete, you will automatically receive an email with the links to download your meal plans. The links will be sent to the email you used during the checkout process or to the Paypal email address you used to pay. Please download these files directly to your computer within 72 hours, then you can add to your e-reader/phone/tablet. If you have issues with the download,PLEASE EMAIL ME! I'll be able to help you out!
Interested in a weekly meal planning subscription service that takes all the headache and stress off your shoulders?! Sign up for a FREE 4-Week Trial at 5DollarMealPlan.com!