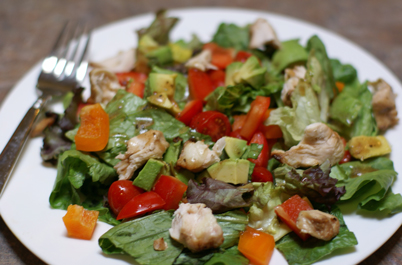 This is what lunch usually looks like for me. A salad with leftovers (grilled chicken and peppers, in this case). Or just plain leftovers. And if I'm really feeling unmotivated. PBJ.
For me, lunch has always been the "most frustrating meal," and I have come up with quite a few tips and tricks to help streamline the whole lunch prep and experience for us.
But we are each in unique situations and while I have played the SAHM, WAHM and part time working mom roles in my life, I am missing the "full time work outside the home mom" part. And of course the "dad part" too.
Here's where I need your help. In order to make sure I've got ALL the bases covered in the next cookbook, I'll need to hear your experiences.
All I want to know is what frustrates you about lunch. That's it!
What is the most frustrating part about lunch…packing it, preparing it, spending too much on convenience foods, lack of creativity, lunchbox getting lost in the office fridge?
It's time to let your lunch hour woes be known!