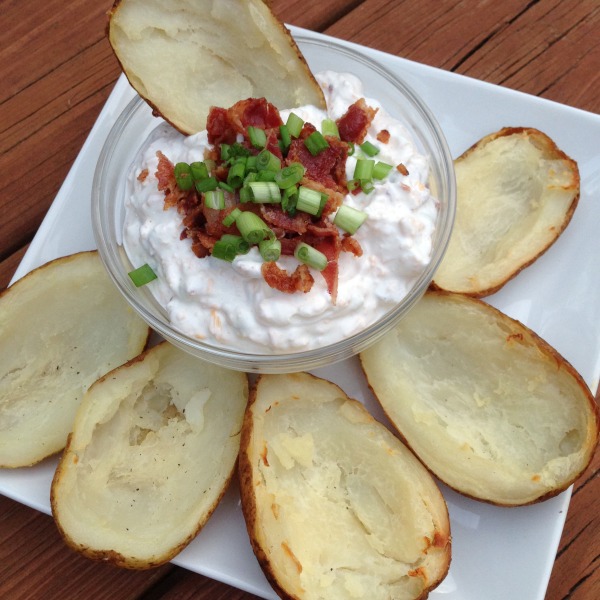 If you asked me what I would want to eat if I were on a deserted island, loaded potato skins would be on the top of the list. Top 5 probably, after chicken fajitas from Tomatillos, my spinach and chicken enchiladas and anything with guacamole.
I big, giant, puffy heart potato skins.
And these "dippable potato skins" are.to.die.for.
If you're planning on making some appetizers for the Big Game this weekend, you must add these to the line-up. You must. 
I served these to my brother-in-law recently and he polished off the plate and dip. In fact, I'm not sure he even had dinner that night. These are touchdown-worthy appetizer that will not disappoint!
There's no need to be worry about the messy clean-up from the bacon either…Formula 409 has got the mess covered for you, as it cuts through the grease without a problem! Delicious goodies to feast on and no greasy mess to worry about on the stovetop!
Big Game Bacon Bash
I created these potato skin dippers for Formula 409's Big Game Bacon Bash. My recipe, along with Bacon Wrapped Jalapeno Poppers from Chef Kevin Gillespie, Bacon & Garlic Cream Biscuits from my friend Christy Jordan of SouthernPlate.com, and a bunch of fabulous Pigskin Party Tips from Kami Bigler of NoBiggie.com, can be found in the Big Game Bacon Bash Guide!
Head on over to see the recipes for the Loaded Potato Dip with Potato Skin Dippers, along with these others, and get them added to your Big Game party snacks list! 
Disclosure: I am working with Formula 409 to help you cut the grease and keep the clean up simple. I have been compensated for my time and for ingredients in preparing this recipe. Opinions and recipe are my own.