Finally.
A cooking demo that doesn't feature my 8 year old spanking himself, or a super fussy baby that has to sit on my lap while I cook…
If y'all need budget gourmet, this is a meal for you. Get this one on your meal plan…ASAP.
And before I get to the recipe, I must confess something.
From the moment I say/yell (depending on the day and if they are outside!), "BOYS, IT'S TIME FOR DINNER," it takes about 2 and a half minutes for the flurry of testosterone to takeover the table. They know to stop what they are doing and come right away, washing their hands at the nearest sink…before they descend at the dinner table. Some nights they have to help with getting dinner on the table, other nights I just do it myself…because it's easier and more peaceful, and sometimes this mom just needs a peaceful table setting experience!
This night, I plated the dinner and was scurrying around the kitchen getting everything together…and then I passed by the stove and stopped mid stride, grabbed a noodle and dipped it into the sauce. Then I grabbed another, then another…I might as well have started licking the skillet…I might have, if it weren't so hot.
Well, during that 2 and a half minutes, I had my 'seconds' portion…Dozens of noodles y'all!…and dipped them one by one into the sauce. Yes, dozens in that short of time. It wasn't pretty. But I'm not afraid to admit it either.
I couldn't resist…the sauce was that good. Divine, really.
(Please note. My typical quality control involves a bite or two, an adjustment of spices or salt, and that is all.)
Your turn to confess…how much 'taste testing' do you do? And by taste testing, I mean…having your seconds before the meal has even started? 😉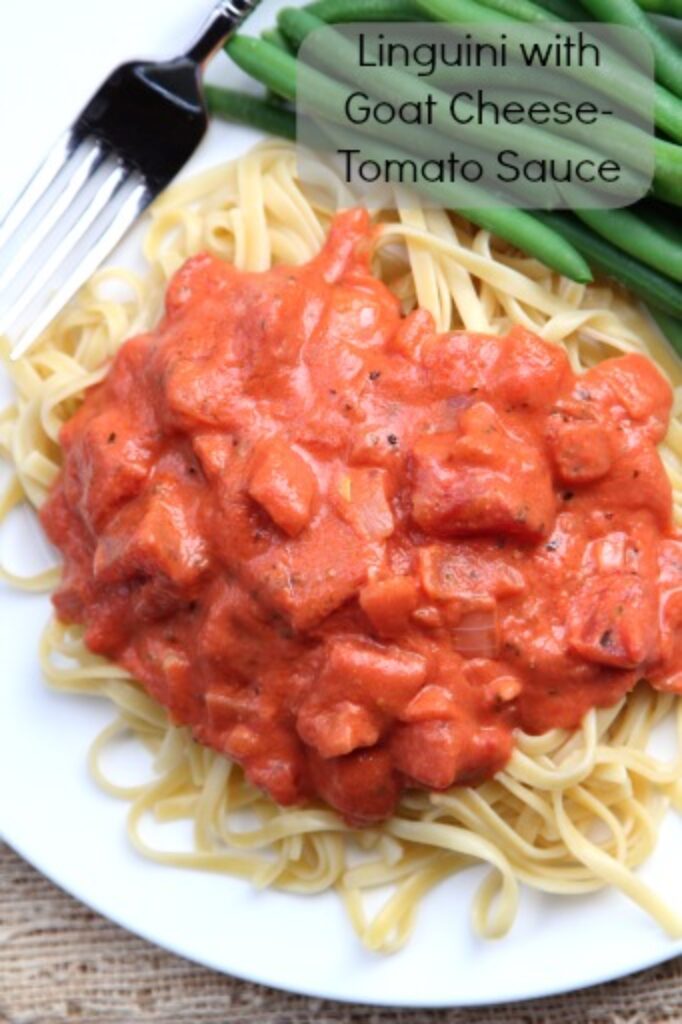 An absolutely delightful budget gourmet pasta dish!
Ingredients
1

lb.

linguini pasta noodles, or other favorite pasta

1

Tbsp

olive oil

1

small

onion, chopped

15

oz

can tomato sauce

15

oz

can diced tomatoes, with juices

1

tsp

dried oregano

1

tsp

dried basil

1

tsp

garlic powder

(or 3 cloves fresh garlic)

4

oz

goat cheese

Salt and pepper to taste

Side Dish - roasted asparagus or small side salad or other veggies
Instructions
Boil the pasta as directed.

Add the olive oil to a large skillet and saute the chopped onions, until transparent.

Stir in the tomato sauce, diced tomatoes with their juices, oregano, basil, garlic powder, salt and pepper. Add the dollops of goat cheese and let it sit for about a minute, then slowly stir it into the sauce. The red sauce will turn orange.

Let simmer over low heat up to 10 minutes, until the noodles are ready.

Prepare side dish or veggie.

Serve Linguini with Creamy Tomato Sauce and side of veggies or small salad.