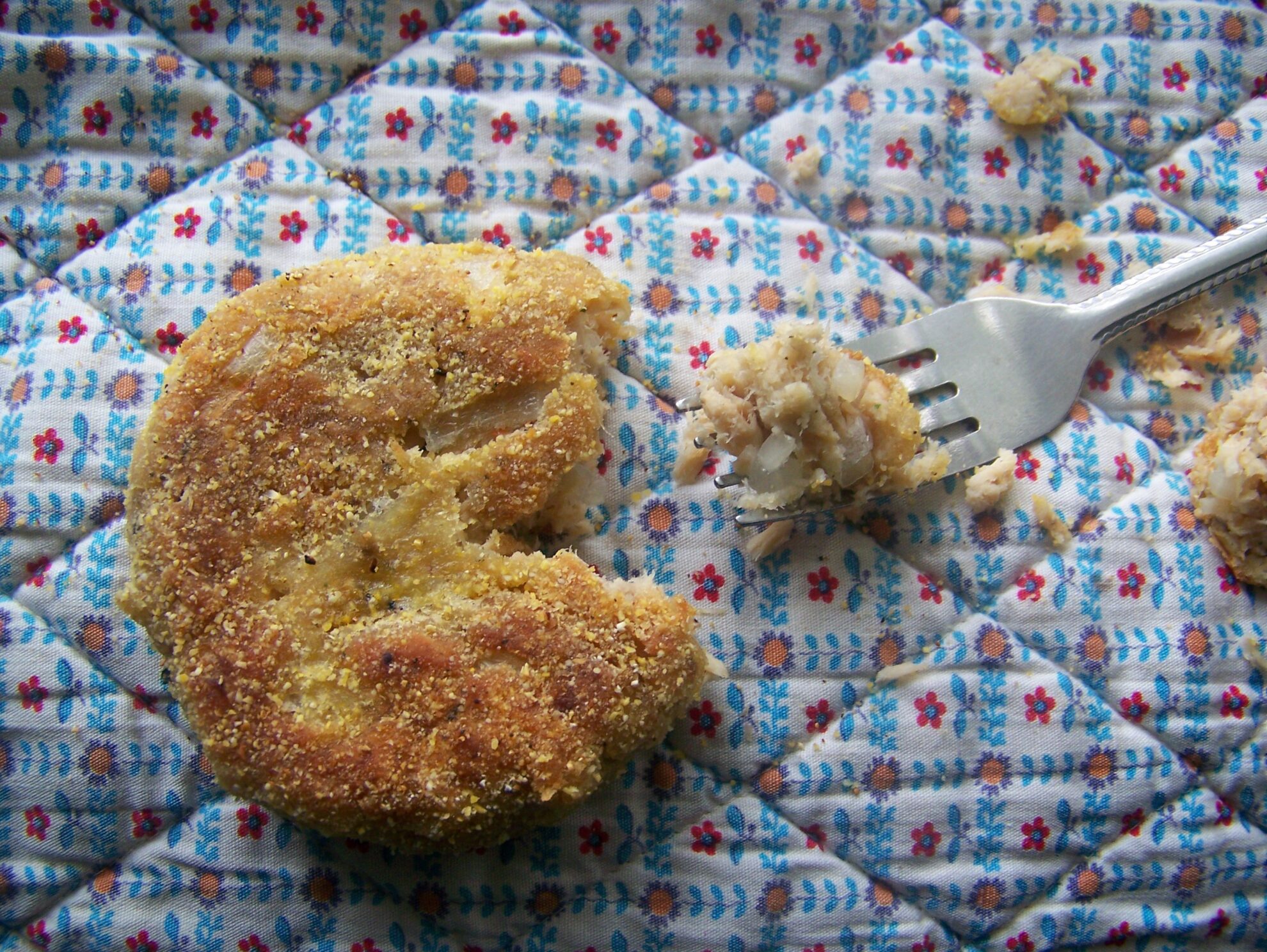 This is one of my husband's all time favorite meals.
When he walks in the door and smells these on the table, I have a very happy man. 🙂
It's easy to keep all of these ingredients on hand for a quick meal as it uses canned salmon.
I've modified his mother's recipe to suit our allergy set (dairy free), as I hope you will for yours!
Salmon Patties

Yield – 4-6 servings

Preparation Time – 10  minutes

Cooking Time – 20 minutes

Ingredients

1/2 Cup Onion, Minced
1 Sleeve Crackers, Crushed (or about 2 cups bread crumbs)
1/4 Teaspoon Dill, Dried
1/4 Teaspoon Pepper
1/4 Teaspoon Salt
1 Large Egg
1/2 Cup Water
1 Can Salmon
2 Tablespoons Oil
1 Cup Corn Meal

Directions

Take the bones out of the salmon. Just break it apart as you take it out of the can and pick out the bones. It's super easy 🙂
Put the salmon, onion, seasonings, cracker/bread crumbs, egg, and water into a large bowl and mix well.
Shape the salmon mixture into patties and dust in corn meal. You should get about 8 patties if you use about 1/3 cup per patty.
Heat a large skillet and the oil over medium to medium high heat.
Pan-fry the patties, 4 at a time until golden brown on each side, about 5 minutes per side
Serve with lemons or lemon juice to drizzle on the patties.
Enjoy!
You can serve this with mashed potatoes and a nice big salad to round out the meal.
* The egg is only a binder in this recipe so you are free to leave it out if there is an egg allergy in your house. If you need to leave out the egg, up the water to 3/4 of a cup to make up for the liquid loss. The patties won't stick together quite as nicely, but they'll be equally delicious, I promise 🙂
**You could also use GF bread crumbs to make this a gluten free meal!