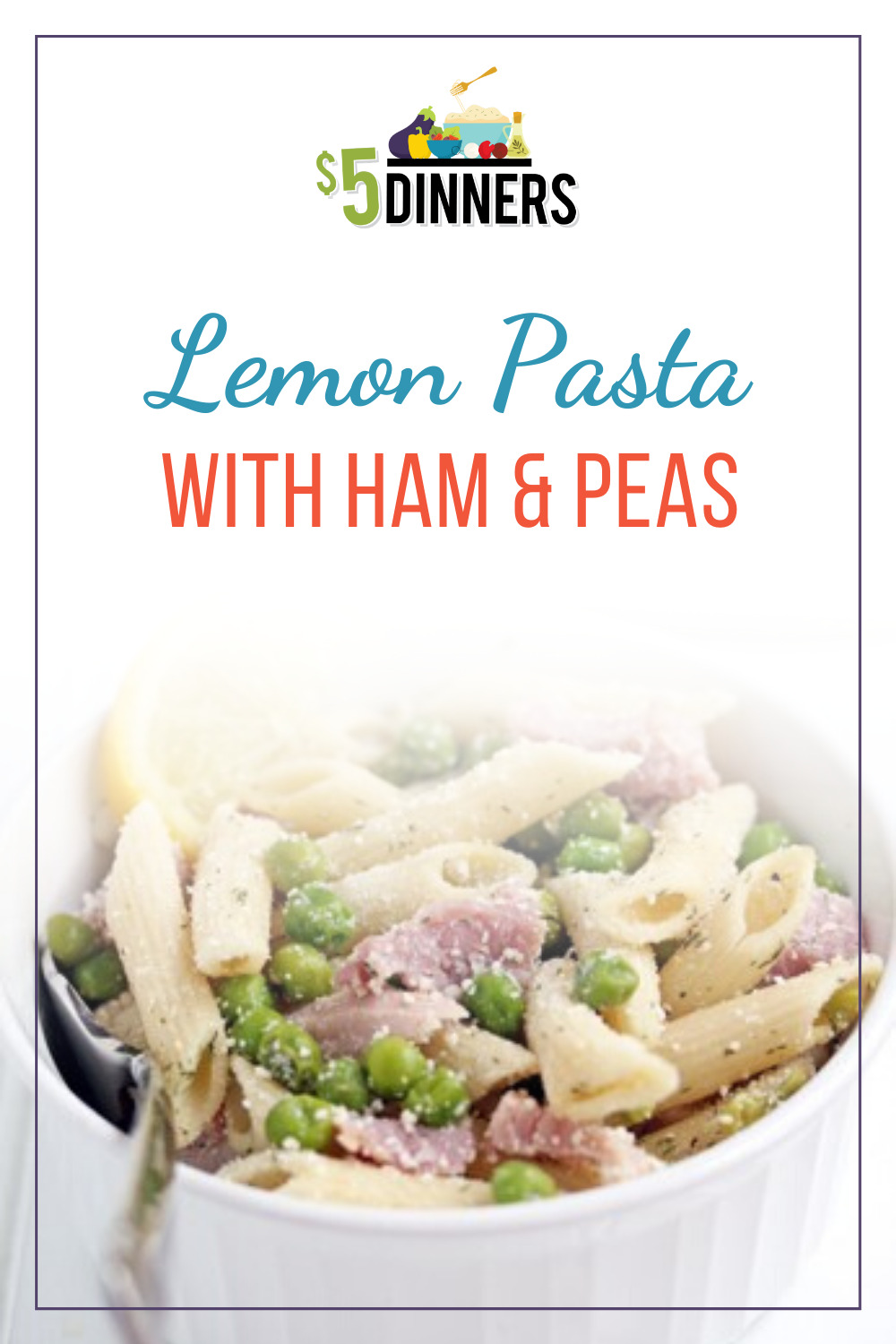 When I think of pasta and peas together, I think of blue box macaroni with a can of tuna and a can or bag of frozen peas. Well, that's what I thought about pasta and peas before I really learned how to cook.
The fun of cooking comes with exploring with flavors, textures and tossing together new ingredients. I'm always on the hunt for new favorite recipes, especially for lunch. And while this could definitely be dinner – it would make for a great pasta for lunch, and it would keep well in the fridge for leftovers.
I'm loving the ham, peas, lemon, Parmesan and dill flavors together in this one!!!
A fresh, light, quick cooking dinner!
Ingredients
3/4

lb

penne pasta

2

cups

cooked ham, diced

12

oz

bag frozen peas, cooked or steamed as directed

1/4

cup

olive oil

Juice from 1 lemon plus about 1 tsp lemon zest

2

tsp

white vinegar

1

tsp

dried dill, or fresh if you have it

Salt and pepper to taste

1/4

cup

Parmesan cheese

Garlic bread; as side dish
Instructions
Cook the pasta as directed. Drain and dont rinse.

Return pasta to the pan it was cooked in, or into a serving bowl.

Toss the diced ham and the cooked peas with the pasta.

In a small mixing bowl, whisk together the olive oil, lemon juice, lemon zest, vinegar, dill along with some salt and pepper.

Pour it over the pasta and toss.

Toss in the Parmesan cheese. Chill for at least 2 hours before serving. (If you are in a time crunch, rinse the pasta with cool water to cut the chilling time down to 15 to 20 minutes.)

Prepare garlic bread.

Serve Lemon Pasta with Ham and Peas with garlic bread.