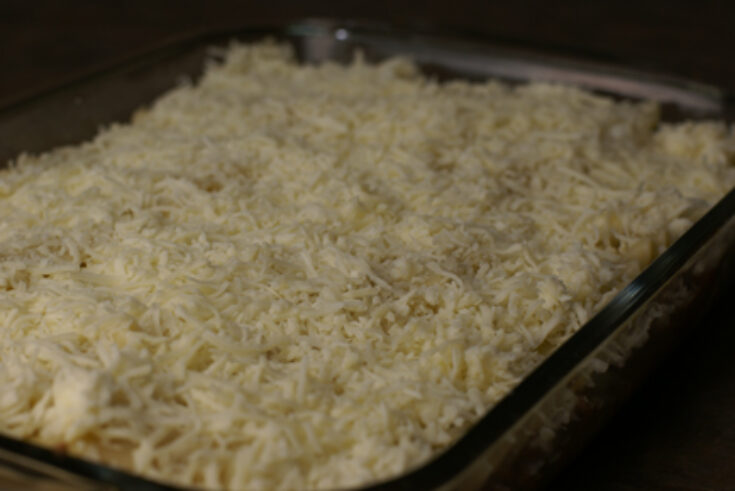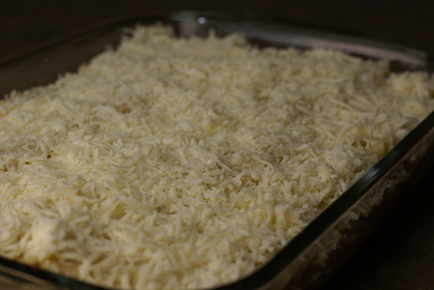 Even though most of us in our family, 80% of us to be exact, are not eating dairy foods right now, I still stock up on cheeses when on sale. This allows me to make lasagna for Steve's lunch. A 9×13 pan will last 8 lunches. I cut 4 pieces off and store them in the fridge. And the other 4 pieces go in to the freezer in individual baggies for him to enjoy later. Or whenever he needs a break from the typical turkey and cheese sandwich.
In a recent interview with Time.com, I was asked what was the recipe that I had yet to pull off for $5. My answer: Lasagna.
While I could certainly make an 8×8 for $5 given the right sale prices, that would just be weird. Lasagna is meant to be made in a 9×13 pan. So let's double the $5 price point and make a 9×13 meal for $10.
Sound good?!?
Super easy homemade lasagna to feed the family. Double recipe to freeze for lunches or another dinner.
Ingredients
12

lasagna noodles

1.3

lb.

ground beef

28

oz.

jar spaghetti sauce

Fresh herbs from the garden

16

oz.

container ricotta cheese

1

egg

10

slices

provolone cheese

2

cups

shredded mozzarella cheese
Instructions
Cook lasagna noodles.

Make meat sauce by browning ground beef, draining and then mixing with spaghetti sauce.

Pick some fresh herbs from the garden. Basil, oregano and thyme. If necessary, substitute about 2 teaspoons dried Italian seasonings.

Chop fresh herbs. (The fresh herbs will make your house smell amazing when this lasagna is in the oven. I seriously wish I could bottle up the smells and transmit them through the computer.)

Mix the fresh herbs in with the ricotta cheese and egg.

Layer 4 of the the no boil or the boiled lasagna noodles in the bottom of the greased 9x13 pan. Add the meat sauce.(I was not paying attention and only did 3 lasagna noodles on the bottom...leaving me with an extra noodle!)

Top with 5-6 slices provolone cheese.

Spread the ricotta cheese on top. Then repeat with noodles, meat, cheese slices, ricotta.

Top with layer of noodles, then shredded mozzarella cheese.

Bake at 350 for 30-40 minutes, or until bubbling and cheese has melted on top.
Notes
Let cool completely before freezing. This will eliminate the threat of freezer burn.
Don't overcook the noodles! Only cook for 6-8 minutes, or al dente. Add a smidge of oil while boiling. Stir gently after all the noodles soften. Rinse with lukewarm water. Handle with extreme care! And cook a few extra in case 1 or 2 fall apart.