Candi shares one of their family favorites with us tonight!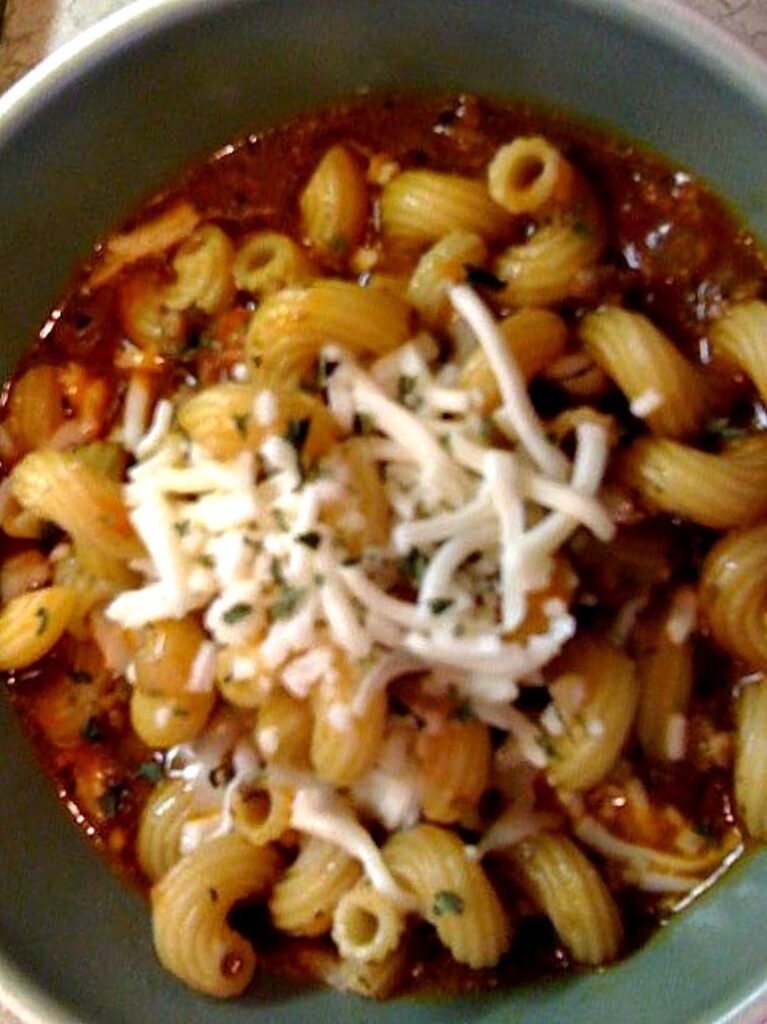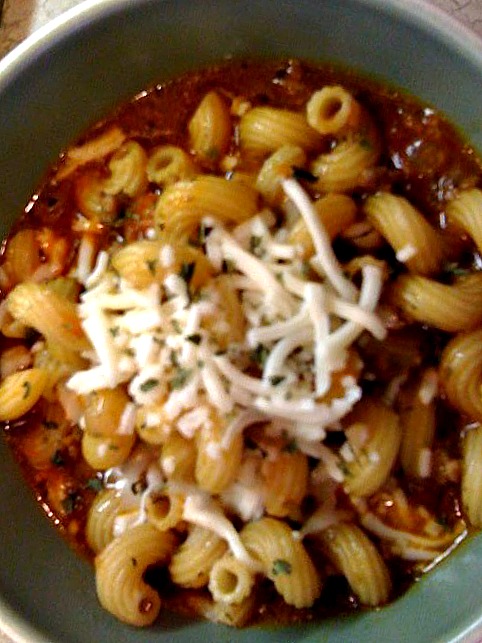 I read about a recipe for Lasagna soup in the Family Fun magazine. When we were able to get Ragu pasta sauce on sale for $.37 a jar a few months ago, I really wanted to utilize it in recipes other than the classic spaghetti, lasagna or pizza dishes. So of course I tweaked that recipe to make it more pleasing for my family and this is what I came up with!
This is really a really yummy and super easy recipe that is a great way to use jarred spaghetti sauces other than classic preparations.
Ingredients
1 onion finely diced $.80

1 teaspoon olive oil $.05

2 cloves garlic finely minced $.06

1

lb

choice of meat (ground beef, Italian sausage, meatballs...) $2

2 teaspoons dried oregano

2 teaspoons dried basil

1/4 teaspoon salt

1/4 teaspoon red pepper flakes

2

cups

jarred spaghetti sauce $.37

4

cups

chicken (or vegetable or beef) stock $1

2 bay leaves $.03

8

oz

pasta (Rotini, Fusilli, Campanelle,Corkscrew) $.50

1 tablespoon fresh parsley

shredded Mozzarella cheese $.50
Instructions
In a large Dutch oven, heat oil to medium heat and saute onion until golden.

Add garlic and warm through about 1 minute before adding your choice of meat.

Brown the meat, remove any extra fat.

Add oregano, basil, red pepper flakes, spaghetti sauce, chicken stock and bay leaves.

Simmer for about 15-20 minutes.

Add pasta and increase heat to bring to a boil and cook for recommended time on pasta box for "al dente".

Discard bay leaves and adjust seasonings by adding salt & pepper.

Stir in fresh parsley and serve with a sprinkling of shredded Mozzarella cheese.
About Candi: I am the mommy to three children 13, 3, 1. I love saving money through coupons and gardening. I blog about recipe creations from sale items at the grocery store, family fun activities including homeschooling, and sometimes scrapbooking and card making.