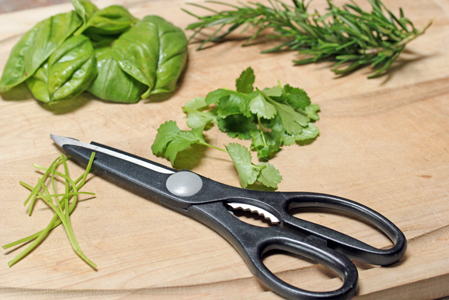 My kitchen shears might just be the most underutilized tool that I have in my kitchen. I'm hoping to use them more this summer! A few of their uses…
1. Chicken – Cutting up whole chicken into parts before cooking.  Cutting chicken breasts or chicken thighs into bite size pieces before cooking.
2. Fresh herbs – Quickly snip cilantro stems from the leaves. Roll up some basil leaves like a cigar and then snip to create strips of fresh basil. Pull the rosemary leaves off of the stem and then lightly snip the leaves to release the fragrances and aromatics of the rosemary before adding it to your favorite recipe.
3. Canned Tomatoes – Have the wrong kind of canned tomatoes?! Maybe you have stewed tomatoes but you want diced tomatoes…or perhaps you've got diced tomatoes and you want petite diced tomatoes.  Just place the kitchen shears right into the can and start snipping the tomatoes to the consistency you want them.
4. Crack Nuts – Use the jagged circular part to crack open nuts. Uncracked nuts are often less expensive that the opened nuts…so if you don't mind cracking them, that's the way to go!
5. Small vegetables – Kitchen shears can easily cut small vegetables for a salad, such as green onions, cherry or grape tomatoes, even lettuce. (But don't use metal scissors to cut lettuce that you won't eat right away. The metal will cause the lettuce to brown quickly.)  You could have a chopped salad in minutes!
What else do you use your kitchen shears for to save yourself time in preparing breakfast, lunch or dinner?!
Disclaimer: As an Amazon Associate, I earn commissions on qualifying purchases. Reviews, opinions are my own.