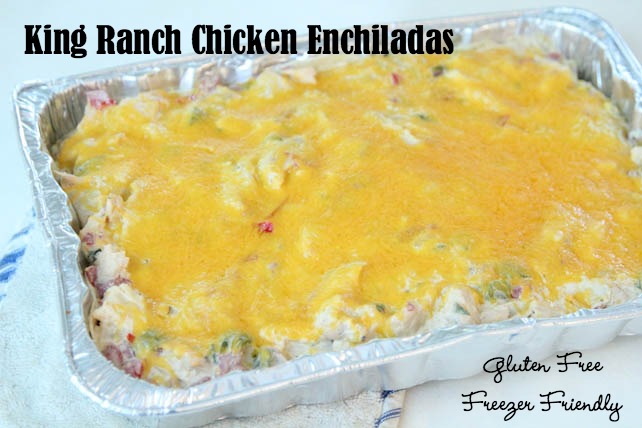 So I've been wanting to make this for a very long time. But haven't had an occasion to because we don't consume much dairy because of allergies/intolerances among family members.
When I learned that my friend needed a meal, this came up top of mind and boom, here it is.
I have enjoyed many a King Ranch Chicken Spaghetti meal…but wanted to put 2 new spins on it…enchiladas with corn tortillas so it would be gluten free…and a version without the cream of soups. Because, well…just because.
So I came up with this…a sour cream based cream sauce. And a layered enchilada casserole.
You should totally make this next time you have a meal to deliver. It will not disappoint!
(Or you could just make it for dinner TONIGHT!)
It goes down like this…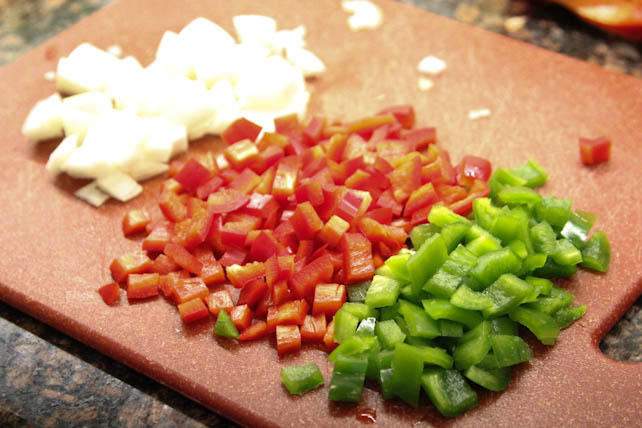 Chop, chop, chop.
1 green pepper, 1 red pepper, 1 small onion. Chopped.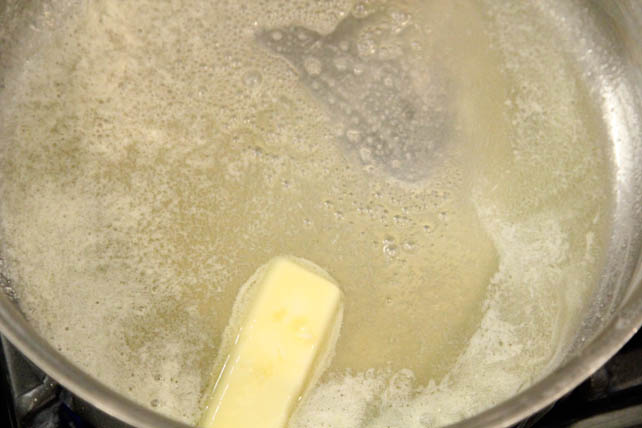 Melt the butter.
Sweat the veggies in the butter. But don't let them lose too much sweat…as they will cook more in the sauce…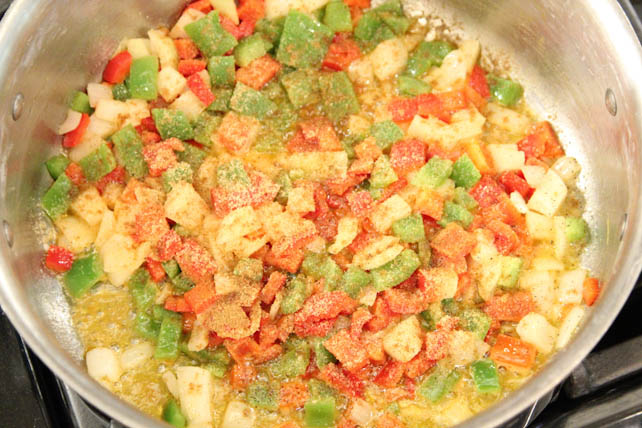 Season. Be generous.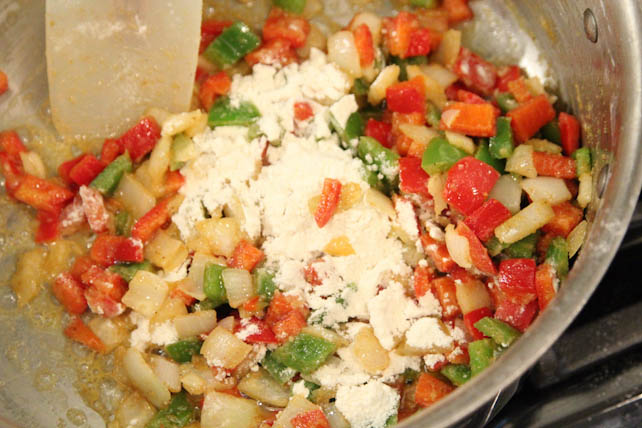 Mix in the flour. Well.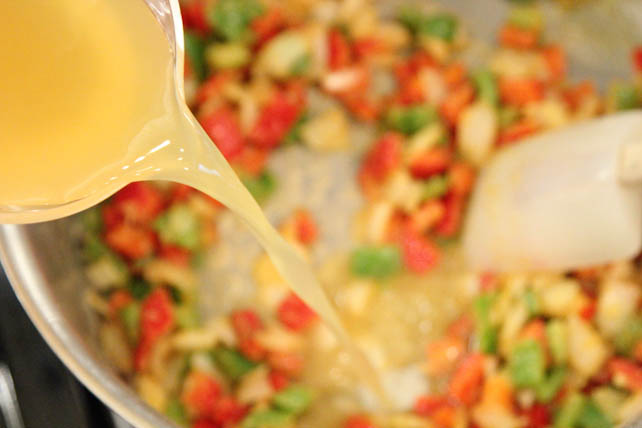 Stir in the chicken broth.
Slowly-ish.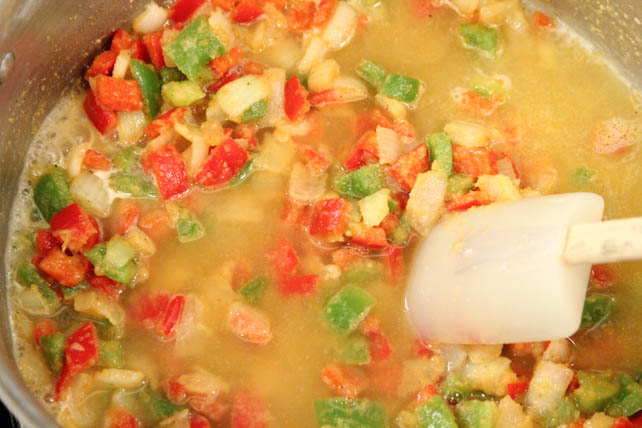 Mix well with the veggies.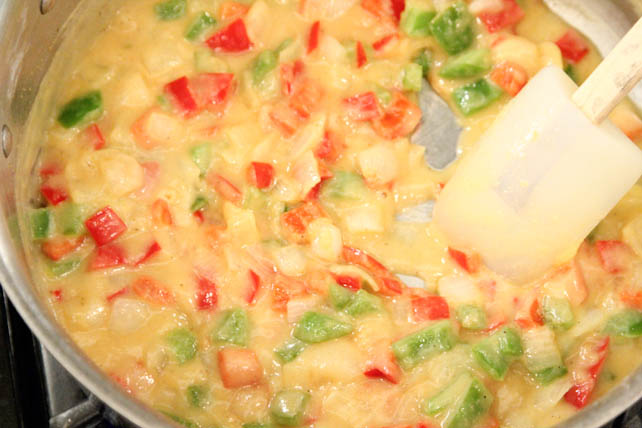 It won't take long for it to thicken up from the butter and flour.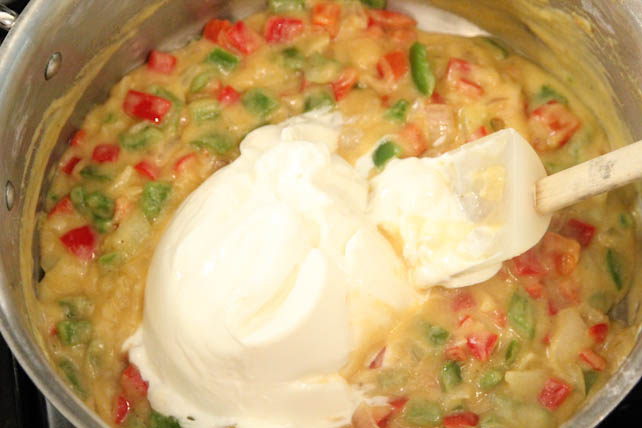 Drop in the sour cream.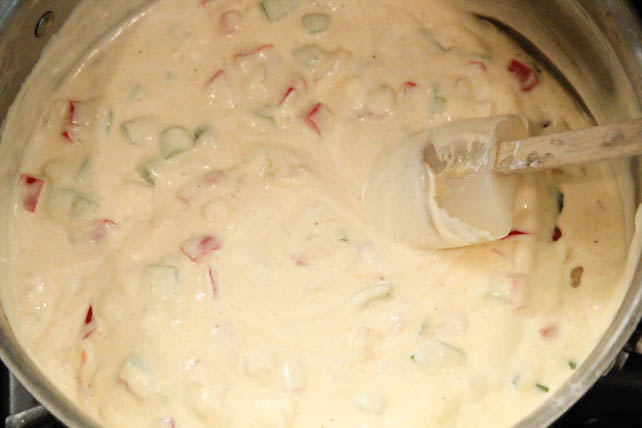 Mmmmmmmmm. Sour cream sauce…
But it needs a little kick…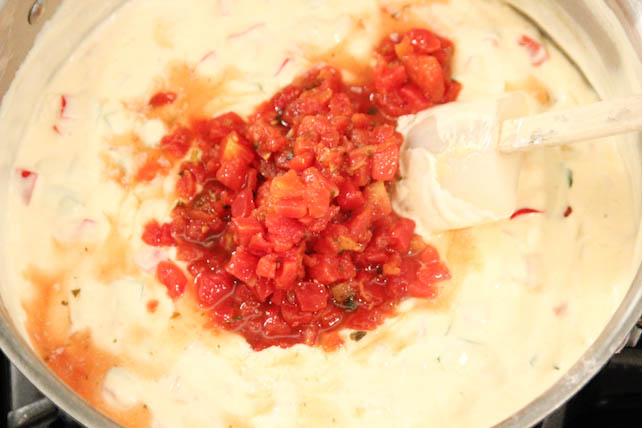 Diced tomatoes and green chilies, undrained.
Kick it up a notch. But it won't be too spicy for the kids…thanks to the sour cream toning it down some.
If you want a spicier version, add some chopped jalapenos, poblanos or serranos. Or 1/4 cup of green chilies.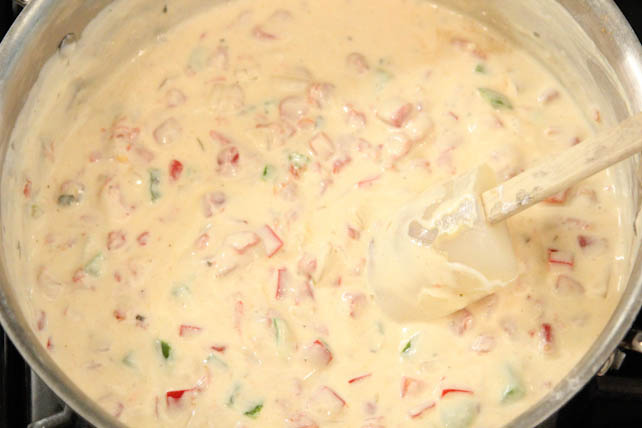 Mix away.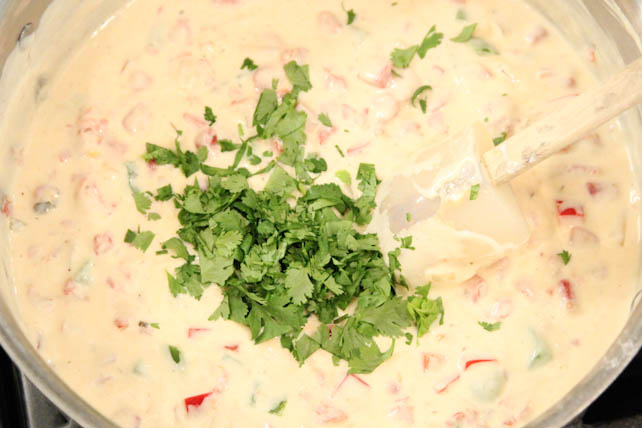 Because I love cilantro.
Omit it if you don't.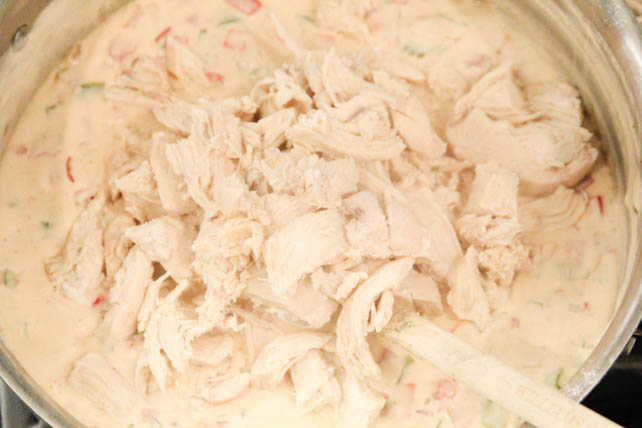 Add the cooked, shredded chicken.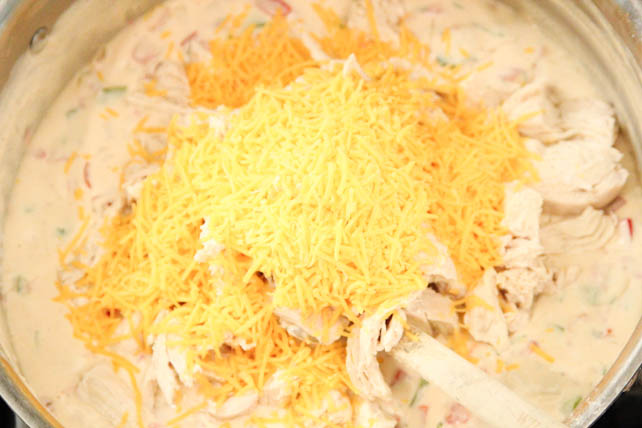 With 1 cup of cheese.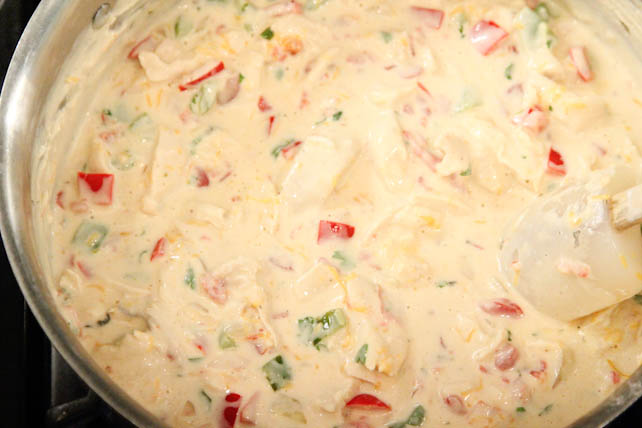 Don't mind me while I just eat spoonful after spoonful straight from the saucepan.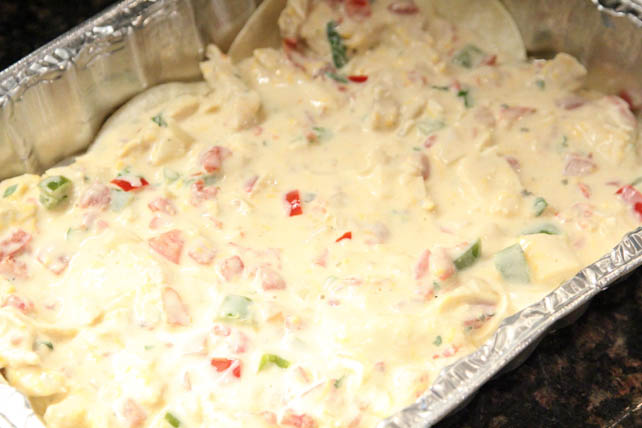 Assembly time.
Layer of corn tortillas. (Flour would work, but I prefer corn.) I used 6 on the bottom of a 9×13 pan.
Half of the chicken mixture.
Layer of corn tortillas.
Other half of the chicken mixture.
Top with….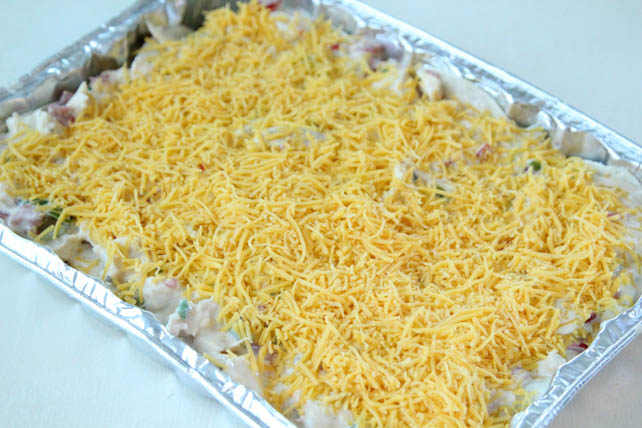 the rest of the cheese.
Bake.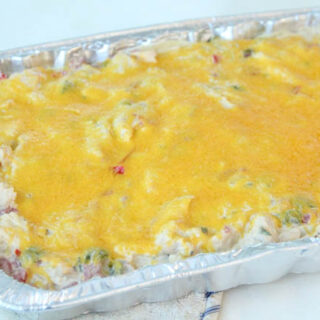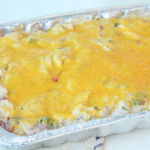 Devour. I doubt there will be leftovers. I dare you to have leftovers.
I double dare you. No, I double dog dare you!
Ingredients
2

chicken breasts, cooked and shredded

5

Tbsp

butter

1

green bell pepper, seeded and chopped

1

red bell pepper, seeded and chopped

1

small

white onion, chopped

2

tsp

ground cumin

1

tsp

garlic powder

5

Tbsp

Gluten Free flour

1

cup

chicken broth

8

oz

sour cream

10

oz

can diced tomatoes with green chiles

Small bunch of cilantro leaves, chopped

2

cups

shredded cheddar cheese, divided

12

corn tortillas

Side dish suggestion: simple side salad
Instructions
Boil the chicken breasts until cooked through (if need be), then let cool before shredding.

Preheat the oven to 350.

Prepare the sauce (while the chicken is cooking) by melting the butter in a large saucepan. Once melted, stir in the chopped green bell pepper, red bell pepper and onion. Let cook in the butter for about 3 minutes. Add the seasonings and then the flour. Mix well until flour is pasty but mixed in. Slowly pour in the chicken stock, stirring while pouring to keep the flour from clumping. Over medium heat, let the sauce bubble and thicken.

Once thickened, stir in the sour cream, diced tomatoes with green chiles and the cilantro. Add the cooked and shredded chicken and 1 cup of the shredded cheese. Bring to bubbling, then turn down on low until ready to assemble the layered enchiladas.

Add 6 corn tortillas to the bottom of the baking dish. Spoon half of the chicken-sour cream sauce over the tortillas. Add another layer of 6 tortillas and then spoon the remaining sauce on top. Add the other cup of shredded cheese on top.

Bake at 350 for 25-30 minutes, or until cheese has melted on top. Serve King Ranch Chicken Enchiladas with side salad.