Coat something in sprinkles, especially the Christmas variety, and it's bound to be a hit, right?!
The idea to coat a cookie dough truffle with sprinkles comes from a contestant at this year's Pillsbury Bake-Off. I decided that one of the several "cookies" that we would make this holiday season would be these chocolate chip cookie dough truffles made with pasteurized eggs. We would coat them in Christmas sprinkles…and by we, I mean the kids. I enlisted their help…because in spite of the busy-ness of this season (and the fact that I'm at the point of denial and completely ignoring my to-do lists!), I believe that the holiday season is about making memories. And I wanted to share this "truffle rolling" memory with the kids.
It certainly would have taken less time and been less messy had I whipped up these truffles myself…but where's the fun in that. Plus, I'm just not as into Christmas sprinkles as my kids are. They would prefer just to "drink" them out of the sprinkles container.
In food photos, you often see perfectly staged food…but in this case, you'll see lopsided and flattened truffles…and that's perfectly fine. The key here is that these were made by the kids, for the kids and loved by the kids. Both the final product, and the experience making them. (Note: They weren't so excited about the "waiting while they are in the freezer" part.)
I present to you our imperfect, yet perfect, version of Christmas Chocolate Chip Cookie Dough Truffles…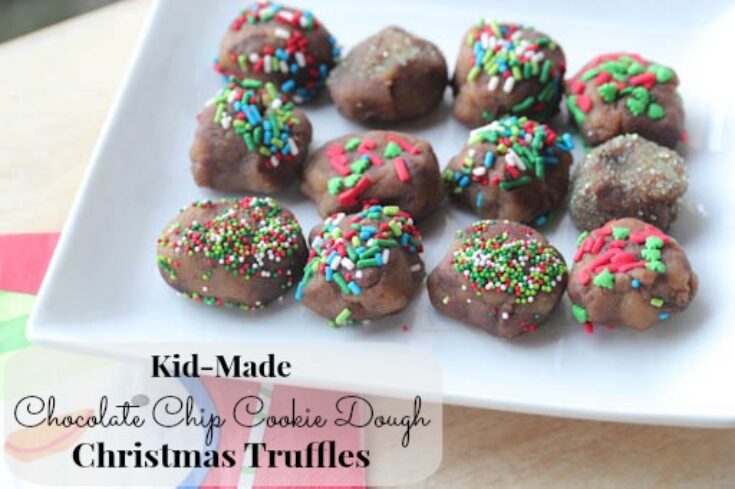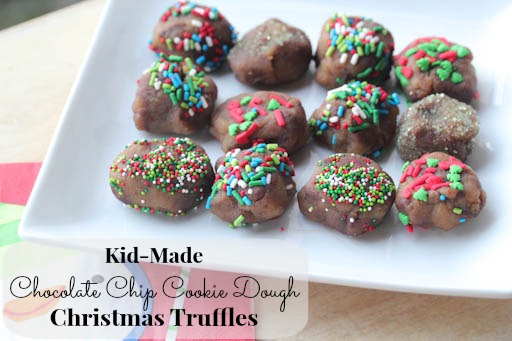 I present to you our imperfect, yet perfect, version of Christmas Chocolate Chip Cookie Dough Truffles...
Ingredients
1/2

cup

butter

1/2

cup

sugar

1/2

cup

brown sugar

1

tsp

vanilla

1/2

tsp

salt

2

pasteurized egg yolks

1 1/3

cup

flour

1/2

cup

mini chocolate chips

Holiday sprinkles, variety for rolling
Instructions
Melt butter in a large saucepan over medium heat; continue to cook for 2 minutes, whisking constantly, until butter foams and turns light golden brown.

Pour butter into large mixing bowl. Then add the sugars, vanilla, and salt to butter. Mix for about 2 minutes using a hand mixer on medium speed, until well combined.

Beat in egg yolks until combined. Reduce mixer speed to low and beat in flour until well combined.

Stir in 1/2 cup mini chocolate chips until combined.

Roll cookie dough into 24 balls. Roll in sprinkles.

Freeze for 30 minutes. Then serve. Keep chilled between servings.