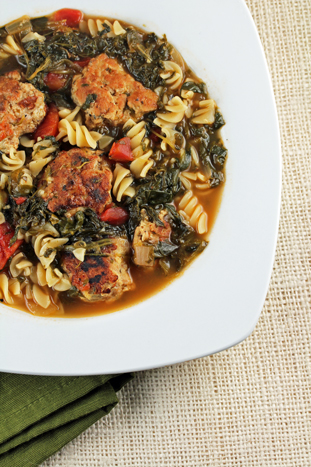 Here is my version of Italian Wedding Soup.
Simple. Delicious.
So yeah. There's going to be a wedding this year. My sister's!!! I'm honored to stand beside her as the matron of honor, and I'm thrilled that Charlie gets to be a ring bearer!
And there's going to be an Italian at the wedding. My sister's fiance is Italian. Dark headed, dark eyed with a last name that's got a "rolling R."
And while I'm not sure it's going to be a full fledged Italian affair with breaking glass and la borsa, it is a wedding and there is an Italian!
So I made this soup in honor of them…the happy couple!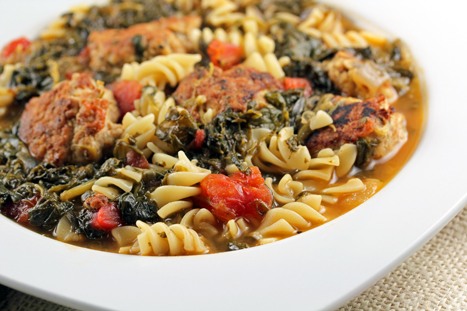 Go ahead. Grab a spoon.
Reach on through the screen. Just a little taste!
Nom. Nom.
Filling, flavorful and easy!
Ingredients
1

lb.

ground chicken

2

slices

bread

(made into bread crumbs, about 1 cup)

2

eggs

1

tsp

Italian seasoning

1

Tbsp

olive oil

2

cups

homemade chicken stock

3-4

cups

water (depending on how soupy you like it)

15

oz

can diced tomatoes

10

oz

box frozen spinach

1

cup

pasta

I used broken rotini

Salt and pepper to taste
Instructions
In a mixing bowl, combine the ground chicken, bread crumbs, eggs and Italian seasoning into 3/4 inch diameter meatballs.

In a large saucepan or Dutch oven, add the olive oil and brown the meatballs on all sides. Add the 2 cups of homemade chicken stock and 3 cups of water. Feel free to add water as needed.

Stir in the diced tomatoes, and frozen spinach. Bring to a rolling boil. If you plan to let it simmer, reduce heat to low.

Add the pasta noodles about 12-14 minutes before you'd like to serve the soup. Do not let them overcook, or you'll end up with Mushy Italian Wedding Soup!

Serve as is, or with a slice of bread or side salad.