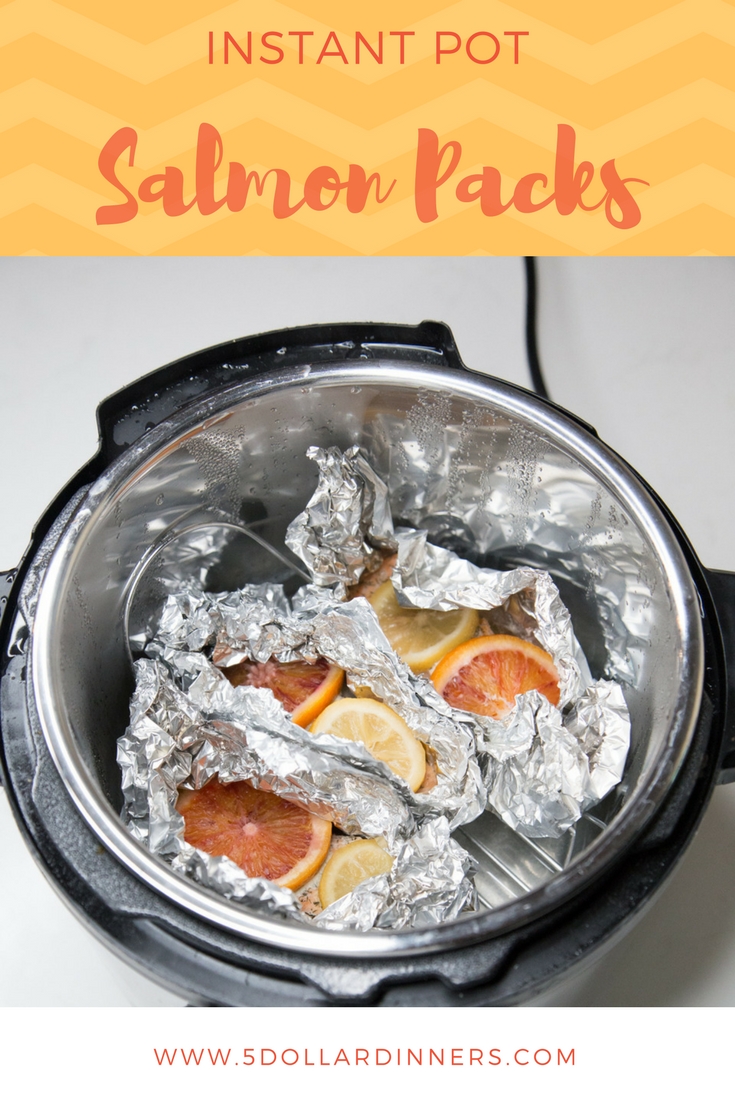 So flaky, tender and flavorful!
We love foil pack meals – they are great for grilling out in the backyard, for baking in the oven on a chilly late winter weeknight, AND in the INSTANT POT.
That's right – drop those foil packs into the Instant Pot and let it take care of the cooking for you.
Because the way that an electric pressure cooker uses heat and pressure to cook, this salmon turned out beautifully with just the right amount of flavor soaked into the salmon and a lovely citrus-dill juice around it in each pack. Simply delightful!
With these foil packs, the time will vary based on the thickness of the salmon and how many packs and the size of your IP. I easily fit 4 of these foil packs, 2 layers deep, into my 6 quart Instant Pot. If I were going to make 6-8 foil packs, then you'll need to use an 8 quart size. I cooked 4 foil packs in 6 Qt. IP for 18 minutes and they were perfect. If you go to cook yours and they aren't quite finished, just put the lid back on and add a few minutes and let finish cooking. If you want to err on the side of caution, add a few minutes to make it 20-21 minutes…you won't have to worry about drying out or overcooking because the salmon is wrapped in foil and "steaming" inside, and there is plenty of juice from the fruit slices.
Note: I ALWAYS recommend thawing all seafood completely before cooking it, and this holds true for these as well. You can freeze these foil packs in advance, but if you're going to cook the in the oven/grill/IP, you definitely want the salmon to be thawed completely before cooking. If you want more information about freezer to Instant Pot meals, read this!
And finally, because salmon is more expensive that other meaty proteins, I always pair it with inexpensive side dishes like rice and whatever veggies were on sale in the produce or freezer departments.
Alrighty, now for the recipe!
Helpful Instant Pot Resources
Salmon in the instant pot is a must try!
Ingredients
4

4 oz. salmon fillets

Salt and pepper

1

tsp

dill

1

orange

1

lemon

1

lime

4

pieces

foil

Side dish: rice

Side dish: salad or veggies
Instructions
Lay out the 4 pieces of foil and add a salmon fillet right into the middle. Sprinkle a little salt and pepper, then the dill onto each fillet.

Slice the orange, lemon and lime and place a slice of each onto each salmon fillet.

Wrap the foil around the salmon and fruit.

To the Instant Pot insert, add 1 cup hot water and then place the steam rack inside. Stack the foil packs on top of the steam rack, making 2 layers if needed. Nestle them in there snug!

Set on Manual/High for 18 minutes.

Let naturally release for 10 minutes.

Carefully remove foil packs from insert and open carefully, steam will rush out.

Serve Salmon Foil Packs with rice and favorite veggies.