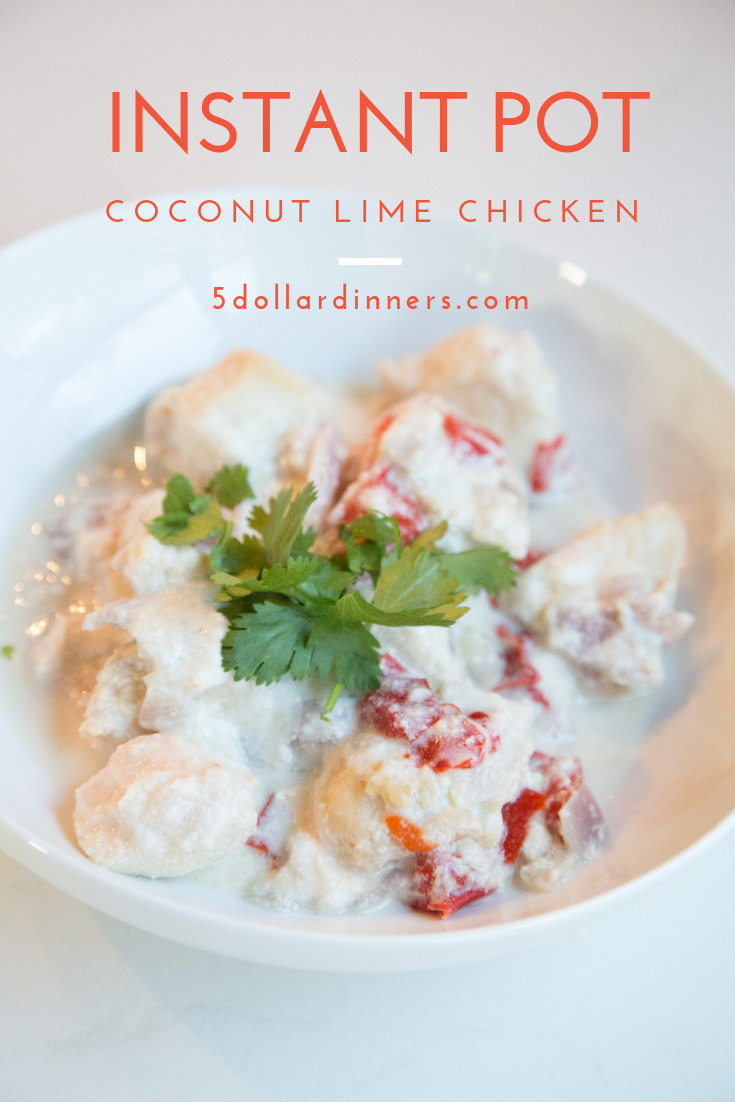 I adore a good curry meal – and my family does too. But I worked this one up as sort of a "spice-less" option.
Curry powder or paste isn't always that spicy – depending on the brand and the amount that you use. This one is similar in nature – without the curry.
Perfect for anyone who just isn't all that into curry.
This meal has a delightful combination of flavors, and it cooks quickly for a busy weeknight meal.
NOTE: If you are making this as a freezer meal, DO NOT add the coconut milk to the freezer meal bag – instead add it at the time of cooking for a perfectly creamy sauce.
Enjoy!
Ingredients
2

large

boneless chicken breasts

1

Tbsp

olive oil

1 red bell pepper

1/2

small

red onion

1

cup

chicken stock

2

Tbsp

lime juice

1/2 tsp ground ginger

1

cup

coconut milk

Garnish: chopped cilantro

Garnish: crushed red pepper

Side: salad
Instructions
Cut the chicken breasts into bite-size pieces.

Seed and finely chop the red bell pepper. Chop the red onion.

Place the chicken pieces into the electric pressure cooker insert with the chopped red bell peppers, chopped red onions, chicken stock, lime juice.

Steam valve: Sealing.

Cook on: Manual/High for 15 minutes.

Release: Natural or Quick.

Stir in the coconut milk, and let sit on warm mode for 5 to 10 minutes. Spoon the chicken and veggies with sauce into serving bowls.

Prepare the salad.

Serve Instant Pot Coconut Lime Chicken with garnishes and side salad.

Freeze & Thaw Instructions can be found here.