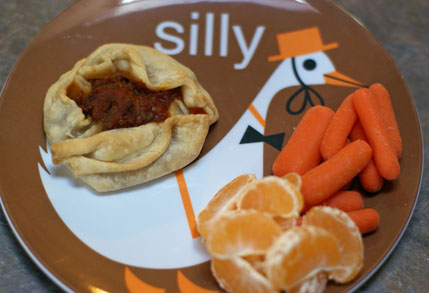 So last week I bought some pie crust. You know, the tube kind! While I normally make my own pie crusts, I'm cutting myself some slack and saving myself some time…given the current situation with Tyler and the need to spend extra time with him while he eats and drinks.
(Update: He has both a video swallow study and a scope of his tummy and esophagus scheduled for this week.)
Cutting myself some slack!
I'll be back to homemade pie crusts…hopefully for Thanksgiving!
We had spaghetti over the weekend…with lots of leftover sauce.  While I would typically freeze the sauce to use a week or two down the road for another spaghetti meal, this weekend…I repurposed it!
That would be the fancy way of saying, I had fun using up the leftovers and making it seem like it was not leftover spaghetti sauce at all.
I used the sauce to make individual beef pies. Or beef tarts.
But that's all sorts of wrong…using beef and tart in the same sentence.
So beef pie it is. Individual Beef Pies, to be exact.

(Did you like that Silly Goose plate?!  The big boys fight over it. Because they both want to be "silly geese.")
(We have developed quite the elaborate turn-taking scheme. To keep the silly geese from flying the coop. Or the pond. Or the lake.)
(Geese don't live in coops, do they?!)
(Oh my rabbit trail.)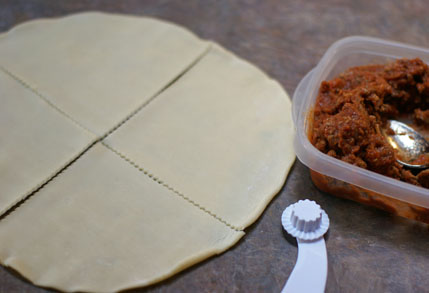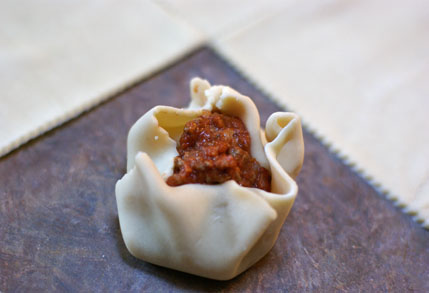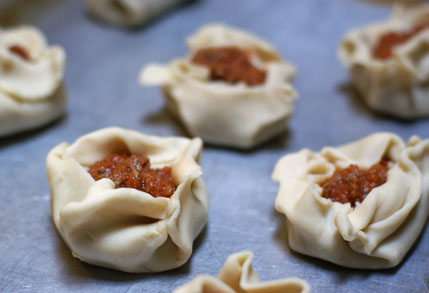 The key with these…pinch, pinch, pinch. We don't want any sauce bubbling out!

Individual Beef Pies

Ingredients

2 tubes store bought pie crust ($1.49)
2 cups-ish leftover spaghetti sauce ($1)
Pinchfuls of parmesan or mozzarella cheese ($.25) Optional
Couple clementines ($1)
Carrot sticks ($1)

Directions

Roll out the pie crust onto a clean, flour dusted surface. Cut with a pie cutter (or pizza cutter) into 4ths.
Place 2-3 Tbsp leftover spaghetti sauce onto the center of each quadrant.
Fold the edges up and pinch. Pinch. Pinch. You want to make sure the sauce isn't going to bubble over.  So pinch the dough together.
Place each little pie onto a greased cookie sheet. Repeat until 8 little pies are made.
Bake at 400 for 20-25 minutes, or until the crust is hard and begins to golden.
Serve Individual Beef Pies with Carrots and Oranges.

Cost $4.74