Cultivating the Habit of The Most Efficient People in the World – Prioritizing Tasks and How to Break Them Down
A successful and productive day awaits you…
…as soon as you figure out what your top priorities are, and how to break them into smaller pieces.
If I were to ask you to following…
What is keeping you from accomplishing your medium to big goals in life?
The answer most likely involves one of the following:
I don't know what I should be focused on.
I don't understand how to get from point A to point M.
I don't even know where to start.
Did I get those right? Does that ring true in your mind?
Are you ready to learn how to tackle these thoughts and struggles?!
I will show you below how to set yourself up for success each day.
I break it all down for you on a single piece of paper…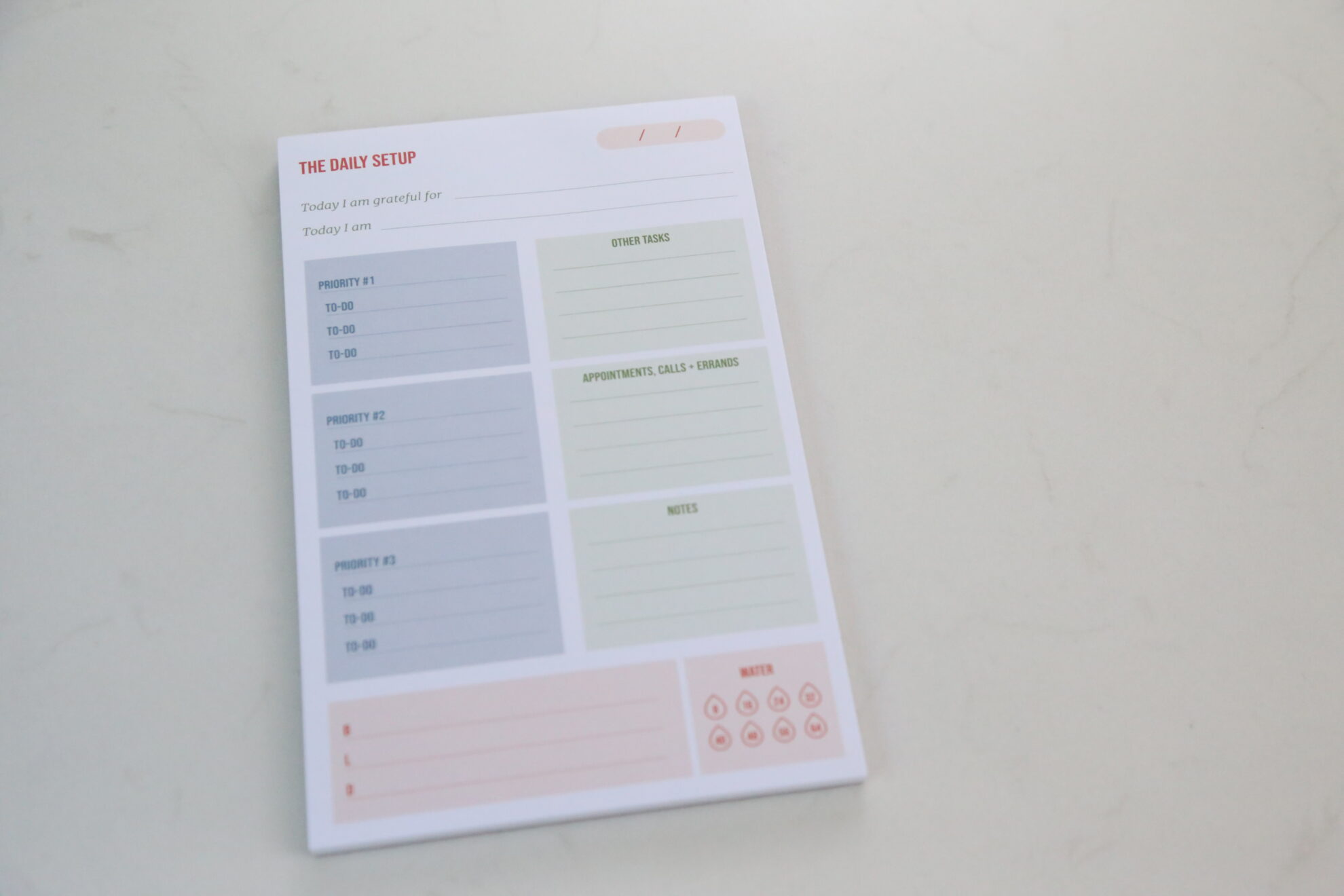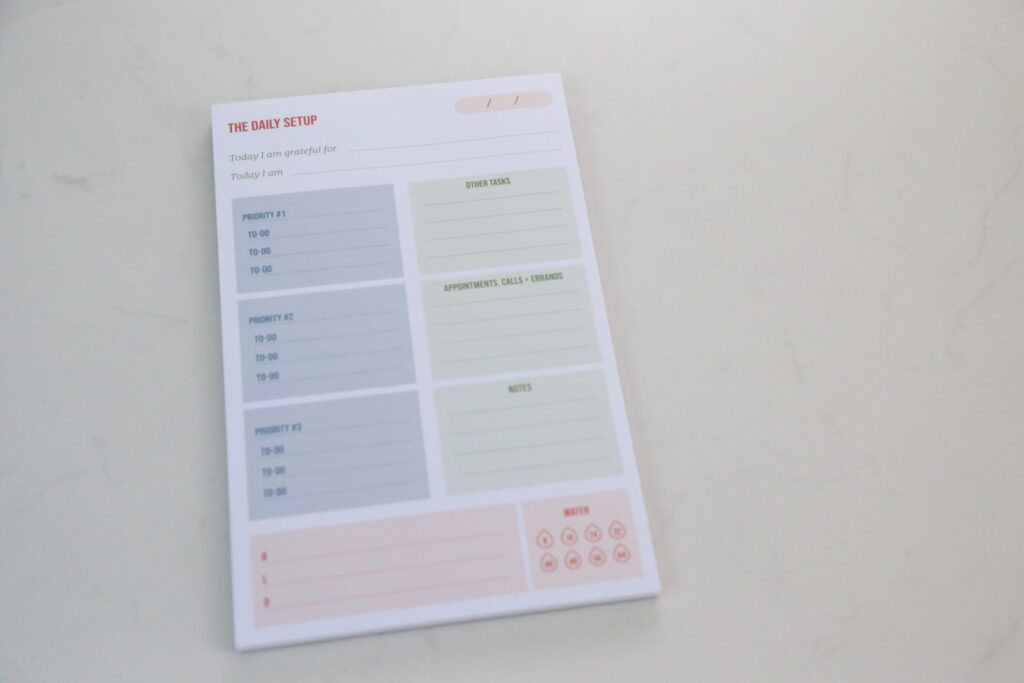 This is my Daily Setup.
This is what gets filled out on my desk everyday.
This is how I cut through the OVERWHELM that so easily creeps into our minds.
This system works because it…
sets the tone for your day – gratitude and affirmations.
groups like tasks together by priority
teaches and trains you how to break larger priorities into bite size tasks.
holds a spot for your daily meals and water consumption.
The feeling you have at the end of the day, after The Daily Setup is "set up" and you follow through on it…………….
PRODUCTIVITY BLISS.
CONFIDENCE.
READY FOR THE NEXT DAY.
(Not mentioned here: any sense of overwhelm! Wahooo!)
The Daily Setup Examples
How about we look at some examples of The Daily Setup from my life…as well as different things that could go into each section.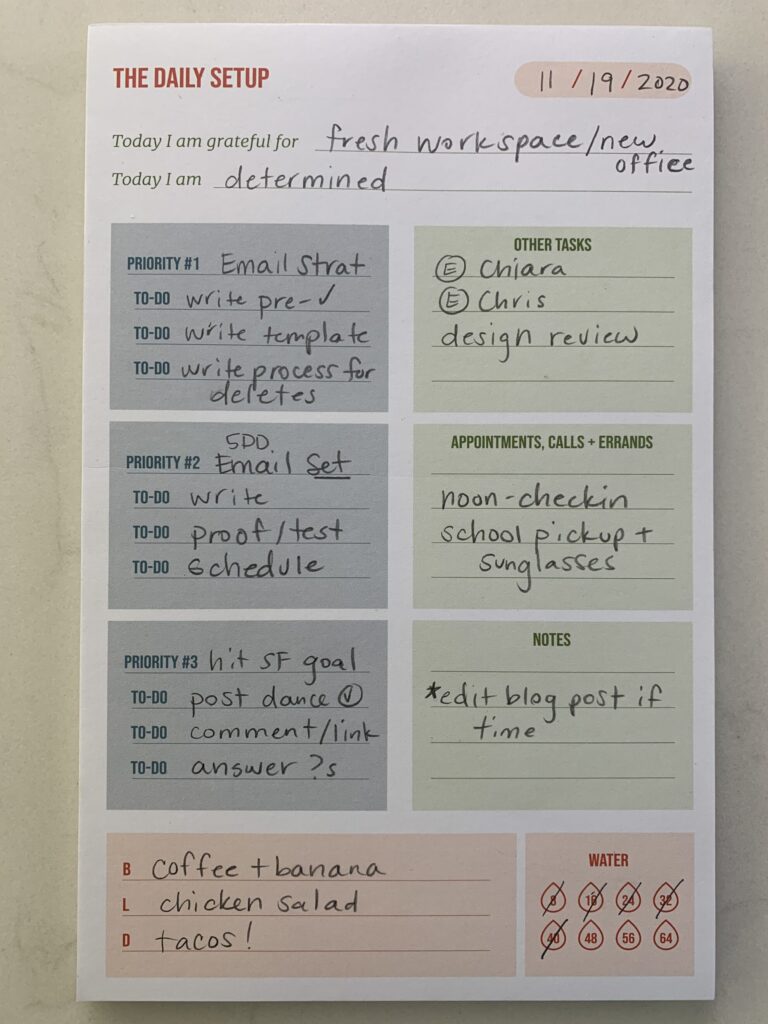 Today I am grateful for:
Start your day with a moment of gratitude – express your thanks for the small and the big in your life.
family
comfortable home
beautiful friendships
rambunctious, adventurous boys (most days LOL)
grace
love
church community
new desk for my office
sports and activities that are open for the boys to enjoy during pandemic season
Today I am:
This is the affirmation section…where you set your positive mindset for the day.
The statement should be short and complete the "I am POSITIVE ADJECTIVE OR VERB" sentence.
determined
focused
creative
brilliant
strong
courageous
fearless
hard worker
successful
prepared
worthy
enough
open to opportunity
making an impact
Priority Break Downs
Here are a few tasks from my life and how I break them down.
Weekly Email Newsletter
plan content
setup email and copy link
write email
send email to proof
Reach School Fundraising Goal
outreach – dance video
answer questions on Q/A post
finalize transfer details
Phase 1 for Cookbook #5
setup "example" for recipe template
record instructional video
send instructions and timeline to Cookbook Dev team
Austin's 8th Birthday Prep
List of small gift ideas for scavenger hunt
Set up locations and clues for scavenger hunt
Wrap and place gifts in locations
Cake and ice cream to grocery list for family party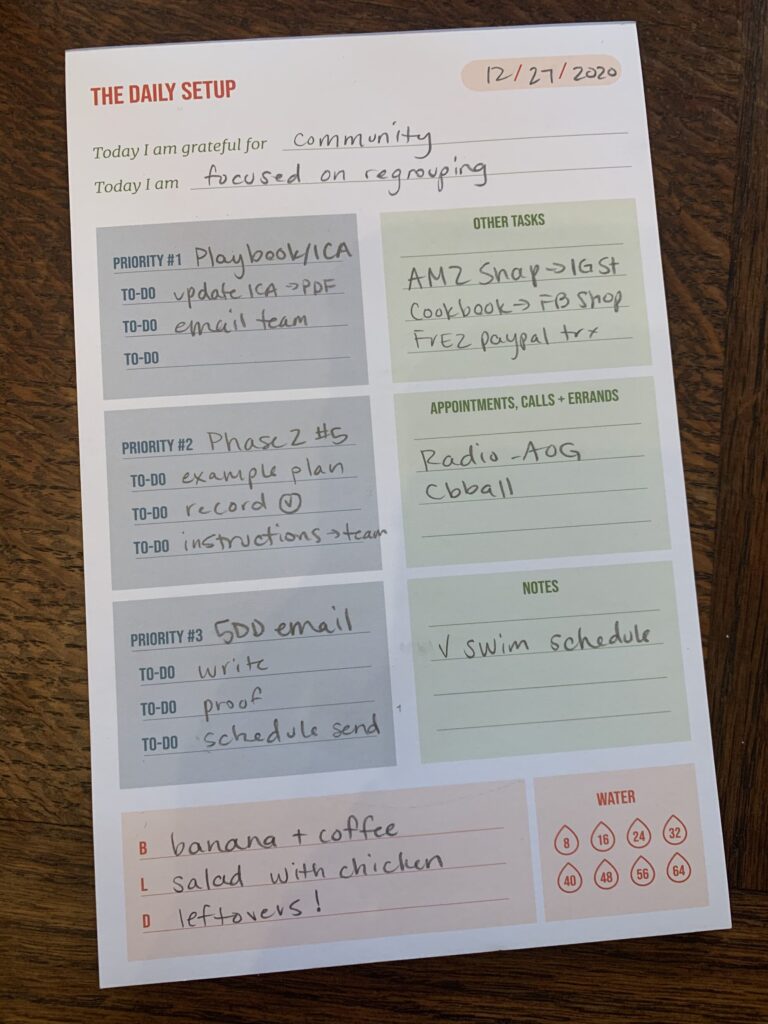 If you think this Daily Setup System would help you get clear on your daily priorities and tasks, I highly recommend getting one of my Daily Setup Tearpads for your desk. It's a perfect complement to your existing daily planner too.