Easy, Practical Ways to Keep Your Grocery Budget on a TIGHT LEASH!!
The real reason is that you need to TIGHTEN THINGS UP RIGHT NOW to counterbalance the inflation and supply chain issues that are causing a major food price creep.
At present (October 22, 2021), the baseline average for grocery prices is 5% higher than this time in 2020. The cause points to a few reasons: overall economic inflation, supply chain issues, and staffing shortages.
While I won't get into the politics of it all, I will help you FIGHT AGAINST THE RISING PRICES.
I'm a problem solver and a solutions girl.
In recent years, we've seen steady prices on food and probably haven't paid too much attention.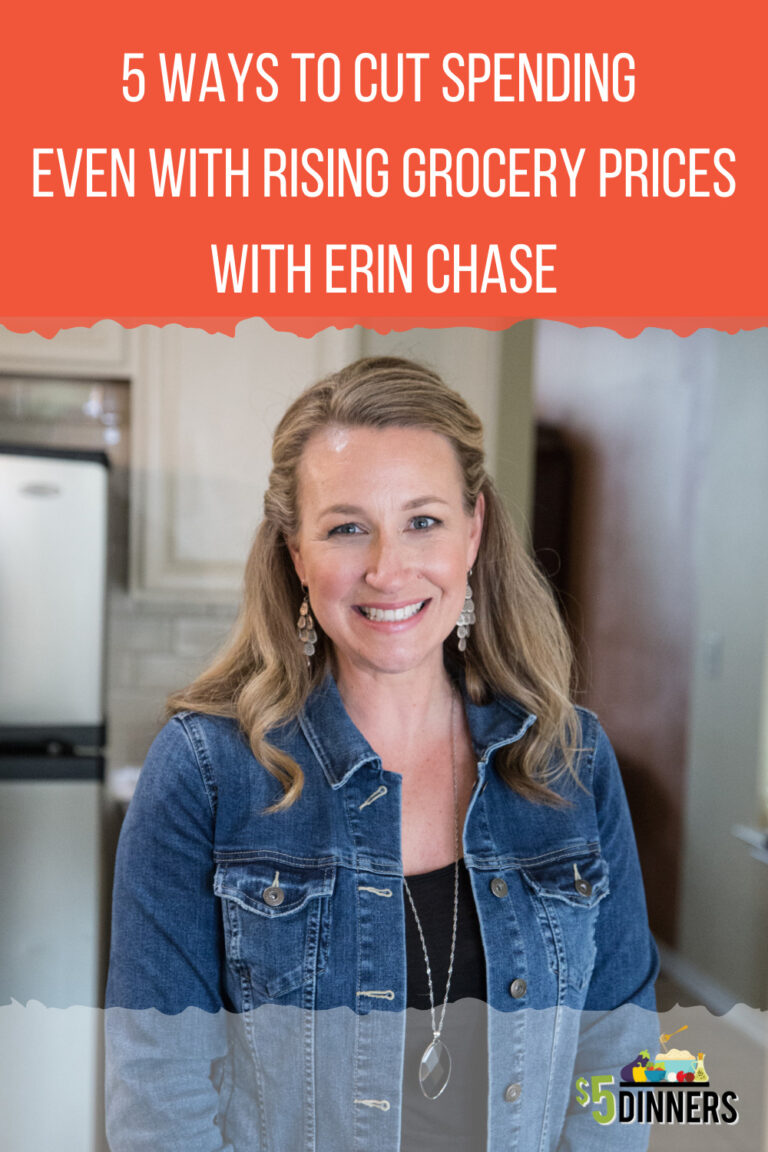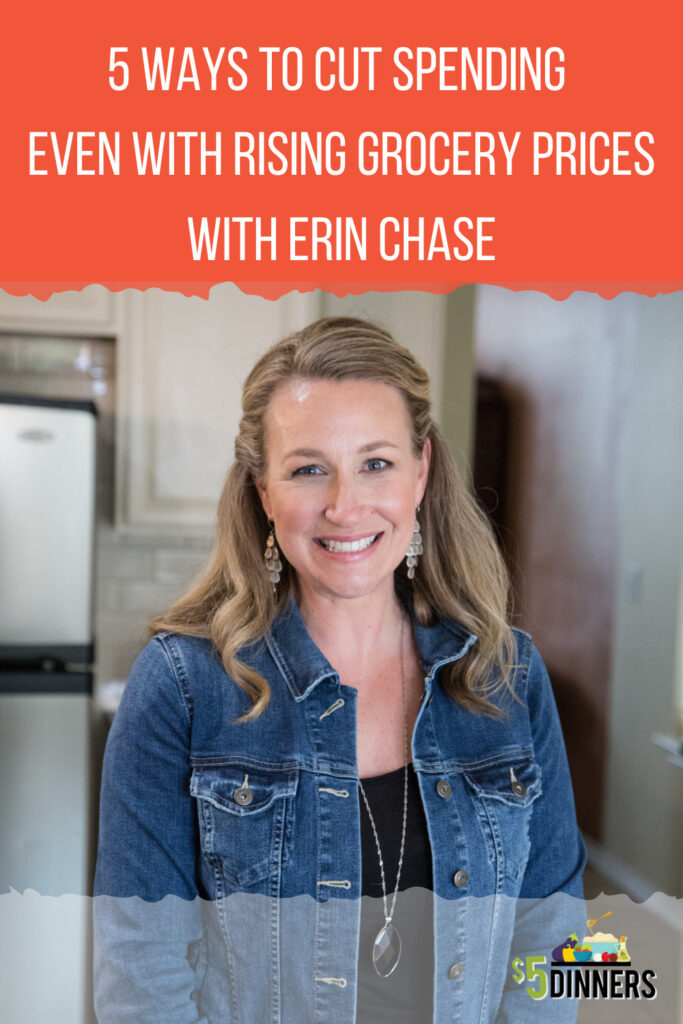 It's time to whip ourselves into shape – both mentally and financially!
$5 Dinners was born in the "Great Recession" of 2008. I needed $5 Dinners, and so did millions of others.
Now we see $5 Dinners + 5% inflation and we need to get focused again on our food dollars.
And while I don't think we are going to see similar extreme volatility now that we saw then, I do think we are facing a longer term inflationary season.
I have been listening closely to the experts on this. I'm not one to fear monger and I'm not one to worry in general, but the reality is that this could go on for months and well into 2022. The complexity of the causes means a longer time ironing things out.
Now…
I have poured my heart and soul into the grocery savings resources created for you. They work. They will have a lasting impact.
They floated us through the 2008 recession, they have helped me save thousands and thousands over the years, and they will float us through this next season too.
5 Ways to Cut Spending Even with Rising Grocery Prices
Below are some ideas on how to inflation-proof your grocery budget. NOW is the time to get your grocery spending on a TIGHT LEASH.
#1 – Adopt the mindset that every dollar and penny counts.
When planning your grocery list and when shopping in the store, it's crucial that you keep the following mantra top of mind:
Every dollar counts. Every penny counts.
When it comes to food dollars, we don't do a great job of keeping a mental list of spending on groceries and dining out because "we just have to eat today." Our brains don't do a great job of keeping overall totals of our grocery spending from week to week and month to month.
Keep the idea of "every dollar counts" top of mind when shopping to better manage your savings mindset.
#2 – Watch Meat Prices & Make Freezer Meals
When meat is on sale (and even when it's available) – get what you need or the store limit, and make meals for the freezer.
(If you're not sure how to do that, please take my freezer meals 101 workshop and learn about MyFreezEasy!)
#3 – Plan, Plan, Plan!
At the very least, write out a few meals you plan to cook at home, along with where you plan to dine out.
Then write your shopping list.
Finally, set your goal budget. (Use the printable in my freebie library to help!)
#4 – Behave in the store!
Pay close attention to the prices in the store – check unit prices (hint: smaller ketchups are often cheaper than the larger ones?!?!), watch for higher prices at eye level, and avoid the end caps and aisle displays.
Only get what is on your list. <— that is a tough one, I know.
#5 – Track, track, track!
Write every food dollar down.
Go out for dinner? Write it down.
Weekly grocery trip? Write it down.
Quick stop at convenience store for snack? Write it down.
Lunch with a friend in town? Write it down.
Grabbing an extra coffee because you're SLEEEEEEPY? Write it down.
I think you get the idea. Because of what I mentioned in #1 above, it's absolutely crucial to write down your food and grocery spending.
It will help you keep track of it week after week, and it will help you make smarter decisions "in the moment." i.e. skip the extra coffee, buy snacks in bulk and keep them in your car, go dutch on lunch.
We do have printable PDFs available for tracking in our freebie library.
Add your name and email to sign up for my weekly emails newsletter and you'll get instant access to these printables. 🙂
You got this! We got this! We are in this fight against rising prices together!!! We are here for you!!