A Weekly Planning Strategy from Erin Chase to Help You Stay Focused on Your Goals and Dreams
"How do you get it all done?!"
This is the #1 question that I'm asked and the answer is the following:
I'm uber intentional with my time and energy.
I'm a planner-planner-planner.
I've used this kind of system and setup for many, many years.
It's designed to help me stay focused on what's happening with my goals, our meal plans, and our day-to-day/week-to-week finances.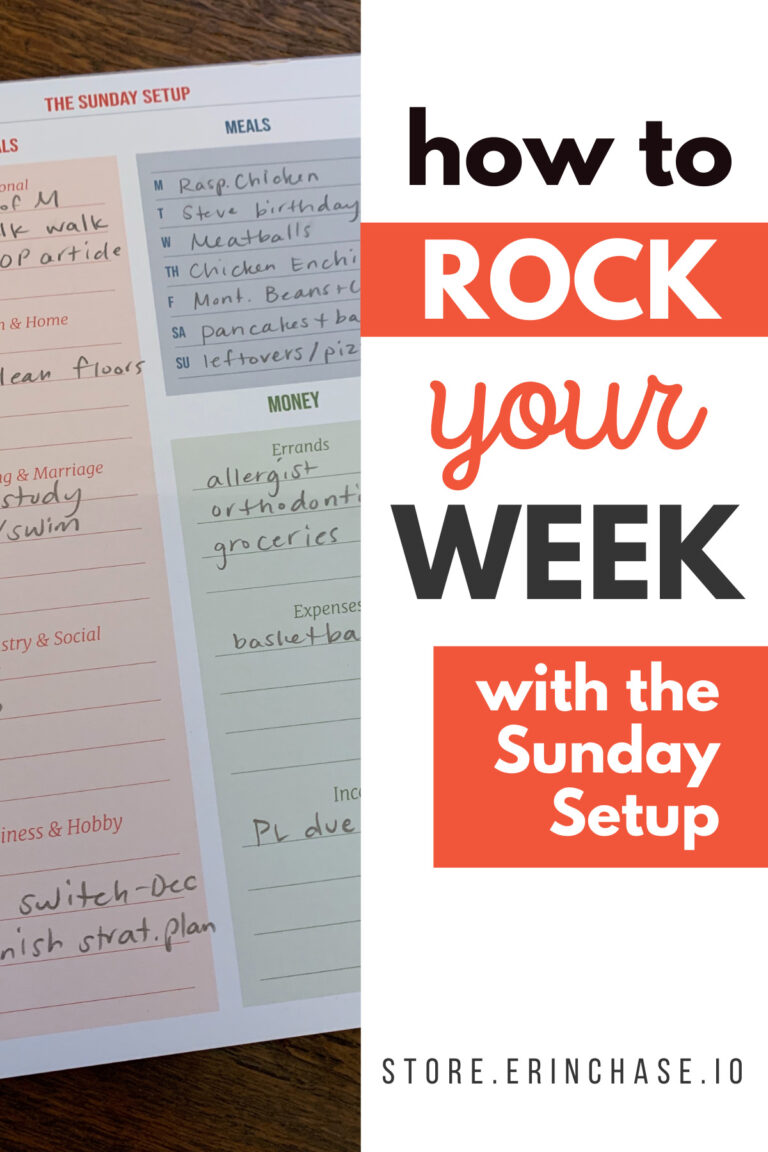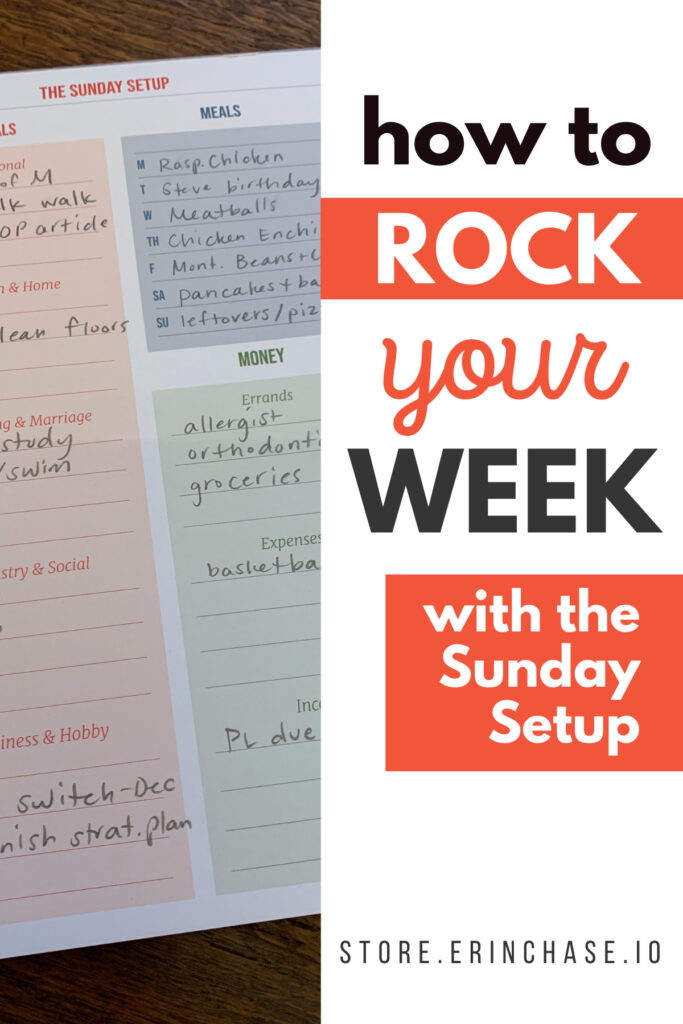 The Sunday Setup is a weekly goals and planning system that has truly helped me keep my life together…even in the midst of whatever madness and crisis might be thrown my way. It is broken down into 3 sections:
The Goals Section
This area is designed for you to breakdown the different areas of your life each week.
First, you start with Personal goals for the week, writing out things like:
read book
power walk 4 times this week
research new skincare routine
Next, you fill in on the Kitchen & Home section with things like:
wipe off cabinet doors and pulls
clean and polish floors
steam mop all tile floors
freezer meal prep session
bake extra muffins for freezer
chop all veggies and fruit on Sunday
Third, you add goals for Parenting & Marriage such as:
lunch date with Steve
smooth morning routine – boys set out everything night before
filter your words and tone
line up travel schedule with Steve schedule
set up family gratitude list to fill in at dinner table
Then, it's time to add any Ministry & Social goals like:
schedule and email about community group
neighbor gift
setup for summer swim team
school games and weekend intramurals
Finally, use the Business & Hobby section to write down things like:
action item list for following month
strategic plan for Q2
review new P&L statement
order new fabric for quilt
research items needed to make superman cake for birthday party
The Meal Plan Section
Here is a place to jot down what's for dinner. Keep it short and simple – the goal is to get it written down so you know what you're having.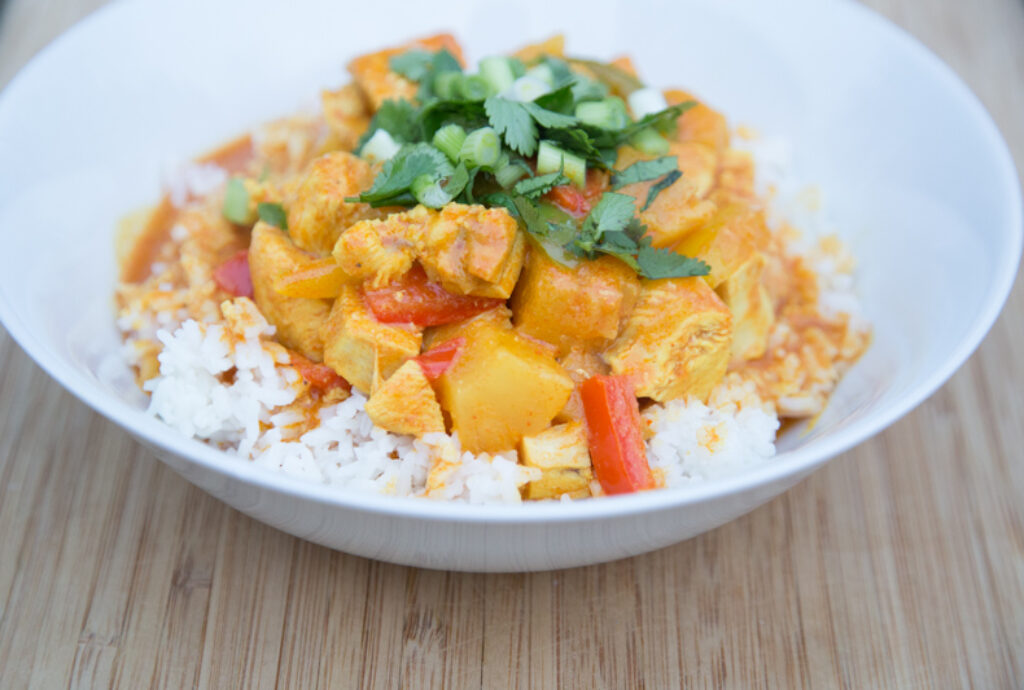 The Money Section
Use this section to get clear and what your errands (which often involve spending money!), extra expenses that aren't a recurring expense, as well as anticipated income that will come during that week.
Here are a few examples of what might appear in this section.
Errands: pick up dog food and treats, drop off muffins for Elissa, birthday treats for Austin's class
Expenses: dog food, birthday treats and napkins
Income: sell side table/clothes/toys, paycheck, side hustle deposit, owners draw for self-employed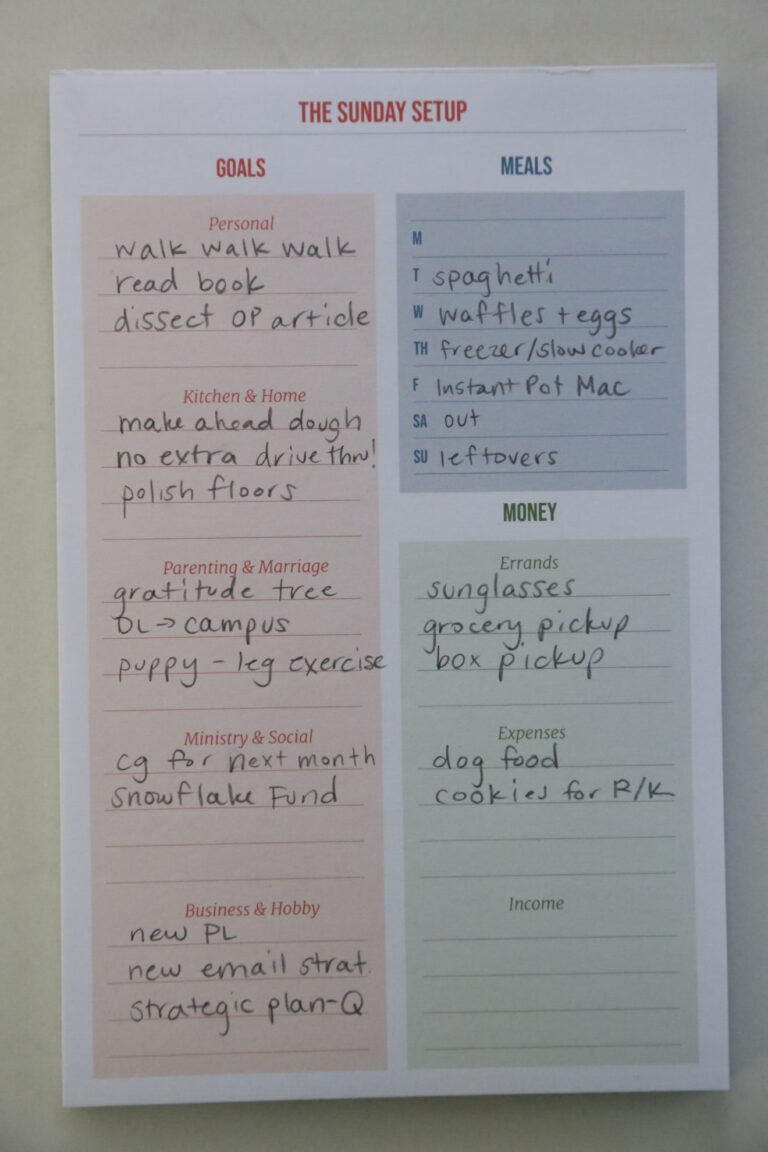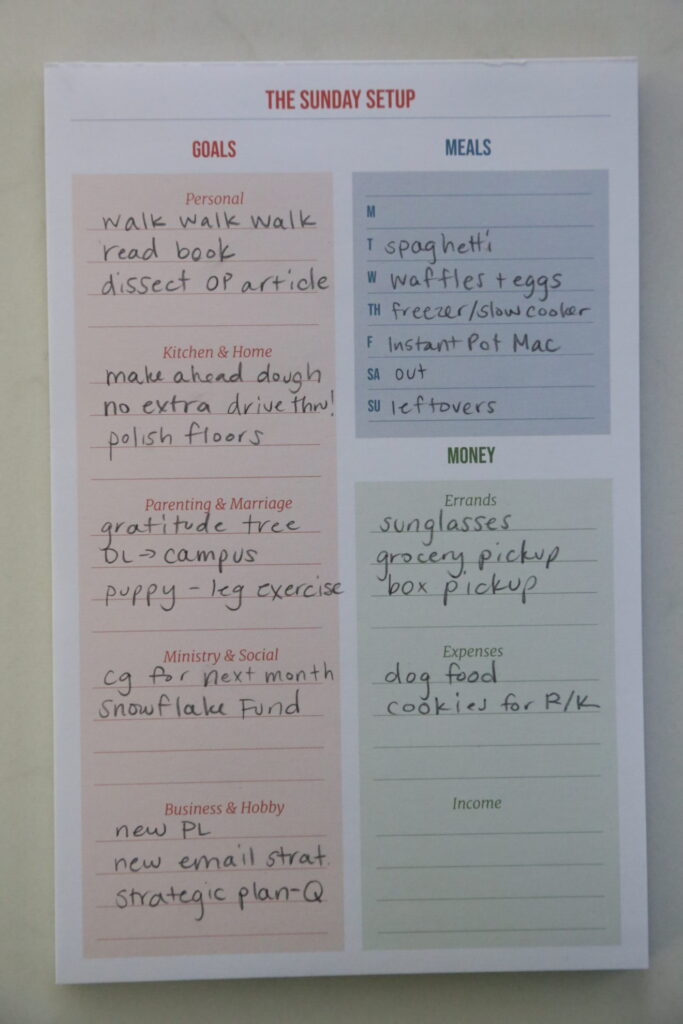 The Sunday Setup is designed to help you think ahead of the game…maybe even that you can have it all together…for once?!
It's setup to help you feel upbeat about what's happening in your world each week. When you consistently fill out your Sunday Setup week after week, you will start to feel a "forward momentum" in your life.
Be careful, you'll get addicted to that forward momentum feeling quickly! 😉
To learn more specifics, watch the video below…
VIDEO: Explanation of The Sunday Setup and How I Use It Each Week
ORDER: The Sunday Setup (and all of the other Tearpads from the Erin Chase Store) are Available Below!