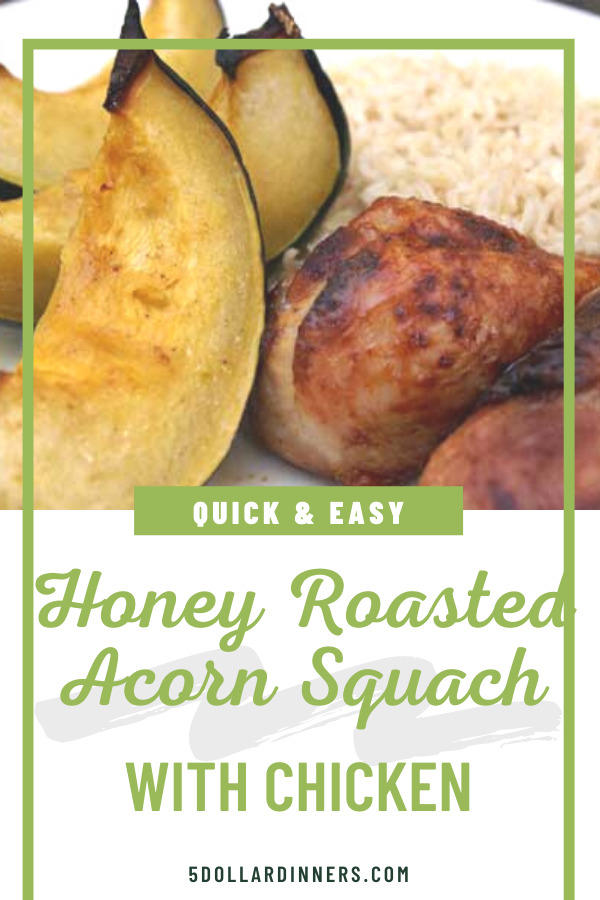 I love simple meals.
I love experimenting with simple meals. Giving them a little extra something special.
With the chicken on special and the acorn squash on sale, I thought I'd have some fun with tonight. Added a touch of honey to them both. Then roasted them into a state of perfect deliciousness!
…mmm, MMM.
Ingredients
8

chicken drumsticks

Drizzles of olive oil

1/4

cup

honey

Dashes of cinnamon and ginger

1/2

tsp

garlic powder

1

medium

acorn squash

(about 2 lb.)

1/4

cup

butter or margarine, softened

1/4

cup

honey

Dash of cinnamon and ginger

1

cup

brown rice
Instructions
In medium saucepan, cook 1 cup brown rice according to directions on the package. This takes about 45-50 minutes, so plan accordingly!

Place the drumsticks into baking dish. Drizzle olive oil over the drumsticks and then pour the honey over the drumsticks.

Sprinkle with a few dashes of cinnamon, ginger and garlic powder. Using back of spoon or fingers, spread the honey over and under the drumsticks. (Will be thick, and that's OK!) Let marinate in the refrigerator for at least 30 minutes...but the longer the better! Bake uncovered at400 for 45-55 minutes. Once the chicken is in the oven...start on the squash.

Cut acorn squash in half and scoop out seeds with spoon (and save for roasting). Cut the squash into wedges along the "seams" of the squash.

Place wedges into baking dish or small roasting pan. Roast (along side the chicken) for 15-20 minutes at 400.

While the squash is on their "initial roast," in a small bowl, whisk together softened butter or margarine (I use dairy free margarine) until creamy.

Whisk in a dash or two of both cinnamon and ginger to the honey butter.

Remove squash from oven and then drizzle the honey butter mixture over the squash.

Return honey squash to oven and roast for another 15-20 minutes at 400. Remove from oven and let cool for a few minutes. Place squash wedges onto serving plate and pour the honey butter liquid from the base of the baking dish over each serving

And if you time this right, the rice, chicken and squash should all be ready to go about the same time!

Serve Honey Baked Chicken with Honey Roasted Acorn Squash and Brown Rice.