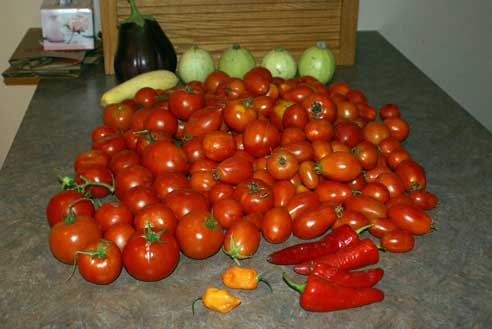 I had a surplus of about $25 from my August grocery budget. 
I decided to go on a "tomato spree."
The farmer's market just down the road from me offers a "You Pick" price for Roma tomatoes of $.69/lb.  Not too bad.  Plus we (yes, I took the kids for "the experience") got to have a little fun and learn about "good" and "bad" tomatoes!
All that you see above (2 habanero peppers, 4 anaheim hot peppers, 1 yellow squash, 1 "you pick" eggplant, 4 "Q balls," and about 20 pounds of tomatoes!) only cost…
$21.41
Homemade Spaghetti Sauce
Ingredients
About 12 lbs of Roma tomatoes
1/2 large eggplant (from the picture above)
1 yellow squash
5 carrot sticks, peeled
10 garlic cloves
3 yellow onions
Handful of fresh basil, parsley and rosemary (from the garden)
Salt and pepper to taste
Directions
1. Puree all the ingredients in small parts in a food processer or VitaMix.  Pour into large saucepans.  Bring to boil, then simmer for 30 minutes.
2. Can.  Here is a set of great directions! I did not, however, peel the skins when making the spaghetti sauce.
I'll be sharing my salsa recipe with you soon!
Here is the final result…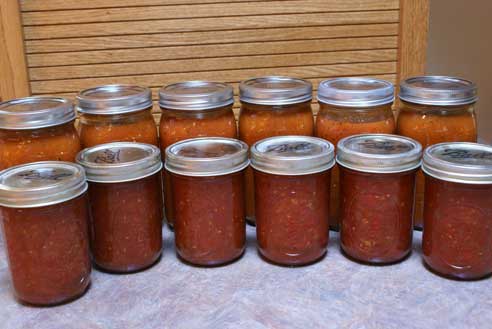 6 quarts of spaghetti sauce and 6 pints of salsa