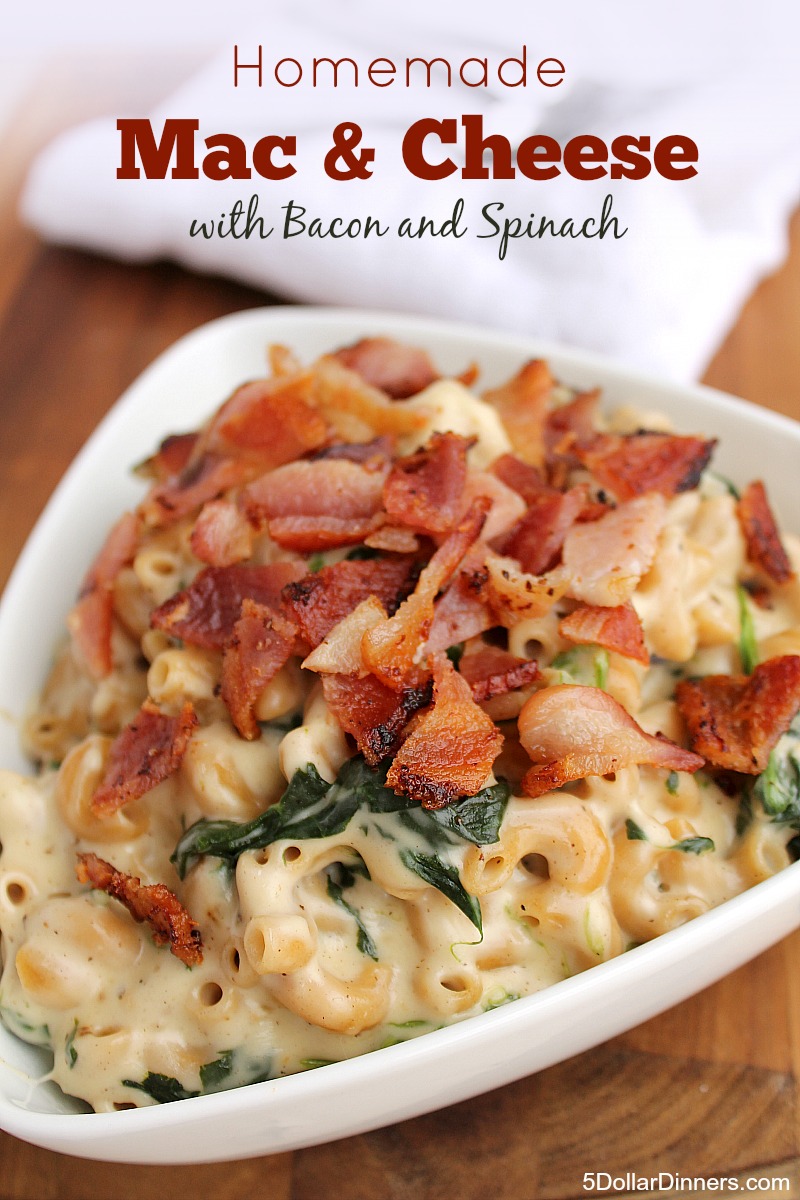 Please pardon me while I wipe the cheese off my chin.
Um, that was sorta embarrassing there…that cheese all over my chin. But you kinda don't care when your taste buds are bursting with joy and want to leap out of your mouth onto the spoon.
It's the cream cheese in this recipe that works the magic. Well, that combined with the bacon. And the spinach, and the Italian cheese blend. I've used that on pizzas before, but never in a homemade macaroni and cheese.
Those Italians know their cheese and their pasta…and the 4 cheese Italian combo is outstanding in this dish.
Give it a try…and if you get a little cheese on your chin, that's okay…you're in good company! 😉
P.S. Check out the cool pot-saving trick in the directions! Oh, and using the bacon fat as the base of the homemade cheese sauce… (drooling again as I type this up!)
As if homemade mac & cheese wasn't delicious enough, we are going to add bacon and spinach!
Ingredients
6

oz

box of pasta (I used whole wheat.)

1/2

cup

frozen spinach, chopped

3

slices

bacon

2

Tbsp

all-purpose flour

3/4

cup

milk

4

oz

cream cheese, cut into small chunks

2

cups

Italian blend shredded cheese (mine was mozzarella, parmesan, provolone, and asiago)
Instructions
In a large pot, bring 3 - 4 quarts of water to a full rolling boil. Cook the pasta according to box directions. (My pasta took 6 minutes to be perfectly firm and fully cooked.) When the pasta is 2 minutes from being al dente, add the spinach to the pot with the pasta, thendrain the pasta/spinach and return to thepot.

While the pasta water is boiling and the pasta is cooking, fry the bacon in a large skilletover medium high heat.

When the bacon is fully cooked, remove from the pan and place on a paper towel to drain and then chop when cooled.

To the same skillet with the bacon fat, stir inthe flour with a whiskand turn the heat to medium. Once the flour has 'melted' into the bacon fat, slowlypour the milk into the skillet, whisking constantly. Continue to whisk the mixture constantly until it begins to bubble, then reduce the heat to low/simmer.Add the chunks of cream cheese and whisk until smooth. Stir in the shredded cheese and whisk until melted.

Pour the cheese sauce over pasta/spinach mixture, then stir in the chopped bacon. Add a little on top like I did in the photos, if you desire!

Serve Homemade Mac & Cheese with Bacon & Spinach warm out of the skillet.