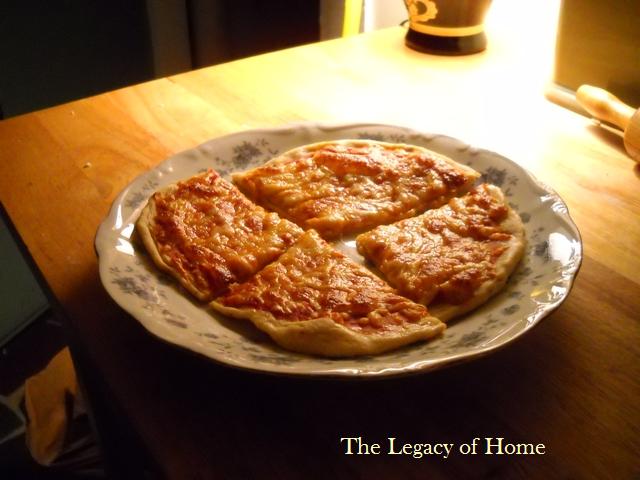 I have been buying a lot of single – size frozen pizzas lately. My teenagers love them. I finally decided to try making my own version.  Using this recipe, you can make 8 small pizzas that are 7″ in size. These can be frozen and quickly heated later on a busy night. Or you can have them available for the children at any time.
I use an easy, no-yeast pizza dough recipe I made up years ago, when we didn't have any yeast in the house. It has seasonings to help create a nice flavor. The dough is quick and easy to work with. No need to let it rest or rise.
After you have your dough ready and divided, the pizza crusts will be ready to pre-cook. In the photograph below, you will see 4 of the 8 pizzas, ready for sauce and toppings.
Homemade Frozen Pizzas

Yield – 8 servings
Preparation Time – 20 minutes
Cooking Time – 15 minutes

Ingredients

4 cups Gold Medal flour $ .52
1/2 t. salt  $.02
1 t. sugar  $.01
1 T. olive oil  $.10
1 T. oregano  $.05
1 t. basil  $.02
1 T. garlic powder  $.05
1 T. onion powder  $.05
1 and 1/2 cups of very warm water
2 (8 oz.) bags of shredded mozzarella cheese ($2.19 each) $4.38
1 (28 oz.) can of plain tomato sauce $1.69

Directions

Mix together 2 cups flour, salt, sugar, oregano, basil, garlic powder, and onion powder.  Pour in the warm water, add the olive oil.  Mix well.
Add another cup of flour. Stir until well mixed..
Place dough on a floured (and lightly oiled) counter and knead until smooth, using the rest of the flour as needed.
Shape dough into a ball, then cut into 8 equal pieces.
Roll out one of the doughs into a 7″ inch circle.  Place on a cookie sheet. Repeat until you have filled your cookie sheets (2 should fit on each one).
Pre-bake crusts in a preheated 450 degree oven for 2 minutes. Remove from the oven and allow them to cool, while still on the pans, for 5 minutes.
They are now ready for sauce and cheese. Each pizza will use 1/4 of an 8 oz. bag of cheese.  Once these are ready, place them in the freezer. You can wrap each one in wax paper, and store inside a large ziploc freezer bag.
When you are ready to bake frozen pizzas, cook for 13 minutes in a pre-heated, 450 degree oven.

Cost $6.89