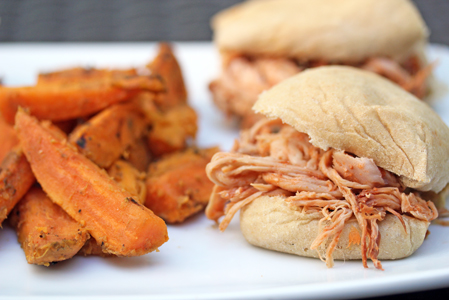 I love pulled pork sandwiches. My husband adores pulled pork sandwiches. My son is wild about pulled pork sandwiches. Unfortunately, most pulled pork sandwiches are full of fat and other unhealthy stuff, making them really not great for you.
This pulled pork recipe is easy, delicious and healthy. It is made at least a day before for improved flavour.
Ingredients
1

medium

onion, thinly sliced

2 1/2 pounds lean pork roast

3 garlic cloves, diced

1/2

cup

ketchup

2 tablespoons balsamic vinegar

1/4

cup

brown sugar

1 teaspoon Worcestershire sauce

2 tablespoons mustard

1/2 teaspoon salt

1/2 teaspoon pepper

1/4

cup

water

12 smallish whole wheat hamburger buns, dinner rolls or canned biscuits
Instructions
In a small bowl, combine the last 9 ingredients (not including the buns!).

Sprinkle the onion slices on the bottom of the slow cooker. Place the pork roast on top.

Pour the sauce over the pork. Cook on high for 4 hours or on low about 7 to 8 hours.

Cool the pork and chill until ready to shred.

Take the pork out and shred it. I prefer to just shred it apart with my hands, this is why I wait until it is cold.

Return the pork to the sauce and mix together. Store in fridge. The longer it sits in the fridge, the better the flavors.

About a half hour before serving, reheat on the stove. Serve in the buns or biscuits with veggies.