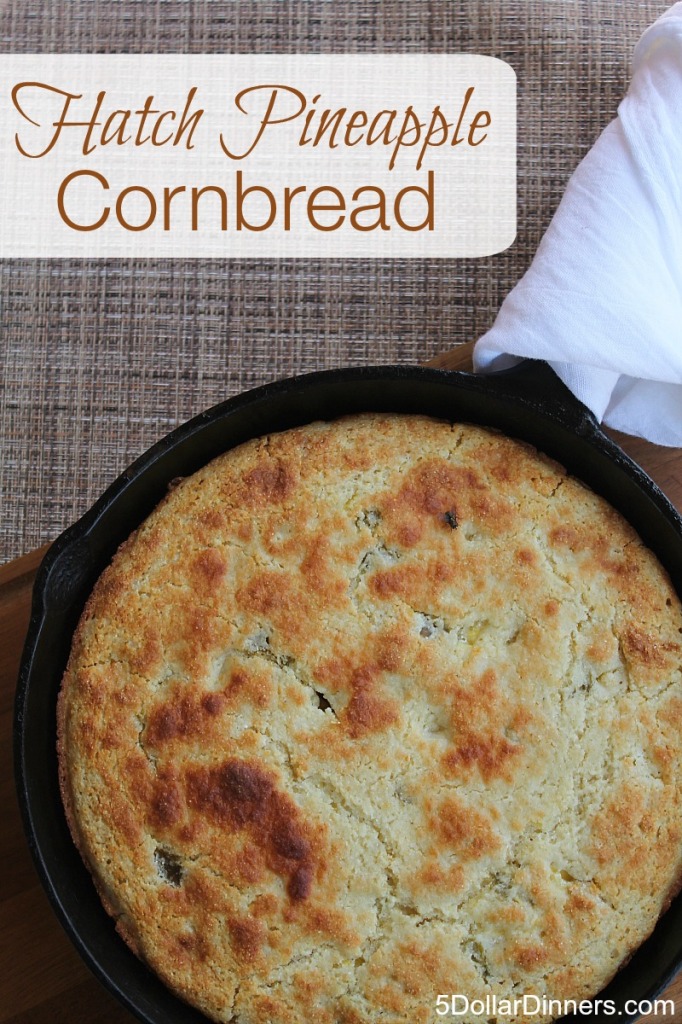 Sweet. Spicy. Sweet. Spicy.
I love recipes combine the sweet and spicy flavors from different ingredients. And who doesn't love a good cornbread recipe…especially one that's been doctored up with the sweet and spicy flavors!
Here's a from-scratch cornbread that highlights the sweet from pineapple and the spicy from hatch chilies. Ooooh-la-la-la-la-la!
Taste bud explosion forthcoming!
Ingredients
1 tablespoon coconut oil

1 egg

1

cup

diced canned or fresh pineapple, drained

2 tablespoons sugar

teaspoon vanilla extract(or use homemade vanilla extract!)

cup Greek yogurt

1

cup

buttermilk

2 tablespoons roasted hatch chiles, diced (make your own here!)

1 cups white cornmeal

3 tablespoons flour

1 teaspoon salt

1 teaspoon baking soda

butter for finishing
Instructions
Heat oven to 450 degrees

Place coconut oil in 9 inch oven proof cast iron skillet.

In small bowl, combine egg, pineapple, sugar, vanilla, chiles, yogurt, and buttermilk. Blend until thoroughly combined. Set aside.

In large bowl, combine remaining dry ingredients and mix.

Mix liquid mixture into dry mixture and stir about 20 strokes.

Remove skillet from oven and carefully pour in batter.

Bake 18 - 21 minutes until light golden brown and knife inserted in center comes out clean.

Remove from oven and brush with butter. Slice and serve warm.